$150 Giveaway + Brunch by Williams-Sonoma
Sponsored Post
Remember a few weeks ago when I told you about the brunch I was hosting for my girlfriends? I'd say for my first brunch, it was quite a success, thanks in large part to the many wonderful gifts Ryan and I received from our Williams-Sonoma registry. So, since our friends from Williams-Sonoma are here today giving away a $150 gift certificate, it seemed like an excellent opportunity to share some of my favorite registry items, and at the same time share my tips for hosting a brunch (now that I'm an expert with that one brunch under my belt)…
1. Pantry Tablecloth
2. Bee Pressed-Glass Tumblers
3. Peach Streusel Coffee Cake
4. mixed berries
I tried to keep my menu fairly simple: coffee cake, scrambled eggs with scallions and cream cheese, bacon, berries with honey yogurt, and fresh-squeezed juice and coffee. (Okay, the juice was excessively time-consuming, but it was delicious.) The night before, I set the table, put the berries and yogurt in serving dishes, and made a coffee cake (I'd like to thank my Kitchen-Aid mixer, various measuring cups and rubber spatulas, and the seriously-no-stick Anniversary Bundt Pan, all of which came from my Williams-Sonoma registry).
The next morning, all I had left to do was to make the bacon and the eggs. Now, let me confess something. Every time I make bacon on the stovetop, I burn it. Every. Single. Time. Which is why I love this method of cooking bacon in the oven, by placing it on a cooling rack set over a jelly roll pan. All you have to do is set a timer, and the bacon does it's own thing while you cook the eggs. Brilliant.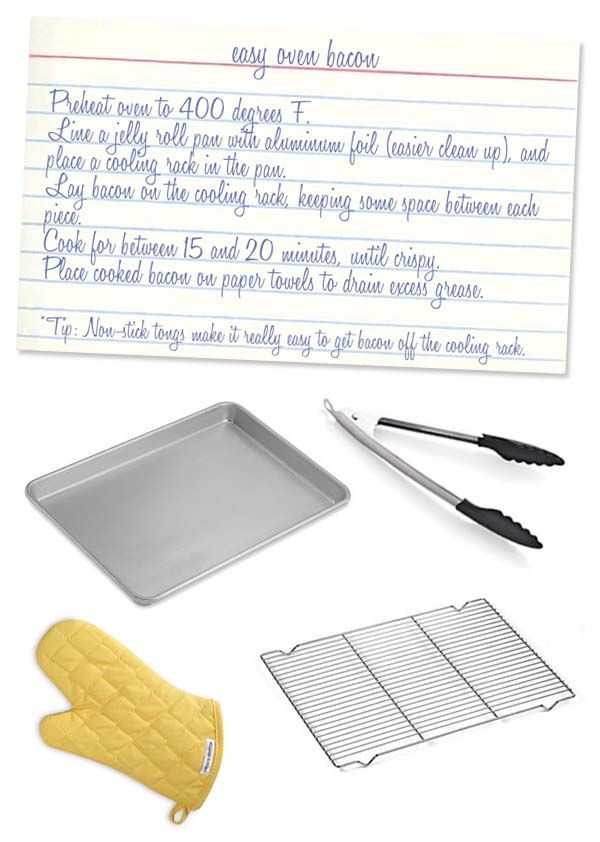 1. Williams-Sonoma Traditional Finish Jelly Roll Pan
2. Rösle Silicone Locking Tongs
3. Steel Cooling Rack
4. Williams-Sonoma Oven Mitt
Once the bacon was in the oven, I started on the eggs. I generally don't care for scrambled eggs, but my mom has made this version with cream cheese and scallions since I was a kid, and it's one of my favorite breakfast foods. By the way, can I suggest that you strongly consider registering for a nonstick pan if you don't already have one? My eggs are infinitely better now that they come right out of the pan when I want them too. Not that I've tried an actual omelet yet…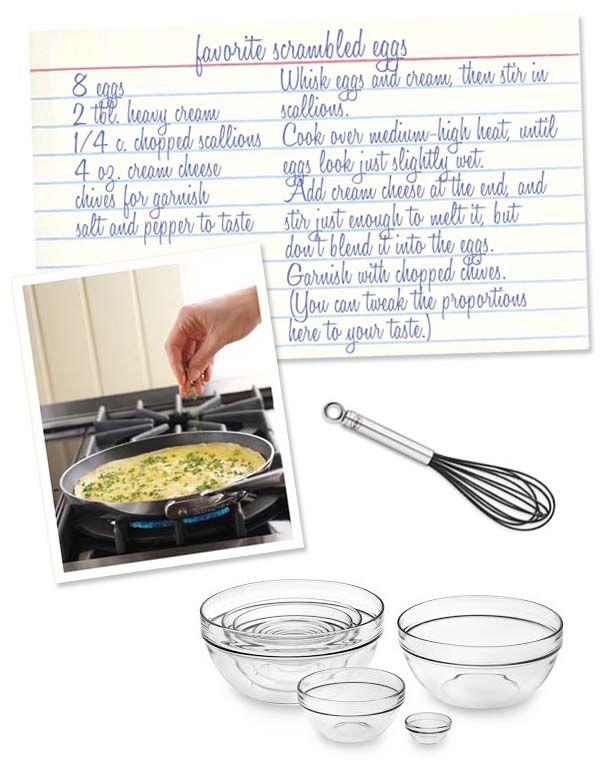 1. All-Clad d5 Stainless Steel Nonstick Omelette Pan
2. Rösle Silicone Egg Whisk
3. 10-Piece Glass Bowl Set
Then there's the aftermath of hosting a Sunday brunch: clean-up. And again, Williams-Sonoma steps in to make the whole experience all the more pleasant. Their Meyer lemon dish soap, hand soap and lotion all smell so bright and clean, and they look way nicer next to my kitchen sink than some of the alternatives out there (I may or may not have bought a set as a little gift for myself…). Together with a set of dish towels and a wood-handled brush I think they'd make a perfect shower or wedding gift.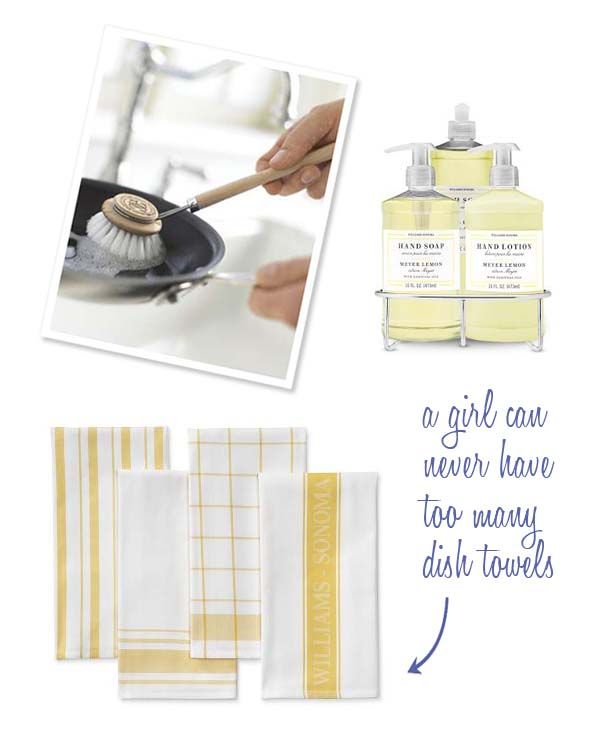 1. Maier Nonstick Pan Cleaning Brush
2. Williams-Sonoma Essential Oils Collection, Meyer Lemon
3. Williams-Sonoma Set of 4 Assorted Kitchen Towels
Okay, so who wants a $150 gift card to Williams-Sonoma?! To enter the giveaway… if you haven't already registered with Williams-Sonoma, sign up and then leave a comment here telling us the registry item you're most excited about. And if you are already registered, you can add another item and share it in the comments. You have until next Wednesday, March 9th, to enter. I will announce the randomly selected winner on Friday, March 11th. Oh, and I should also mention that you can receive an extra entry if you include your public registry link in your comment. I can't wait to hear all about what you've registered for!
This post sponsored by Williams-Sonoma.