Do you ever have those weeks where you get totally thrown off, and think Tuesday is Wednesday and Thursday is Friday? Well, that was this week for me – I don't think I ever knew what day it was! Needless to say, I'm hoping the weekend will help me reset my brain. Steak-and-eggs breakfast with dad will help, right? How are you celebrating your dad this weekend?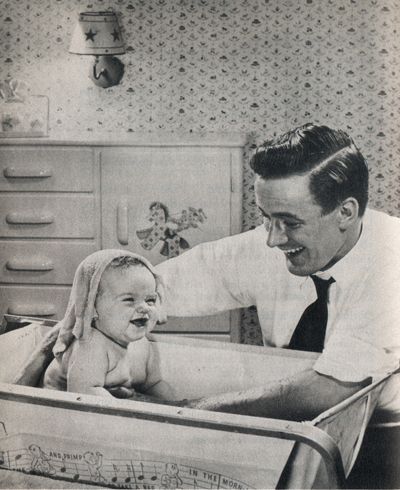 from the Homemaker's Encyclopedia via RetroLife
Some links for your Father's Day weekend!
Break dancing kittens. And pandas and bunnies.
Love Magbooth's idea for A Portrait of America, via The Collection.
Will you have an unplugged wedding?
GQ's guide to summer wedding style, via Grey Likes Weddings.
Prettiest friendship bracelet ever, via Oh Joy!
Outfits for your iPad.
These TOMS are just in time for summer, via Lovely Little Things.
Cats in bars, via Miss Moss.
These Fleabag clutches look perfect for summer.
This proposal on the Golden Gate Bridge is jaw-dropping. I mean, wow.
Father's Day by The Sartorialist.
This bride wed in her mother's dress. Loving the sleeves!
If I can't live in an over-water bungalow, maybe I can hang out in a see-through canoe.
Be Inspired is going to Australia!
Oh, and Ses Petites Mains is giving readers 30% off all spring flower girl styles until Monday. Coupon code: shhhh
Magnolia Photo Booth Co., Ses Petites Mains and Newlywish are sponsors of Snippet & Ink.