It's gray and dreary here today, so Kara and Will's warm October wedding seemed like a nice way to brighten things up. Plus, these photos from David Newkirk are beautiful! Though they live in San Francisco, the couple chose the Harvest Farm Campground in Kara's home state of Iowa for their nuptials. They planned the entire thing in just three months!
As the bride says, "It was a labor of love and we couldn't have done it without our family and friends in such a short period of time. Everyone was so generous and helpful and it was such a wonderful feeling to be surrounded by such love and enthusiasm. And even though the day had it's hiccups and there were things that didn't go as planned, in the end it all turned out beautifully."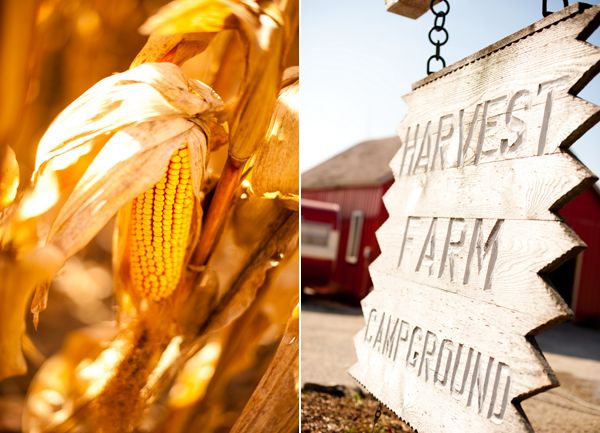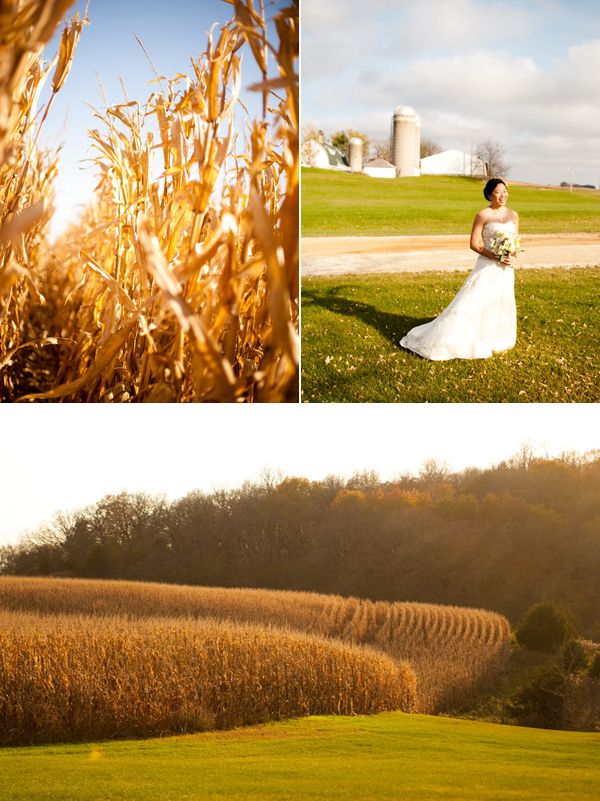 The farmer whose property bordered Harvest Farm Campground graciously waited to harvest the corn in his fields until after the wedding. Our neighbor and old family friend let us borrow 80 bales of straw that were used as seating during the ceremony.
Will wore a vintage Levi's suit purchased at a favorite thrift store for $1.00! His sister wore a dress she already owned, and Kara's sister wore an Alfred Angelo dress found at Goodwill for $3.00.
Says Kara: We tried to incorporate elements from our heritage into the wedding. For example, Will and I walked down the aisle together, which is both a German and Swedish tradition and honored both my mother's and father's families. We had a chuppah in honor of Will's paternal side, and we had a bagpiper who played Scottish music in honor of his mother's side.
I've been a lifelong thrift store aficionado, have a love of all things vintage and am committed to re-using and recycling as much as possible, so we started combing thrift stores and rummage sales for all kinds of dishware, flatware, vases, linens, picture frames, Christmas lights and things that could be used to decorate. We lucked out one afternoon driving by an antiques store that had gone out of business and left unwanted items by the side of the road. For favors, we gave out dish towels which my grandmother and my mother embroidered with our names and the date of our wedding. We also used them as napkins for the dinner.
My brother's girlfriend made our wonderful, homespun wedding cake. It was a chocolate cake recipe from the Depression handed down from my grandmother, that uses no eggs, with cream cheese frosting. My mother made supplemental sheet cakes of our favorite butter brickle (technically butter pecan) cake with her homemade brown sugar frosting. Delicious! My mother and I made "Burning Man" cake toppers from twigs and acorns (Kara and Will met at Burning Man in 2002).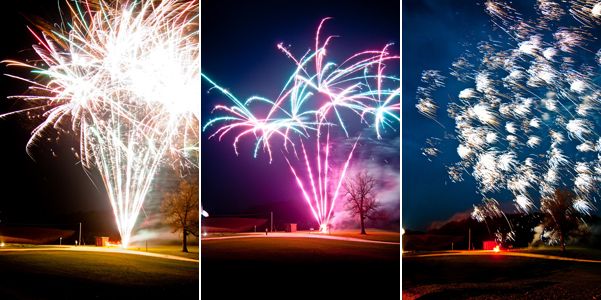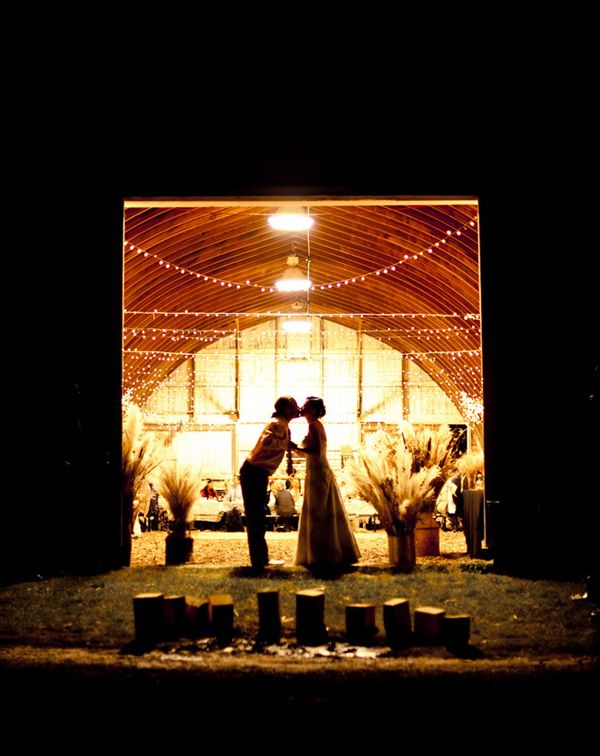 Photography: David Newkirk
Venue: Harvest Farm Campground in Cresco, Iowa
Bride's dress: Allure Bridals
Bouquet: Everyday Bouquets (Rochester, Minnesota)
Day-of coordinator: Cara Castelli-Sathrum from A Moment Like This
Congratulations Will and Kara! See tons more photos from their wedding over on David Newkirk's blog.