You may have seen pics from Kristine and Matt's rock-n-roll chic wedding before, but it's one of my favorites, and the sweet and talented Leah McCormick sent over some more great shots – nearly every single one would make for a perfect Sunday Edition. This is one stylish couple, and their wedding totally reflects their love of music and retro style. Says Kristine:
People had a tendency to look at our wedding and try and figure out the theme, which I think comes from a need to simplify and categorize things. If anything, the theme of our wedding was "Wedding." We obviously pulled in style elements and iconic images from different eras, but I think the outcome was relevant and current.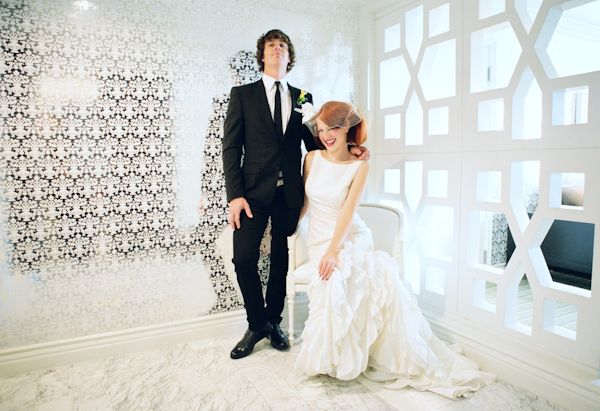 Kristine had mod-inspired mini dresses made from lemon yellow silk for her bridesmaids.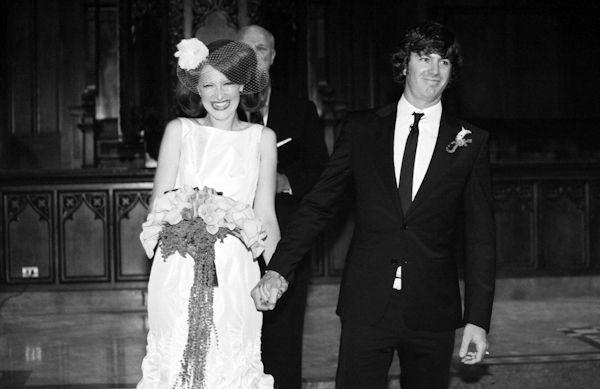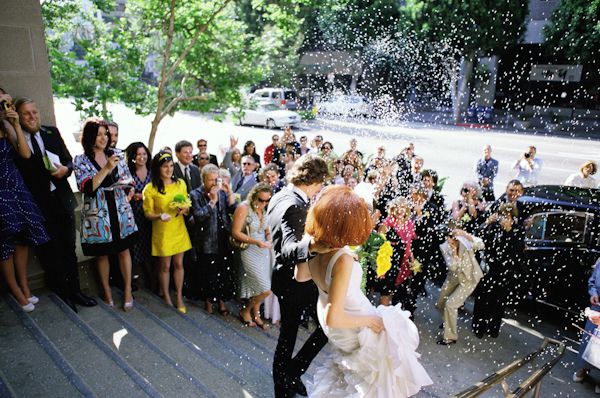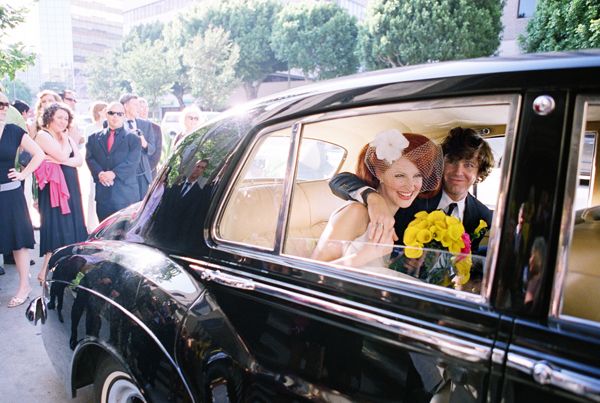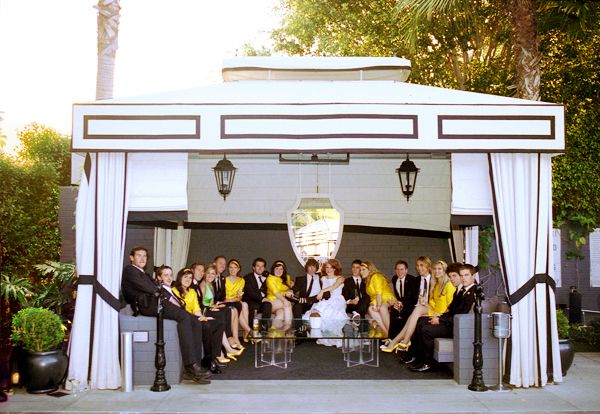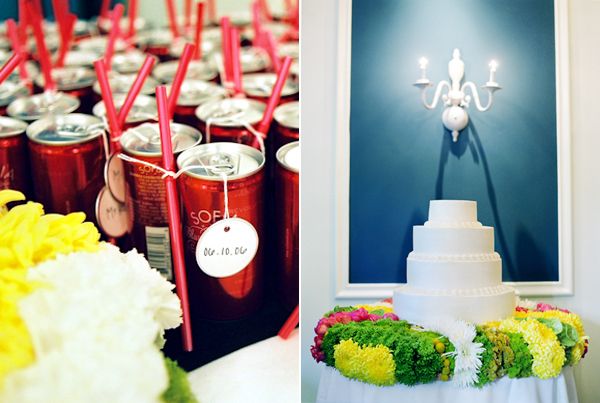 After the ceremony, guests joined the couple at the Viceroy for a cocktail reception. Guests were invited to take home hot pink cans of Sofia Blanc de Blancs.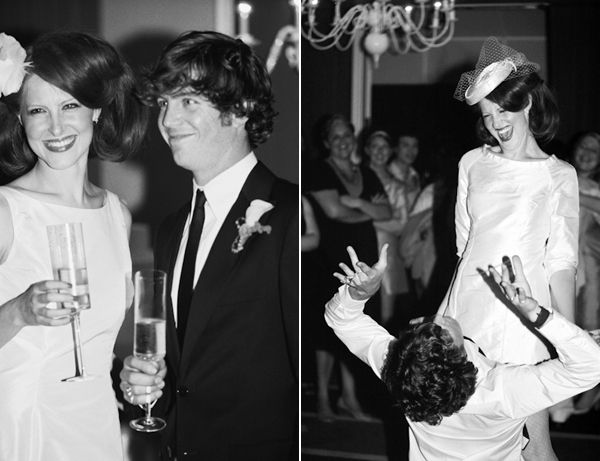 Kristine was sweet enough to send over some details about the day…
The hair… Needless to say, Jeremy can basically make hair defy gravity. He is amazing, so it was easy to just trust him to do his thing for the wedding hair. It was important to me to have hair that I wouldn't have to think about or mess with at all, which eliminated wearing it down, but I also didn't want some terrible prom updo. I also knew I didn't want it to look totally 60's, or 40's… just awesome. The crazy thing is, my hair is super long, so several people thought I actually cut it.
The music… When choosing our music, I approached the wedding like a film director scoring a movie. Each song helped tell our story. I walked down the aisle to Bjork's 'Gerous Palmstroke,' which lyrically really speaks about marriage to me. I felt that it captured everything I wanted to express that day about God, about the act of getting married, and about Matt. We decided that since I was choosing that song for him, he would choose the first dance song for me, which was "Downtown Train" by Tom Waits. We also had Matt's mother and aunt lead an old Irish traditional hymn during the ceremony, "Be Thou My Vision."
The ceremony… We really wanted a reverent wedding. No matter someone's faith, I feel that the wedding is a sacred venture, and Matt and I wanted to acknowledge that fact, and not make it light or silly. It seems like too often couples want to relieve the weightiness of the ceremony with some comedy, instead of saving that for the reception (where perhaps your gay best friend will give your mother a lap-dance…).
Vendors
Photography: Leah McCormick / Ceremony venue: Immanuel Presbyterian Church in Los Angeles / Reception venue: Viceroy Santa Monica in Santa Monica, California / Bride's dress: Oscar de la Renta / Hair, makeup: Jeremy Taylor for Salon Gregorie's / Groom's suit: Zara / Flowers: Sarah Dethlesfsen from Floral Kitchen / Cake: Beverlywood Bakery / Music: DJ Greg Bowler of Acid Girls
Leah McCormick just posted even more great shots from this wedding!