Though they live in Washington D.C., Courtney and Blair both grew up in California, so a San Francisco wedding made perfect sense. Says Courtney (a Snippet & Ink bride!), "We were enamored with the idea of inviting our friends to San Francisco for Labor Day weekend so they could get a chance to experience the city. With that in mind, we felt the Presidio was the perfect way to reflect San Francisco and California history."
200 guests joined the couple to celebrate their nuptials, and Matt from Our Labor of Love captured the day beautifully…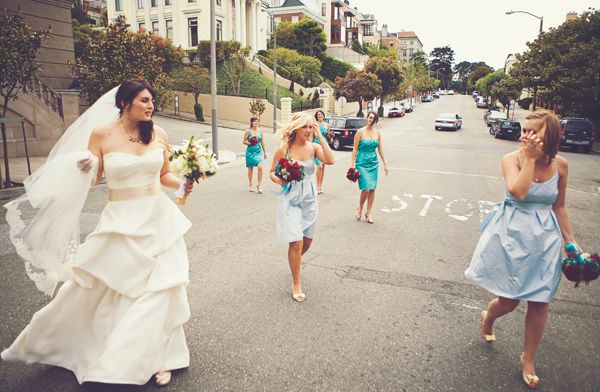 Says Courtney: One of the more difficult aspects of planning a San Francisco wedding is just how unpredictable the weather is. We chose Labor Day weekend because it tends to be one of the driest times of year. We were even more excited when the entire week was sunny and warm! But, like it does in San Francisco, the fog and wind rolled in on our wedding day. And I have to say, once we got our pictures back, I was so happy it did, because the pictures of the fog covered Golden Gate Bridge and of my bridesmaids and me being blown about in Pacific Heights are some of my favorites.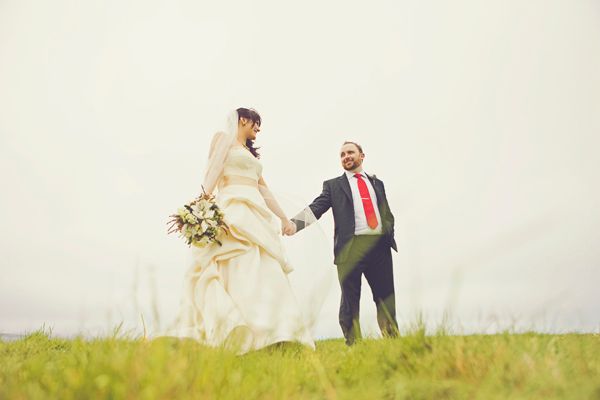 While we were planning the wedding, we gave a lot of thought to the reception and how beautiful and fun the whole affair would be. But the ceremony really stole the show, particularly because of the heartfelt way that our officiant performed it. Jim was my youth pastor and has remained very close to my family, and everyone kept telling me over and over how special the ceremony was. It can be hard to realize when you're planning that, though all of the little details will make for stunning photographs, in the end the ceremony eclipses everything else.
As a surprise to Blair, his mom arranged to have a bagpiper play our recessional as we walked out of the church. I was watching his face the whole way down the aisle to see when he'd realize what was going on!
I think one of the great things about weddings is that sometimes the unplanned aspects can be the most special or memorable. We had arranged for a mariachi band to play for our entrance, but there was a miscommunication and they left too early. Our amazing DJ was quick on his feet and picked out the Arcade Fire's "Wake Up" for our entrance. Then, at the end of the night he played it as our last song and all the guests formed a circle around us and slowly closed in on us until we were all in a huge group hug. It definitely wasn't planned but it was one of the most memorable moments!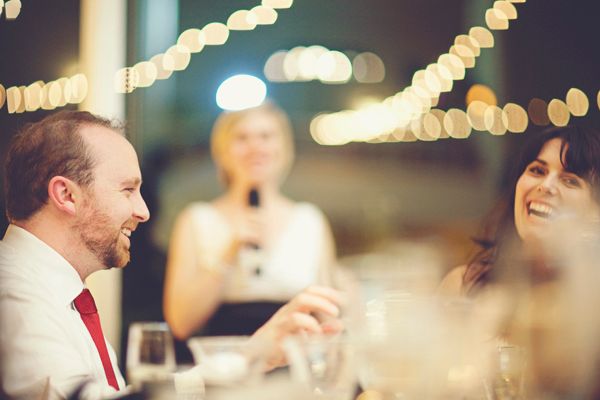 I love that Courtney and Blair let their venues direct style choices, without being too theme-y. Courtney says, "We loved the mission-style architecture of the chapel and the surrounding buildings and tried to reflect its style in our invitations, music (mariachis), cuisine (our midnight snack was churros and jamon sliders), and decor. Also, I chose a dress with a lot of lace to sort of echo the Spanish feel."
Photography: Matt Miller for Our Labor of Love
Ceremony venue: Main Post Chapel in the Presidio, San Francisco
Reception venue: Golden Gate Club in San Francisco
Bride's dress: Monique Lhuillier purchased at Carine's Bridal in Washington D.C.
Bridesmaid dresses: J.Crew and Bella Bridesmaid
Groom's suit: Brooklyn Tailors
Stationery: Kathleen Designs (From the bride: "I first saw Kathleen's own invitations on A Cup of Jo and thought they were some of the coolest invites I'd ever seen. I am so happy I contacted her because she created custom letterpress invites for us that perfectly captured the mood of the whole event and were so affordable that we ended up asking her to create menus, programs, and even thank you cards.")
Flowers: Grace Street Florals
Catering: Grace Street Catering
DJ: Ron Grandia
Congratulations Courtney and Blair! Thanks so much for sharing all of the wonderful details of your wedding, and thank you to Our Labor of Love for sending over these beautiful photos.
Bella Bridesmaid is a sponsor of Snippet & Ink.