Julia & Jack | Pink and Orange Wedding in Napa
Julia and Jack's gorgeous Napa Valley wedding seemed like just the thing to share with you on this first day of September – with fabulous pink and orange details (including stunning flowers by Max Gill), and warm afternoon light, it's perfect for this end-of-summer/beginning-of-fall season we're in. And of course, Meg Smith's photos are always perfect for any day of the year. Not that you need a reason to get married in Napa, but Julia shared a bit about why she and Jack chose Auberge du Soleil for their celebration:
Jack and I met while pursuing our MBA's at Georgetown, but he graduated ahead of me and accepted a job in Scottsdale before we became serious. We hit our turning point when I agreed to take a road trip with him from his folks' house in Portland, Oregon to his new home in Arizona. We stopped in Napa and Sonoma for the first time, and it was there that we realized we were truly serious about one another. We've taken many trips back since that first trip and it was where we realized we wanted to get married. When it came time to choose our wedding location the choice was obvious – we wanted to celebrate our day with a small group of our very best friends and family and share this special place with them.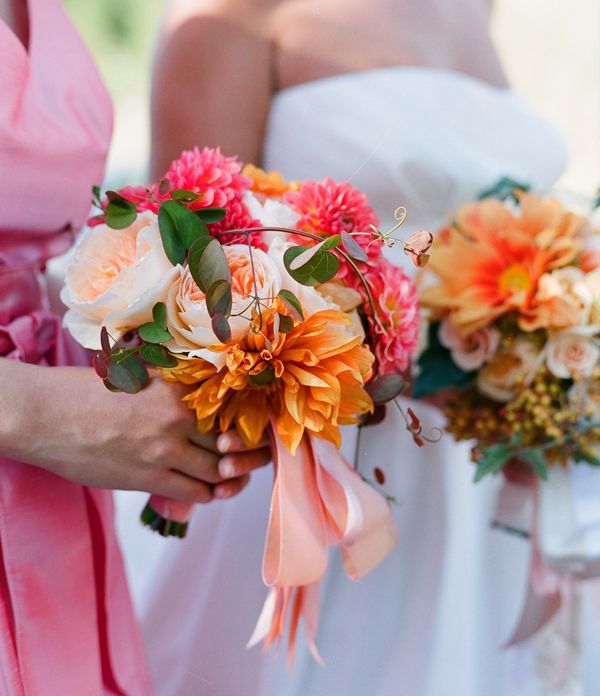 Bridesmaids carried bouquets of pumpkin-orange dahlias and hot pink dahlias, peach garden roses, vines and pepper berries.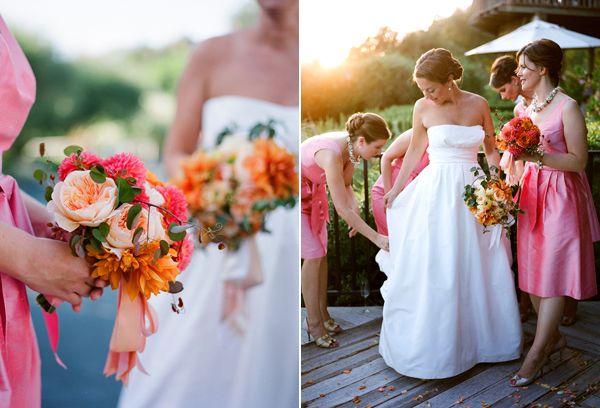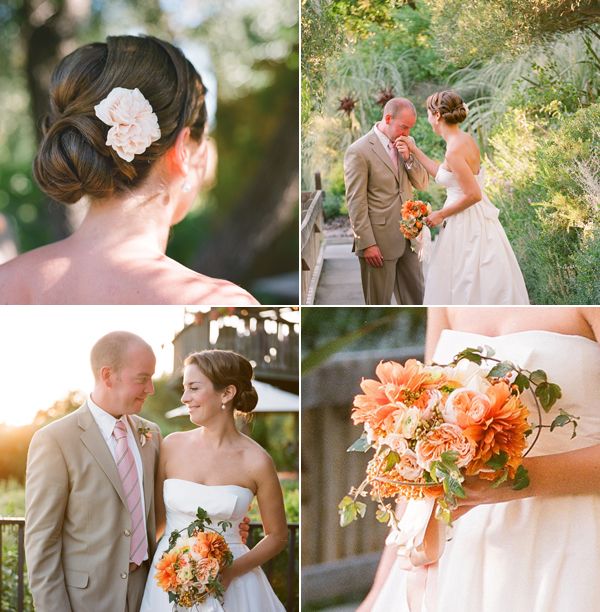 The bride's bouquet included shades of peach and orange.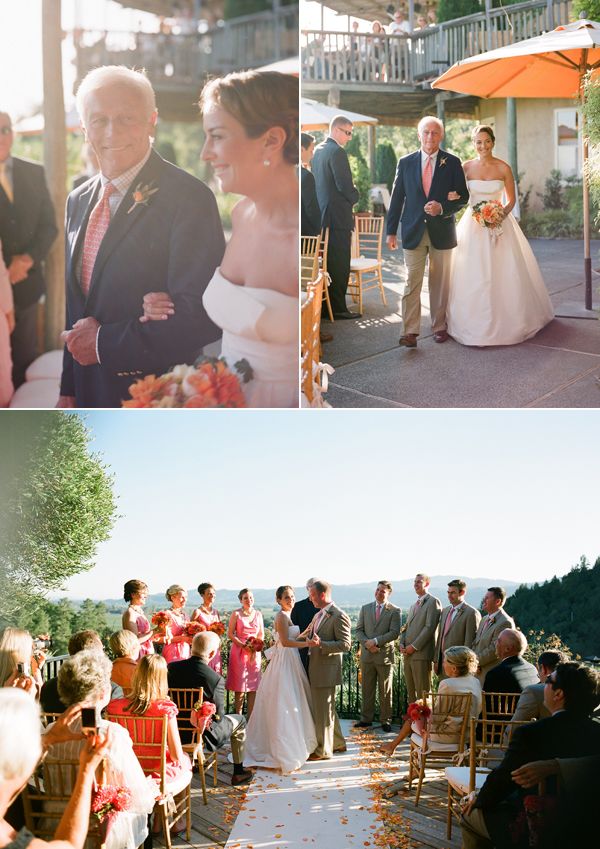 Perfect weather and a view of the Napa Valley – what could be lovelier?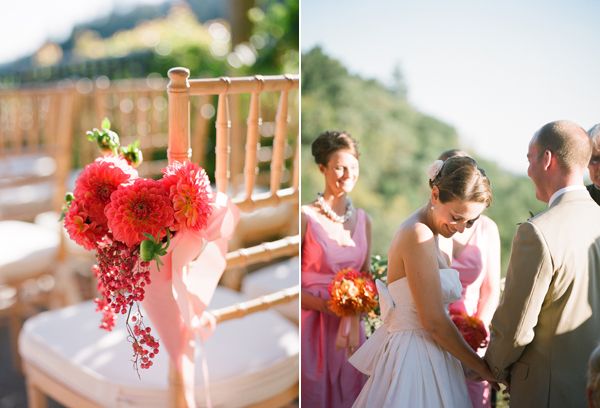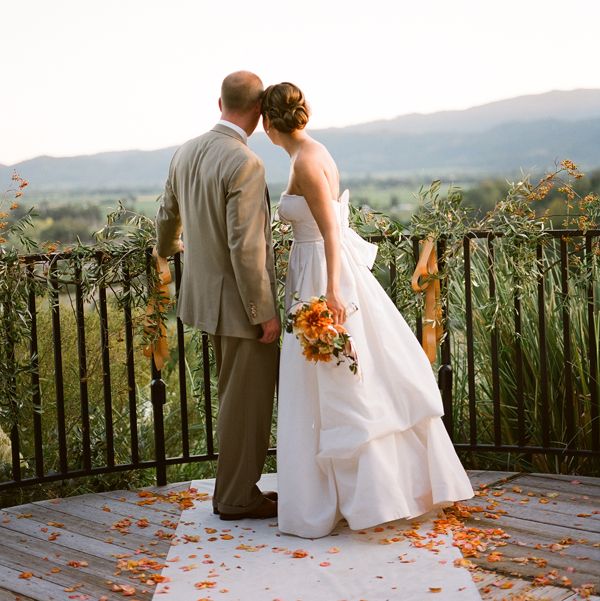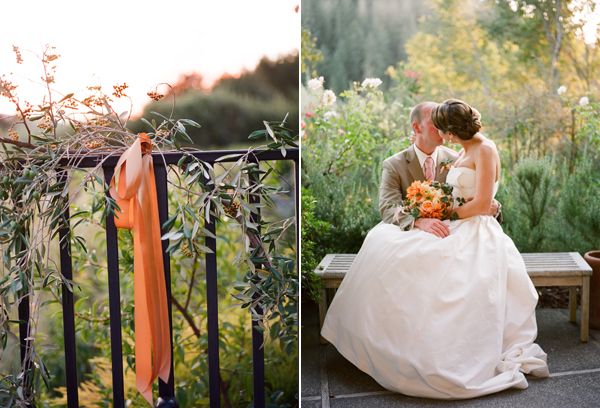 An olive leaf garland makes for elegantly rustic ceremony decor.
Max Gill (floral genius) arranged centerpieces in various silver and pewter vessels, incorporating seasonal flowers and blackberries.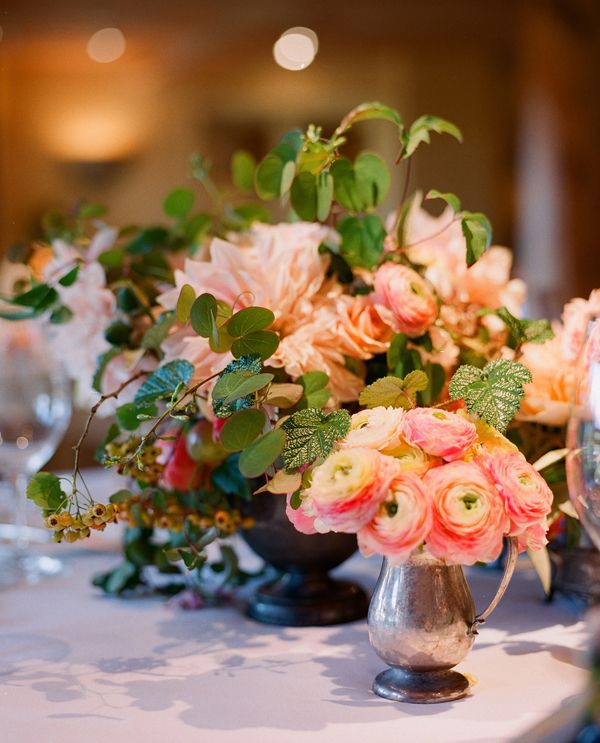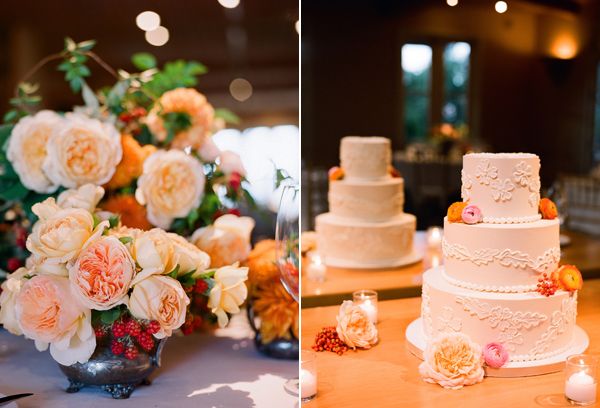 For dessert, Perfect Endings created a classically lovely buttercream wedding cake with three tiers and two flavors: vanilla bean pound cake with crushed organic raspberry preserves and cream cheese filling; and sponge cake with white chocolate mousse, California apricots and orange liqueur.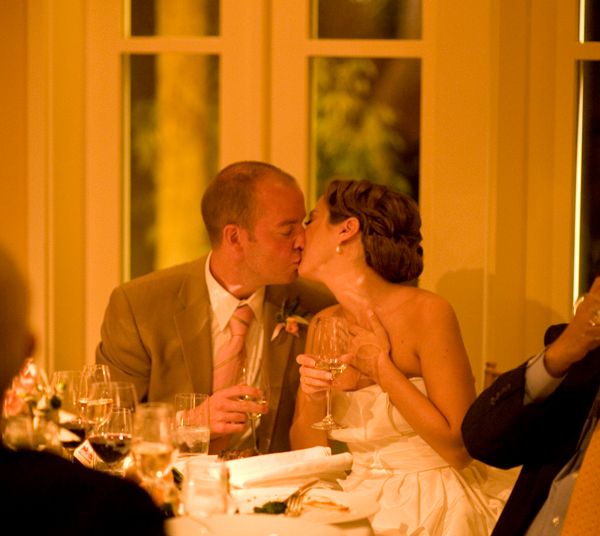 To me, Julia and Jack's wedding is further evidence that you don't need to reinvent the wheel when planning your wedding. Choose a few elements to focus on, and whether you do-it-yourself or hire a professional, do them well. A few pitch perfect details make for a stunning celebration that's a treat for those in attendance. Congratulations to the happy couple, and thank you to Meg Smith for sharing all of these beautiful photos with us!
If you like this Napa wedding, take a look at these other posts:
Monica & Aaron's gourmet wedding.
Kate & Sam's apple farm wedding.
This rustic inspiration board in blood orange, peach and gold.