Real Wedding: Alisa & Tim
One of the things I strive to do on Snippet & Ink is to show that simple is often the most beautiful choice, and that it can take many lovely forms. Alisa and Tim's charming Fourth of July wedding is one example of how sweet simple can be, and the bride was kind enough to share plenty of details about the day.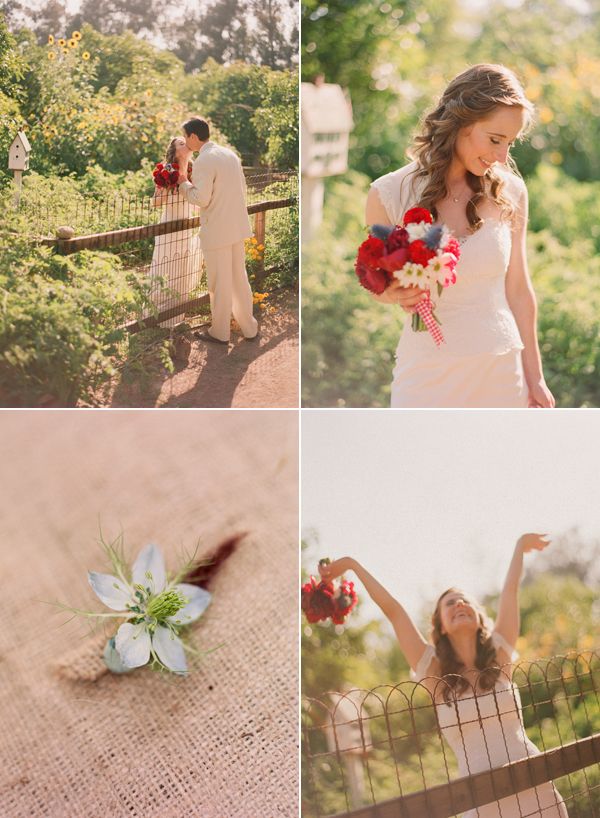 Says Alisa: In reflection, the experience of planning our wedding was as meaningful and fulfilling as our wedding day itself. I am so grateful for all of the time I got to spend with Tim, my friends, and family through out the process. Even though at times it was stressful, it was also a lot of fun, and a huge growing experience. I think we both developed a new appreciation and stronger relationship with the people most important to us in our lives. And I think the commitment we made to each other on our wedding day was that much stronger because of the process.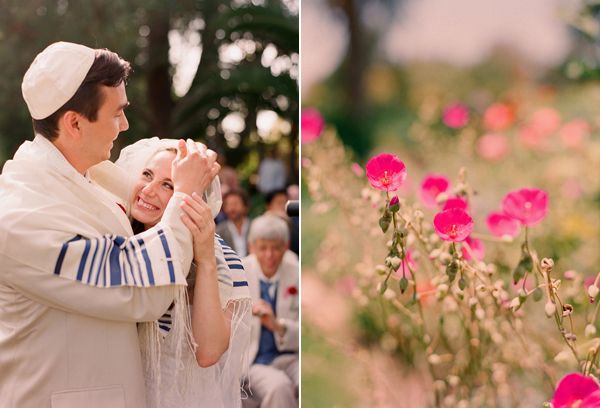 For a number of reasons, including venue availability and ceremony timing requirements, we decided to get married on Sunday, July 4th. We were a bit nervous about choosing this date, but after surveying close family and friends we were thrilled to discover that people were actually excited about the idea. We knew we wanted to have a light relaxed fun celebration, and since our guests were forgoing their usual holiday plans to celebrate with us, we wanted to make sure it was worth their while!
There are so many yummy gorgeous ideas out there that I definitely needed parameters, otherwise I would have been lost. Fortunately, Fourth of July served as a great guide for the design and feel of our event and fit well with our location. We decided sparklers, BBQ, and cupcakes were a must. Colors were loosely shades of blue and red with some yellow and white.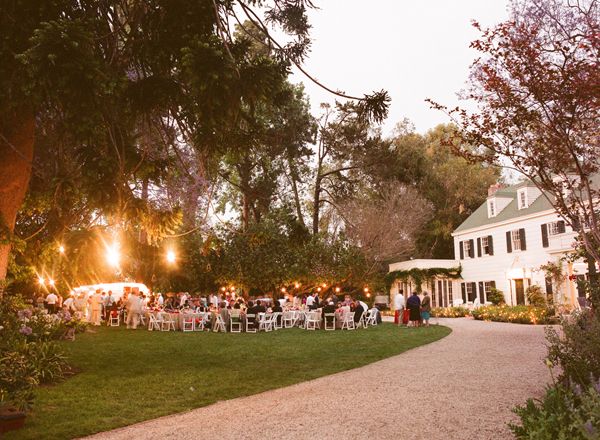 For the seating cards, I took the scrap fabric from the table toppers and made button magnets, using button kits, a glue gun, and magnets purchased from a local craft store. My mom and I also made a bunch of extra buttons (without the magnets) that could be used on the bouquets and boutonnières.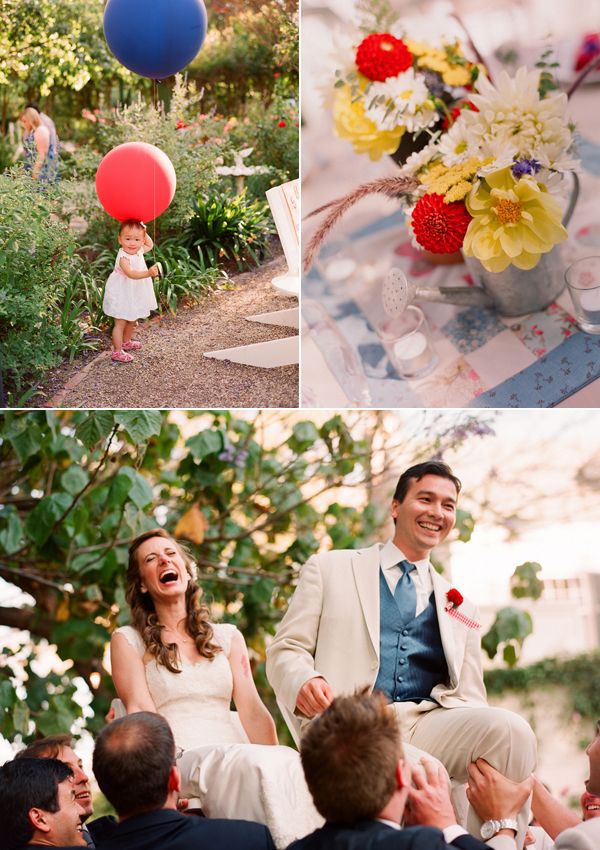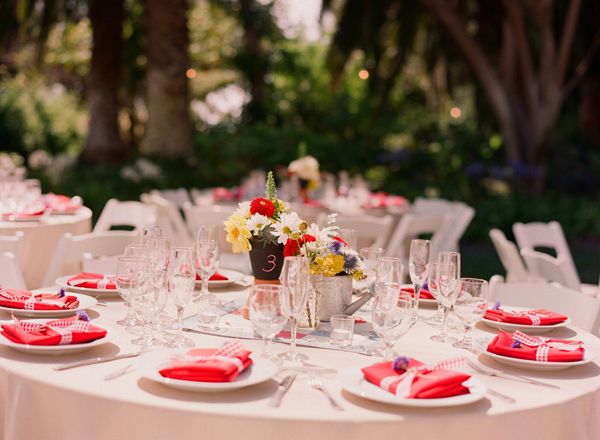 I owe nearly all of the credit for our wedding design to my mom who had the idea to make quilted table toppers. She picked beautiful fabrics that truly captured the spirit of our day and we used them as our design guide for nearly everything. Our "guest book" was also my mom's idea. She cut up evenly sized squares of fabric, ironed special paper onto the backs making them stiffer for signing, and set them out at a table with fabric pens. After our wedding she used the signed squares, the mini table quilts, and any extra fabric she had left over and created an heirloom quilt for our bed as a wedding present.
All of the other lovely details including flowers and the look and flow of our event was thanks to our vendors, who in the end did what they did best to make our vision for our wedding a reality. Truly, the whole day surpassed our greatest expectations. And one of the best parts was watching our guests enjoy everything as much as we did!
Photography: Beaux Arts Photographie by Kirsten Ellis
Venue: McCormick Home Ranch in Camarillo, California
Month-of coordination: Kelly Oshiro Design
Bride's dress / shoes: Paloma Blanca / Angela Nuran
Bridesmaid dresses: J.Crew
Suit rentals: Friar Tux
Flowers: Kelly Oshiro Design
Officiant: Rabbi Rochelle Robins
Catering: DJ's California Catering
Cupcakes: Enjoy Cupcakes
DJ: Ian Gotler for Red Shoe LA
Sparklers: Sparkle
Congratulations Alisa and Tim! Wishing you both all the best! I also have to say, it's such a treat to have Kirsten Ellis from Beaux Arts Photographie here on Snippet & Ink, and I hope she'll be back again soon.