Real Wedding: Tracy & Jake
San Francisco isn't the easiest place to wed on a budget, but Tracy and Jake prove that you can have a playful and stylish wedding in the city without breaking the bank. Says the bride:
We were originally going to have our wedding in the countryside of northern Wisconsin where Jake is from. It would have been a beautiful outdoor summer wedding but we realized that it was going to be waaay too much work, and a major pain for all our friends and family since it's 3 hours from the nearest airport. San Francisco is where we met and have called home for the past six years, so instead we decided to do a simple ceremony at SF City Hall, and we started looking at restaurants whose food we enjoyed. Two friends recommended Axis Cafe in Potrero Hill so we checked it out and it was perfect. They only serve seasonal/local ingredients which makes for a delicious menu, and they offered us an off-season discount.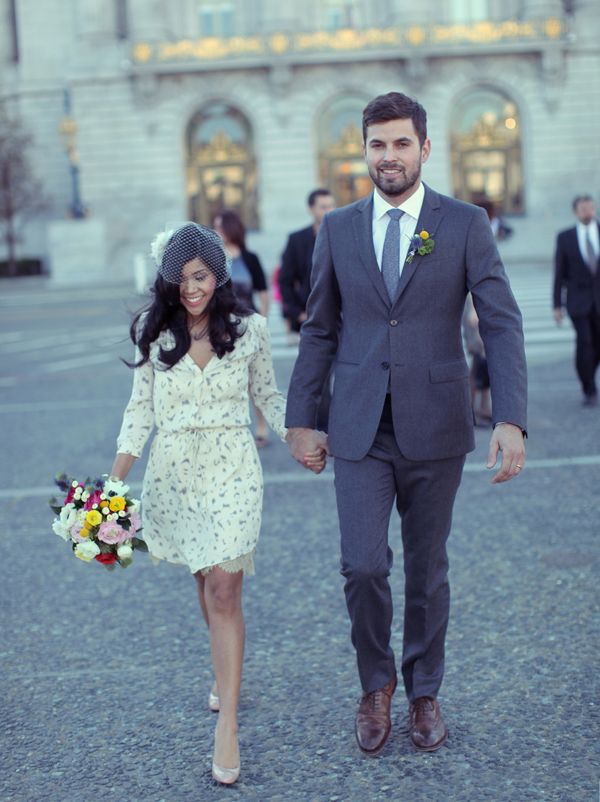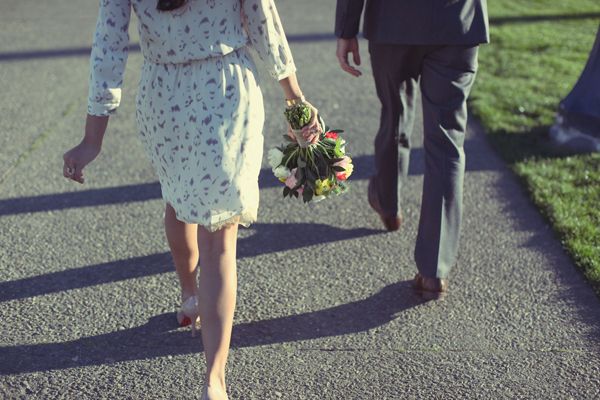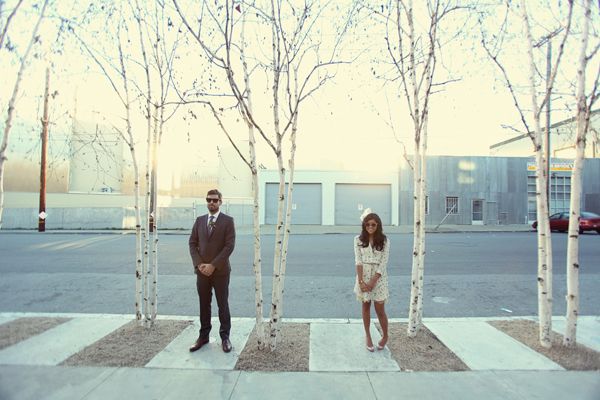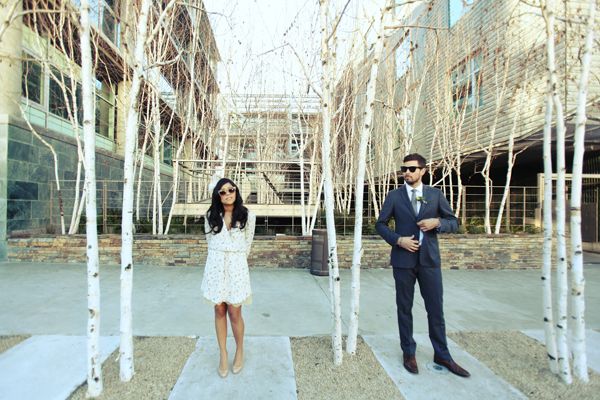 Decide where you want to save and where you want to splurge. Photographs were very important to me so we put more of our budget there. I've never seen a photo of my parents on their wedding day since they eloped and move to the United States right after. We wanted to have something to show our children and grandkids!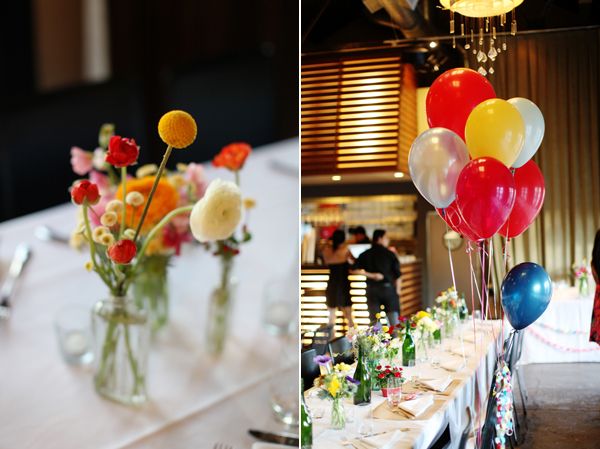 A good friend is a floral designer who created simple loose arrangements. The groom designs and makes furniture from salvaged materials, and he made the sandwich board sign and T&J table decoration (below) from salvaged wood.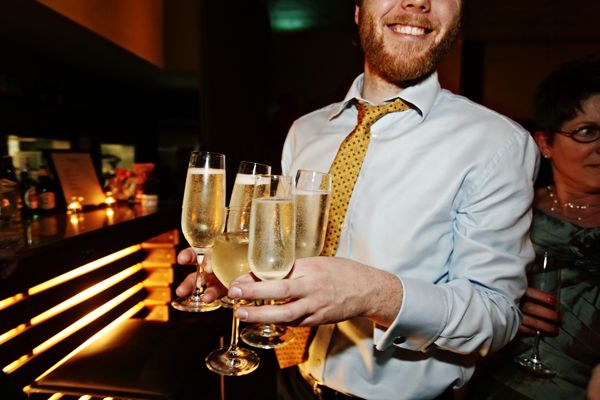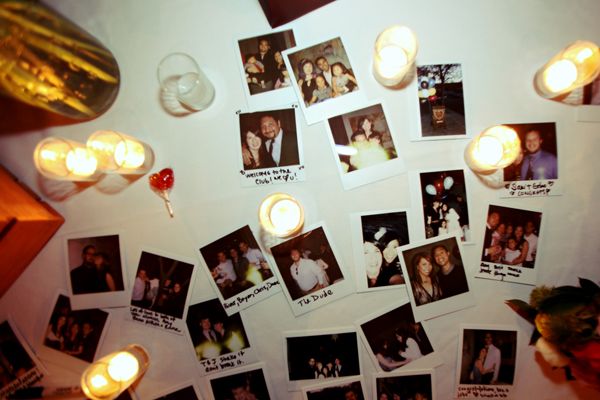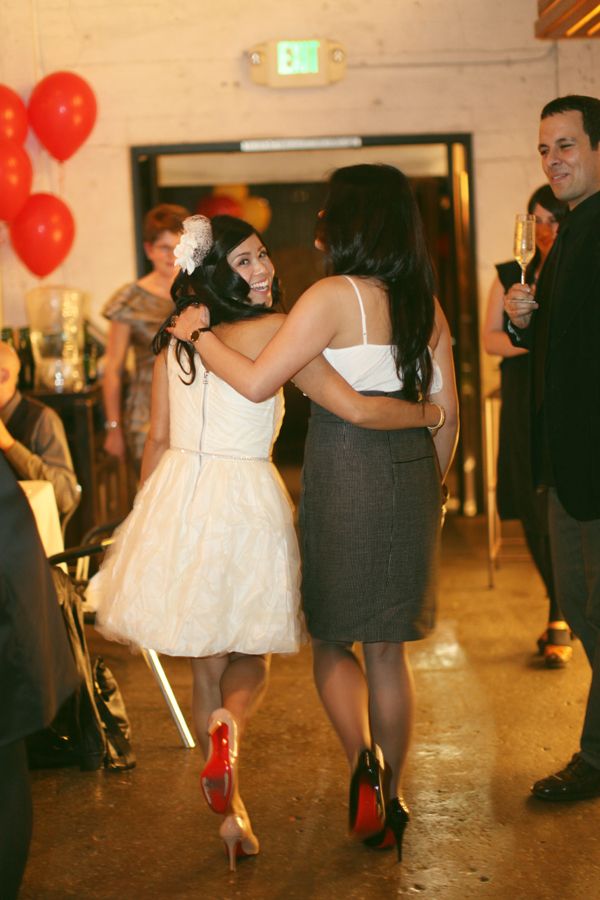 I couldn't wrap my head around spending over a thousand dollars on a dress that I'd only wear once, so I opted for two affordable dresses (one for City Hall and one for the reception) and splurged on shoes which I'd get to wear again and again.
Tracy's favorite part of the day? "Jake's speech. We had nothing planned so I had no idea it was coming. He brought me and all the guests to tears (of joy that is!)." And Jake's favorite moment? "When I walked walked into City Hall and saw Tracy in her dress for the first time."
Photography: Traci Griffin
Ceremony venue: San Francisco City Hall
Reception venue: Axis Cafe in San Francisco
Bride's dresses: Wilfred by Aritzia / Alice + Olivia
Bride's shoes: Christian Louboutin
Hair / makeup: Mike Page Style Lab / Mary Sanchez
Groom's suit: Burberry
Flowers: Twig & Twine
Custom signs: Reason Furniture Design
Cake: Caitlin Williams Freeman
Congratulations Tracy and Jake! And thank you to Traci Griffin for sharing these beautiful and fun photos with us!