Real Wedding: Alison & Duncan
Winter weddings will forever have a special place in my heart after my own this past December, including Alison and Duncan's December wedding, sent to us by Erin Hearts Court. It was a beautiful day full of traditions and classic details, and the couple planned it themselves in less than three months. Says Alison:
Since Duncan would be deploying in early 2011, and because it was important to me that we planned our wedding together, we decided to get married during the time we had off for Christmas and New Year holidays – this way we not only got to have our dream wedding, we also had time to sneak away for a honeymoon. A lot of people think I was crazy for trying to pull a wedding together in just two and a half months, but in reality it was quite simple. We just focused on the key elements – the venue, photography, flowers, food, music – and then hired vendors we trusted could deliver on our vision. Even if we had 12 months to plan the wedding we wouldn't have changed a thing!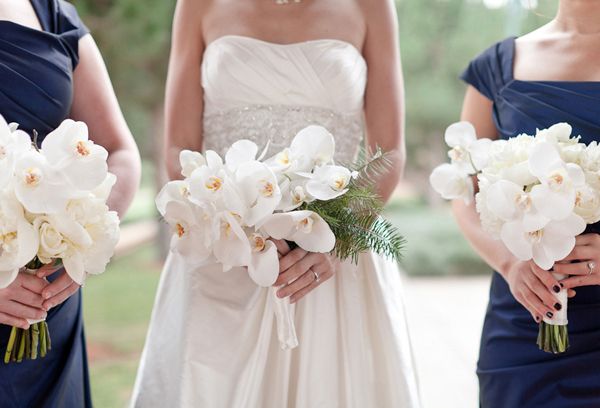 The first thing we did was choose a venue. We'd been to the Grand Del Mar for dinner and loved the location and the food, so it was the first place we called – luckily they were available! We were able to have our ceremony and reception at one venue, which simplified things for our out-of-town guests. Paige Levy (the Grand Del Mar's in-house wedding coordinator) and her entire staff were amazing to work with. From planning the menu to managing the flow of events on the wedding day, everything was flawless because of Paige and her team.
My favorite moment from the day was our "first look." There was something so special about walking down the stairway and seeing my husband standing at the foot of the stairway in his uniform – it just took my breath away! At that moment it felt like everything was right in the world.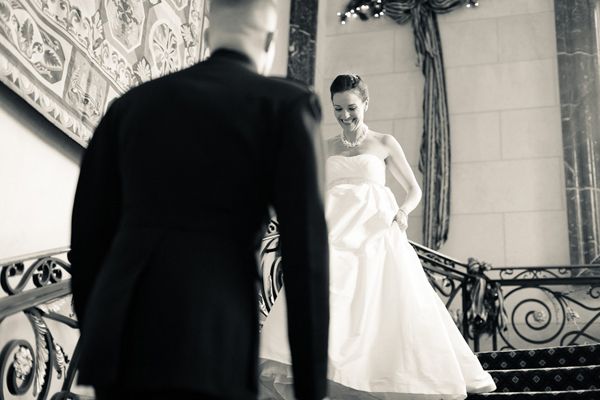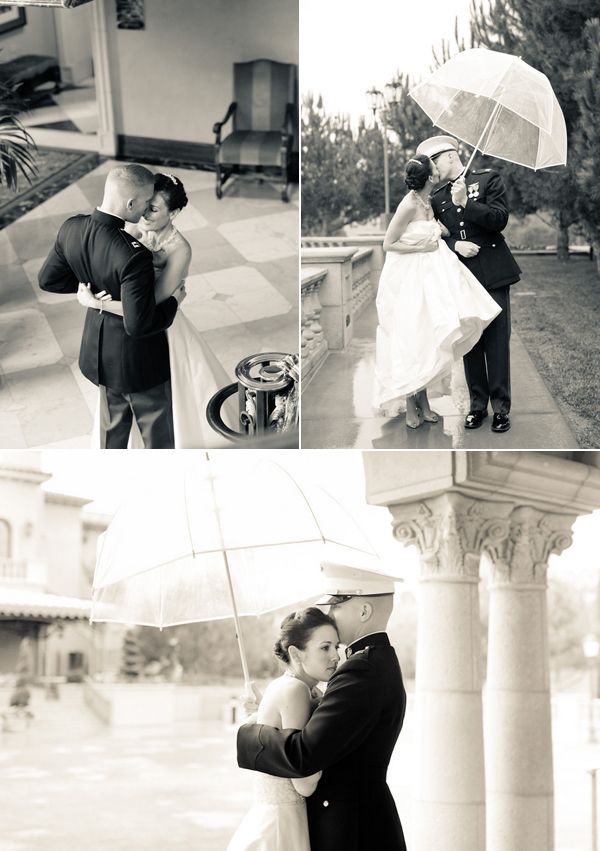 It was important to Duncan that we have a traditional Marine Corps wedding, so that was the primary theme of our wedding, and everything else was meant to complement these traditions. Since we were getting married the week before Christmas, we also decided to incorporate some Christmas elements in our day to keep things festive.
I was fortunate enough to wear my mom's wedding veil, so it was a special moment to have my her adorn me with the veil she wore 36 years earlier when she married my father.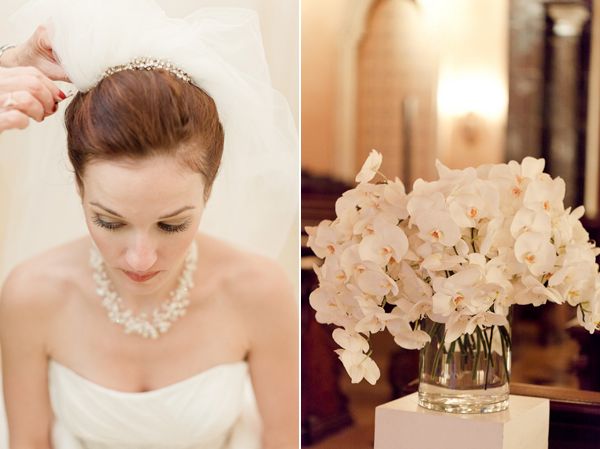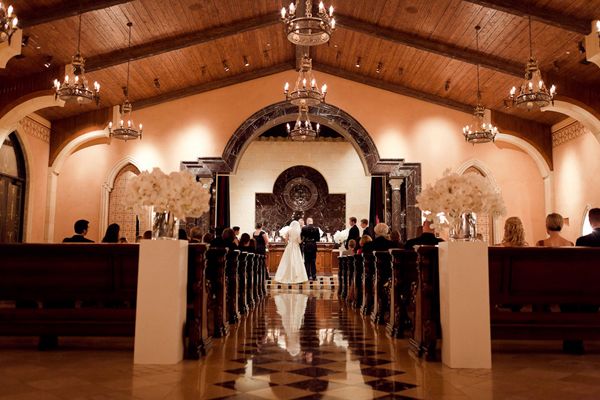 I loved wearing a blusher veil during the ceremony. Duncan and I saw each other before the ceremony for photos, but I didn't wear my veil, so wearing it for the ceremony allowed us to have a special moment as I walked down the aisle. There's something so nostalgic about having your groom lift the veil at the end of the ceremony.
Instead of a traditional guest book, guests signed Christmas ornaments.
The band was fabulous and had everyone on the dance floor all night long!
Photography: Erin Hearts Court
Venue: La Capella and Manchester Salon at The Grand Del Mar in San Diego, California
Bride's dress / shoes: Casablanca Bridal / Jimmy Choo
Bridesmaid dresses: Tadashi Shoji
Hair / makeup: Haim Salon / 10.11 Makeup
Flowers: Meg Fickling from La Partie Events (Says Alison, "Meg and I worked together at a flower shop in high school and I've admired her work for years. She was the only one trusted to do my flowers.")
Band: Jordan Music Entertainment
Congratulations Alison and Duncan! Thank you for sharing your beautiful winter wedding with us!
This wedding was submitted via Two Bright Lights.