Real Wedding: Kate & Felix
Warning: This post is wordy. With lots of photos. I couldn't help myself – there was too much good stuff to leave any of it out.
So many of the photos that end up in a real wedding feature are about little details, things like confetti in glassine envelopes or designer shoes. And those things are wonderful and lovely and I enjoy them as much as the next person. And maybe 90% of the weddings that get featured are outdoor daytime weddings because, well, the lighting is gorgeous. Nick Tucker's photos from Kate and Felix's winter wedding are something else entirely. Instead of gauzy afternoon light, they're beautifully composed high-contrast nighttime shots. Instead of details, his photos capture energy – you can just feel the joy and love that were present at this wedding. Why did the couple choose this photographer? "We wanted someone who was instinctive, embraced chaos and didn't mind low light levels," says Kate. Brilliant.
And that brings us to the specifics of the day. Kate, a media producer for The Tate, and Felix, the artistic director of an immersive theater company, chose for their venue "a rambling empty old house near North Wales, that hadn't been lived in for over 60 years." Says Kate, "We are very lucky and have a lot of very talented and creative friends, who camped in the house the week before the wedding and set about transforming it from a shell into its former glory. Lots of ivy, enormous branches of mistletoe, rich brocade, beautiful furniture…"
In Nick Tucker's words (since he was there and since I couldn't possibly say it better), it was "a genuinely strange wonderland wedding…a blend of gothic and 1950s high society Manhattan, the whole place peppered with dandies, roustabouts, raconteurs, and Belle Époque beauties. And yet the day's crowning achievement was that none of the spectacle ever overshadowed what was, at heart, just a very beautiful marriage. The whole thing was personal and idiosyncratic, but it was never self-consciously eccentric and never lost sight of its being a wedding day and amazing party." Have you ever heard a more delightful description of a wedding? And the best part is, you can see all of that in these photos.
Okay then, on with the photos already!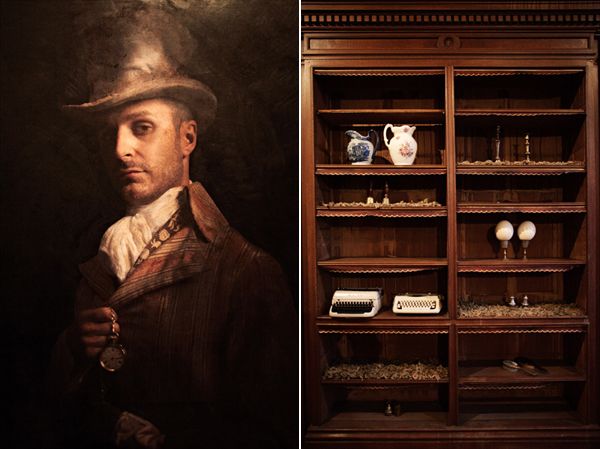 From Kate: My dress was vintage, late 1930's silk and tulle from a wonderful shop on Portobello Road in London called Jane Bourvis. Jane also found me a beautiful long Victorian veil. I wore dark blue velvet ballet shoes from Emma Hope and my great grandmother's gold and pearl necklace. The New York artist Jude Miller handcrafted bluebell flowers from paper for my hair (Felix had proposed in a bluebell wood the spring before).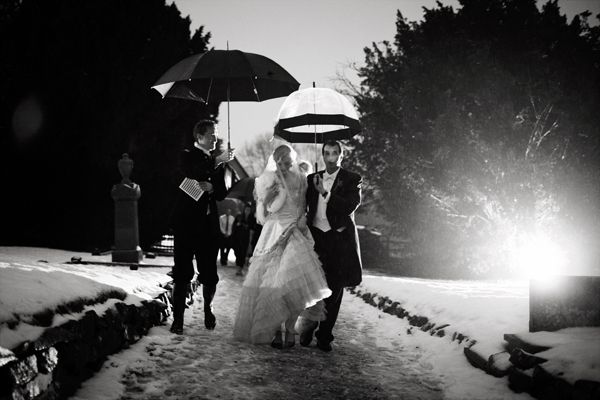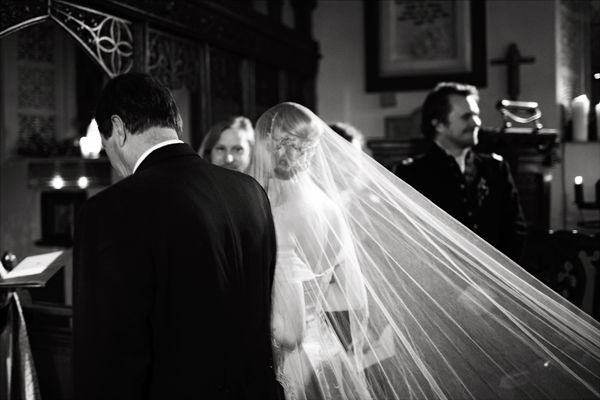 My favourite moment was seeing Felix for the first time, it was extraordinary and spine tingling, the best feeling I've ever had. And as I walked up the aisle, my little nephew said in a stage whisper saying 'Goodbye Kate Vogel,' which was extremely perceptive, since I was becoming Mrs. Barrett…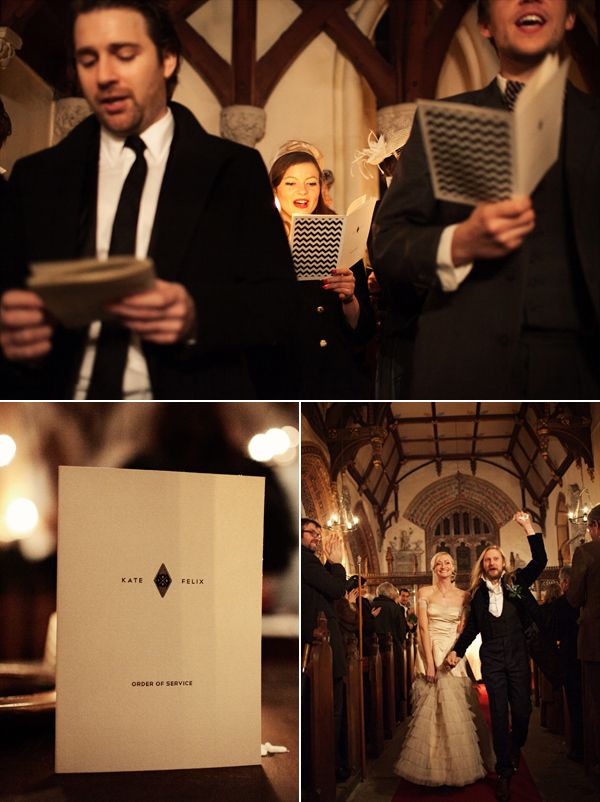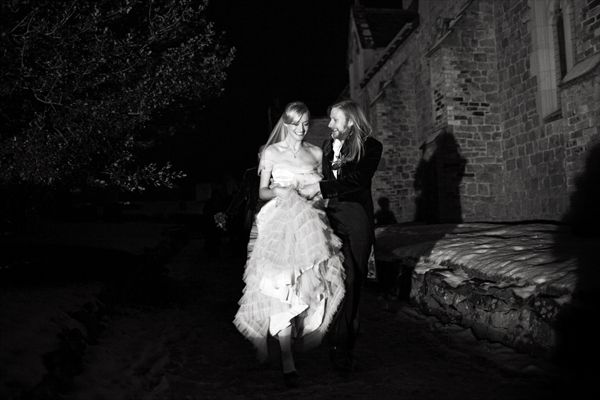 How about those gigantic mistletoe "chandeliers" – what a clever idea for a December wedding!
We wanted to have lots of music and dancing at different times throughout the day. We had a Welsh choir in church, Morris Dancers (old English pagan tradition), Music Hall Sing Alongs, a British Cockney knees-up with Chas & Dave and English folk music for dancing and reels with the band Bellowhead.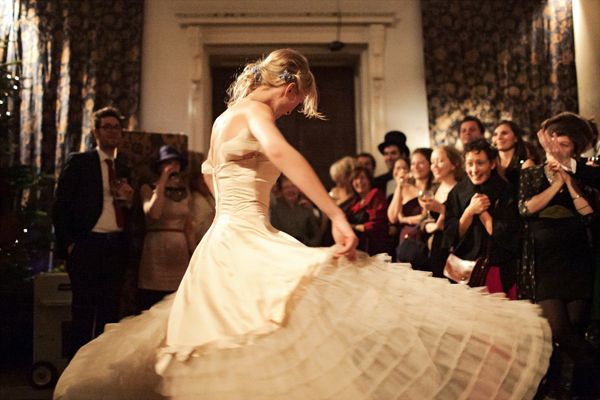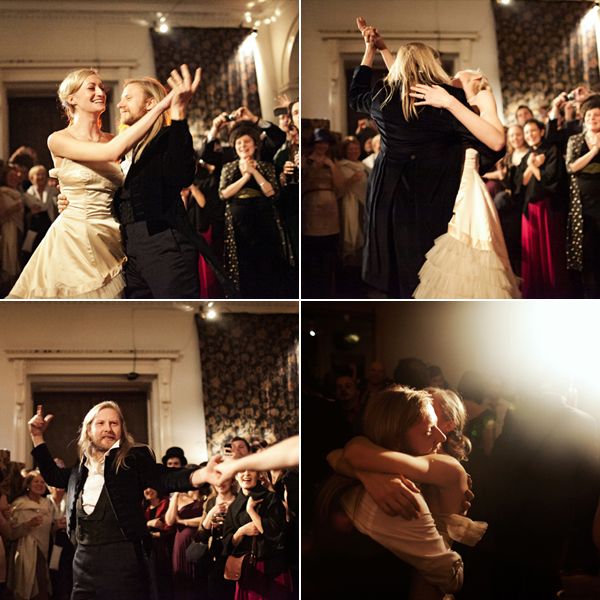 Yes, that is a 30-foot wedding cake fireworks bonfire…
A huge thank you and congratulations to Kate (a Snippet & Ink reader!) and Felix, and thanks to Nick Tucker for sharing this spectacularly beautiful and eccentric wedding with us. A perfect reminder that there's not one right way to have a wedding, and that above all, a joyful marriage celebration – whatever it looks like – is the whole point. And if you can't get enough, see the rest of the photos from this wedding over on Nick's blog.
Photography: Nick Tucker
Bride's dress / shoes: Jane Bourvis / Emma Hope
Paper bluebells: Jude Miller
Music: Chas & Dave / Bellowhead
Immersive theater company: Punchdrunk