Guest Blogger: Oh So Beautiful Paper
[You can usually find Nole at her blog where she posts about one of my favorite things: paper. If you need inspiration for any of your printed goods, she's the lady to see. Today, though, she's here on Snippet & Ink with one of my other favorite things, flowers!]
Hi everyone!  My name is Nole, and I'm absolutely thrilled to be helping Kathryn out while she's off getting married.  You might know me from Oh So Beautiful Paper, where I blog about gorgeous wedding invitations and pretty paper goods, and I also recently co-founded a brand new wedding blog just for weddings in and around Washington, DC called United With Love!  Needless, to say, I LOVE weddings, but I thought that today I'd focus on a subject that I don't often get to talk about – wedding flowers!
When it comes to flowers, I'm rather partial to anything that blooms in the spring.  Peonies, tulips, daffodils, cherry blossoms, lilacs – the smell of spring alone is practically intoxicating for me.  I specifically planned my own wedding for the spring so that we could have lilacs and peonies in our floral arrangements, so I'm a pretty big fan of any bouquet featuring these lovely spring flowers:
Peonies Left: White Peony Bouquet by Ella Blue Studio via Once Wed; Right: Pink Peony Bouquet by JAC Photography via The Bride's Café |  Lilacs: Lilac Bouquet by Holly Chapple Flowers
My second big flower love is for dahlias.  I love them in every color – from the delicate white and soft pink hues to deep reds and purples –and size, particularly the huge dinner plate dahlias that could serve as a single-stem bouquet.  If I had to get married in any other season, it would be in the fall just for dahlias!
Dahlias (top) Left: White Dahlia Bouquet by Borrowed Blue Old New via The Bride's Café; Right: Red Dahlia Bouquet by Holly Chapple Flowers, photograph by Genevieve Leiper |  (bottom) Both images via Poppies and Posies
One of my recent flower addictions isn't really even a flower at all, but I'm completely head over heels for any bouquets that incorporate raw cotton.  Whether as an accent in a rustic fall bouquet or together as the sole element of a winter wedding bouquet, I love the texture and softness of raw cotton.
Cotton Left: Simply Jessie Photography via Elizabeth Anne Designs; Right: Boca by Design via Duck Duck Collective
For me, anemones are like the tuxedo of wedding flowers: just totally classic.  Whether in traditional black and white or in a bright pop of color, I get a little bit weak in the knees each time I see a bride carry anemones down the aisle.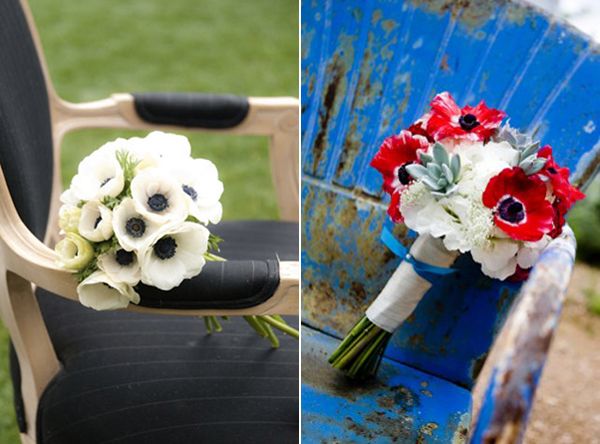 Anemones Left: Floral Arrangement by Camelback Flowershop photographed by Milena Photography via Green Wedding Shoes; Right: Floral Arrangement by Blue Lotus photographed by Engaged Studio via Elizabeth Anne Designs
I'm usually not a fan of roses, but there are few things more romantic than cabbage roses – particularly in a delicate shade of pink.  The pink rose and succulent bouquet below by Holly Chapple Flowers nearly takes my breath away it's so beautiful!
Cabbage Roses Left: Floral Arrangement by Holly Chapple Flowers photographed by Kristen Gardner; Right: Poppies and Posies
That's it from me for today!  Thank you so much, Kathryn, for inviting me to stop by and letting me indulge my love for flowers!