Guest Blogger: simplesong
[Simplesong is one of my daily reads, and if you spend two minutes over there you'll understand why. In addition to blogging, Suann is also a graphic designer after my own heart:  simple, classic taste with a touch of whimsy. Just like her guest post!]
Hi! I'm Suann from SIMPLESONG and I'm thrilled to be here today. I thought I'd share some fun bridesmaid gift ideas. I've come up with a couple of themes for the "preppy friend", the "foodie friend" and the friend that loves handmade. Package your gift in pretty box with a big satin bow and you're sure to show your appreciation to your bridesmaids in style!
For the preppy friend what about (1) a personalized tote, (2) a stripey shirt [add a monogram for extra fun!], (3) wellies, (4) personalized cushions, (5) a stack of bracelets with special sayings , (6) the true prep book would be a wonderful addition to your gifts, (7) monogram correspondence, (8) a gift set from Russell & Hazel, (9) or an extra special stationery gift box?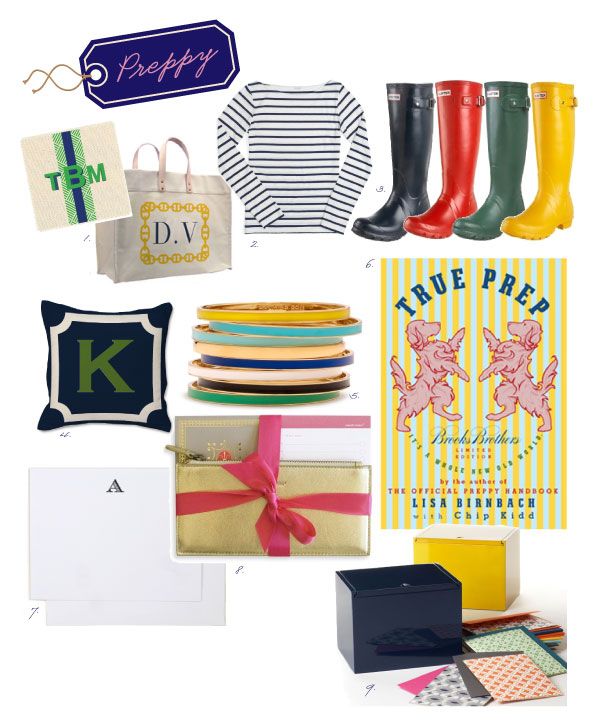 For the foodie friend what about (1) an heirloom apron, (2) a letterpress printed recipe box, (3) a set of customized chocolate, (4) a wine gift box, (5) a big box of French macarons, (6) heirloom measuring spoons, or a (7) a very sweet painting?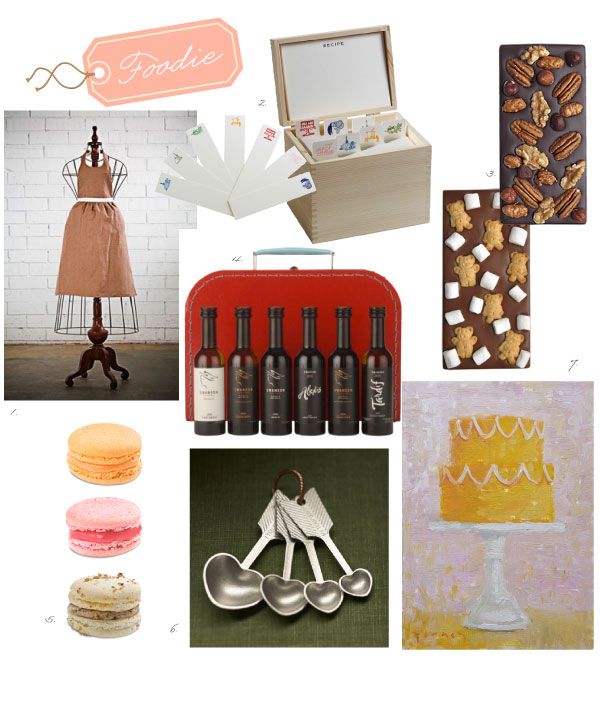 And for the friend who loves a handmade gift, what about (1) an Elva Fields necklace, (2) personalized correspondence, (3) a special piece by Paloma's Nest, (4) a floral necklace, (5) a pretty clutch, or a (6) personalized stamp with hand lettering?
Thanks, Kathryn, for having me today! And congrats on your big day …. wishing you a lifetime of happiness!