Retro Seersucker Wedding in New York :: Hannah & Ian
When Brooke Fitts posted the photos of these awesome seersucker invitations, I could not wait to see the what kind of cool wedding they belonged to. And Hannah and Ian's modern New York wedding was just as cool as you'd expect. Fabulous red and blue details, seersucker, stripes and hello donuts – love it! I also love hearing that a couple designed their wedding with the help of an inspiration board. Says Hannah:
We approached designing our wedding as we would approach designing an event based around a brand, the only difference being the brand was us. We are both visual people – Ian is an architect and I'm a retail display designer – so we were able to articulate a direction and visualize the look quickly. We started by making an inspiration board for the overall look & feel of the wedding. Our look was "poppy/preppy" and used a color story of pale sky blue and bright poppy red.
Once we nailed down the overall direction, we began with the paper goods. We started with the font selection (which reminded me of marquee letters with a touch of Wes Anderson), and from there we mocked up some layouts on the computer. Next, we combined that with a hand written font that Ian drew. We letterpressed the suite ourselves, and the invitation, RSVP card and directions slipped into a seersucker cozy. The wording of the invitation was a mix of formal and informal: the last line of our invitation said, "dinner, dancing and donuts immediately following." We felt it set the tone of what our guests could expect.
In addition to the seersucker cozies, Ian's mother also made table runners, yarmulkes, and waitstaff aprons for the wedding.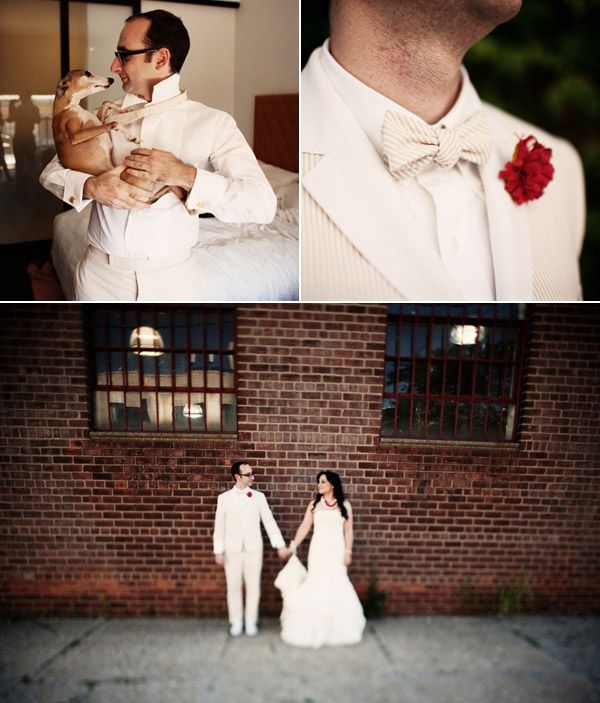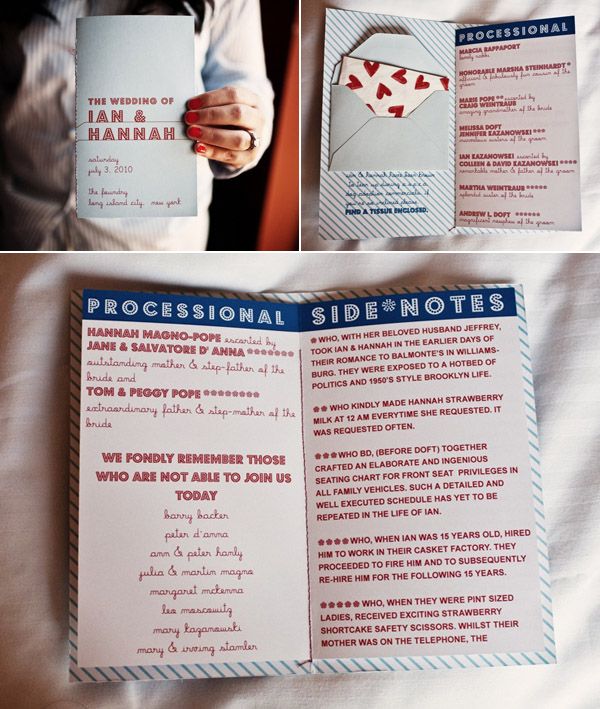 The ceremony décor was inspired by Rebecca Ward's installation at the Kate Spade store – we used ribbons to create a ribbon canopy that was a giant extended chuppah, under which all of our guests sat.
Besides getting married, the décor was the most important element of the day to us. We spent countless hours doing site surveys of the Foundry, drawing floor plans and elevations, and mocking up different ideas. The tablescape included a seersucker runner, a custom lacquer tray with fabric flowers resting in the center, napkins folded like bows with a single fabric flower pinned to them, and a custom vinyl cut table number. Once we figured out what we wanted to do, my best friend stepped in and helped us execute the designs amazingly – she made over 300 fabric flowers. Ian's mother made the runners and Ian's family's company made the custom trays.
Don't you love that one-shouldered seersucker dress?
Guests were invited to take donuts home (color-coordinated donuts at that!). Another fun detail was the custom decals on the bathroom mirrors, meant to look like a striped bow tie in the men's room and a necklace in the ladies' room. So fun!
Congratulations Hannah and Ian! Thank you for sharing your totally stylish wedding with us, and thank you to Brooke Fitts for sending over all these great pics. See tons more photos over on Brookelyn Photography's blog.
If you liked this modern New York wedding, then you might also like these posts:
Ashley and Dusty's DIY wedding in a sleek Atlanta studio.
Diana and Osman's spring wedding at the Foundry.
This modern seersucker wedding inspiration board.