Our Wedding: A Few Details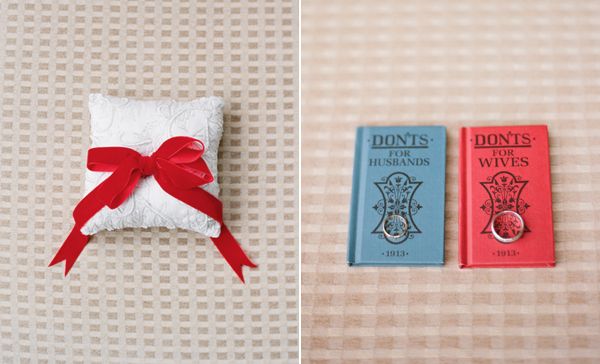 Michaele Thunen (my godmother) made our sweet little ring pillow with beaded fabric and tied with a red velvet ribbon. Our wedding bands came from Stephan-Hill, a local jeweler that my mom has used for years. I went with a very simple yellow gold band, and Ryan chose a white gold band with a scratch finish. These silly little books were just too funny to pass up.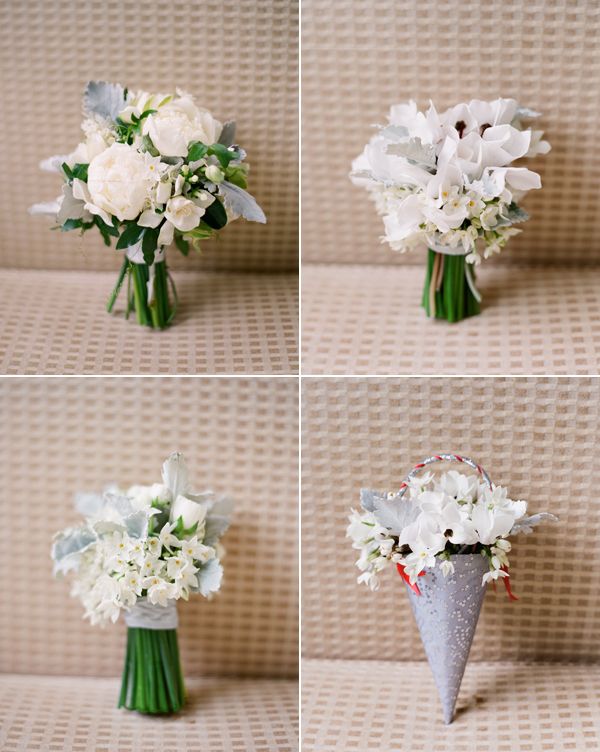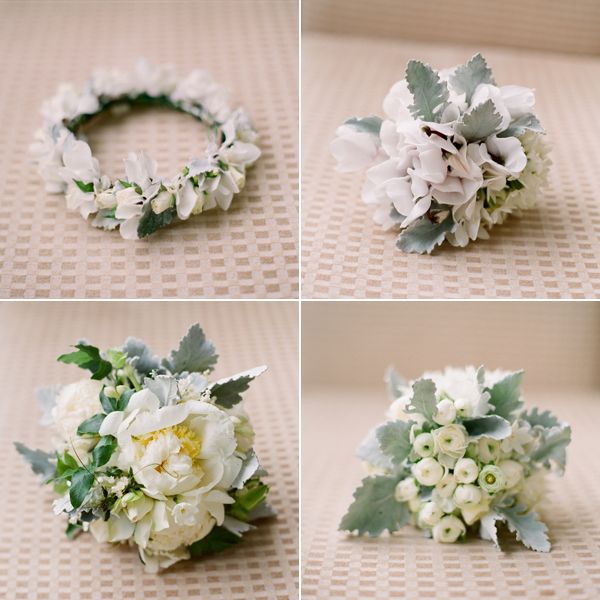 Last week I talked about the beautiful bouquet that Michaele made for me to carry. She also made the attendant bouquets using white flowers (ranunculus, paper whites, cyclamen) and dusty miller, as well as the flower girl cone (with just the perfect amount of red ribbon) and head wreath.
Many of our guests traveled from out of town to celebrate with us, and we wanted to greet them with something fun and useful, so we had welcome bags waiting for them at their hotels.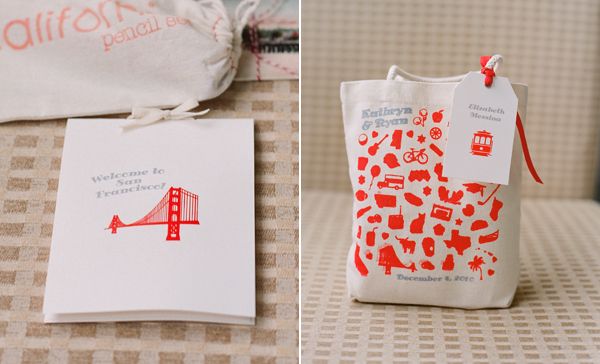 For the graphics on the bags themselves, I made a little collage of silhouettes that had to do with Ryan and me and our relationship: golf ball, laptop, the states we've lived in, a moving truck, a wedding cake. Jill Sassa screen printed the design onto small canvas tote bags purchased from Bagworks. She also designed and printed little name tags and welcome booklets that included an itinerary for the weekend, as well as some of Ryan and my favorite restaurants and things to do in San Francisco.
In addition to the welcome booklet, bags included:
Locally made Beth's Heavenly Little Chocolate Chip Cookies.
Crunchy corn from Sensible Foods for a healthier snack.
Calistoga sparkling water.
Vintage postcards from the Presidio Social Club, tied with twine to recall our save-the-dates.
A glassine bag filled with travel-sized necessities (Kleenex, Advil, toothpaste, Shout wipes, and Tums).
A set of California-themed pencils from Paper Pastries – each pencil was a different color, stamped with a different California fact, like the state bird, state motto, etc.
Photos by Elizabeth Messina.
Kiss the Groom (Elizabeth Messina), Paper Pastries and PS Paper are sponsors of Snippet & Ink. Thank you to my wonderful godmother, Michaele Thunen, for the gift of our personal flowers and the darling ring pillow.