Our Wedding: The Ceremony, Part III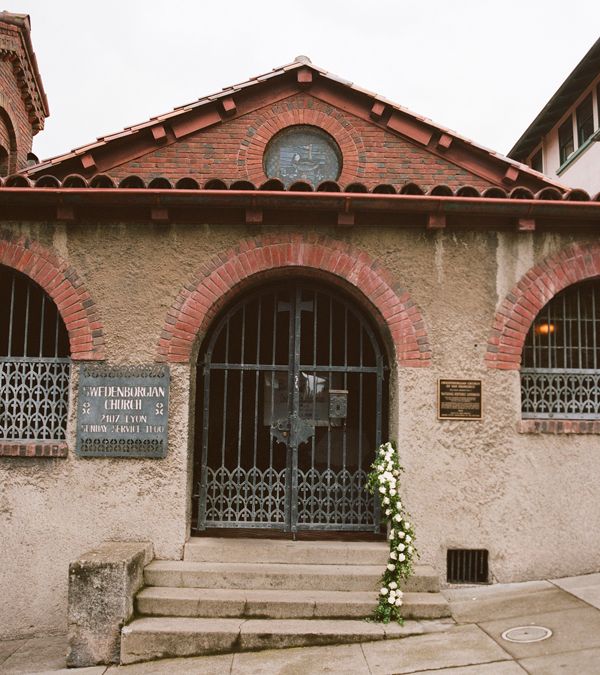 We chose the Swedenborgian Church in San Francisco because of its history, its location, and how incredibly warm and intimate it felt even when it was totally empty. We could only imagine how it would feel with a fire in the fireplace and our friends and family in the seats. The church was also flexible about us bringing in our own officiant, and would have provided a piano or organ player if we didn't have other music arranged. It was also nice that the church required very little in the way of decoration. I also can't say enough good things about working with Valentyna Hohl, the office and event manager there – she was friendly and helpful, and she worked closely with Laurie Arons (one of our wedding planners) to coordinate details for the day. (The church also has a website just for weddings, right here, and if you're having a wedding on the smaller side, consider the parish house behind the church for your reception – it's lovely!)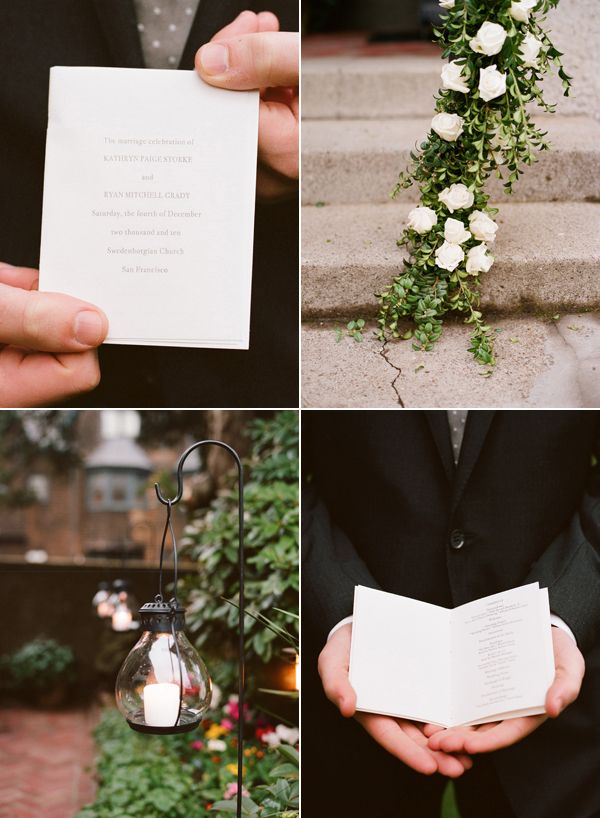 When I came into Laurie's office with a take-out menu as inspiration for our wedding program (what can I say, inspiration is everywhere!), she showed me examples of her favorite wedding programs, and they were all perfectly pocket-sized! Ryan and I provided the content with some help from Jenna and Laurie on the wording, and Jill Sassa (PS Paper) created simply lovely little booklets that fit perfectly with the rest of our stationery suite. Ryan likes when he can read along at weddings, so we included the full readings in our programs.
Though the church didn't need much decoration, Kathleen Deery added just the right touches: candles in hanging hurricane lamps along the brick walkway, a garland of boxwood and white roses on the railing, and a dramatic arrangement of peonies, pine branches and passion vine at the altar.
When Ryan and I walked out of the church, a boys choir was waiting for us singing Christmas carols – it was such a delightful surprise from Jenna, and after all the guests had headed off to the reception, Ryan and I took some photos together with the boys. They were all so darling! Actually, music was one of the ways we incorporated Christmas into our wedding – our string trio, Lawrence Strings, played Christmas favorites as our guests were coming into the church, as well as an up-tempo version of The Holly and the Ivy for our recessional. And then the Golden Gate Boys Choir and Bellringers gave everyone a wonderfully seasonal send-off!
Ryan and I departed the church in a fun vintage checker cab that Jenna had tracked down after seeing it driving around town (Marin Checker Taxi, 415-789-5356), and that Jill rigged up with a darling "Just Married" sign. The cab driver told us about all the movies the taxi had been in, which made it even more fun! (Don't ask me which movies because I totally can't remember; I just remember thinking how neat it was.)
Photos by Elizabeth Messina.
Kathleen Deery Design, Kiss the Groom (Elizabeth Messina), Laurie Arons Special Events, Lawrence Strings and PS Paper are sponsors of Snippet & Ink.