Last week I shared some of the inspiration for our wedding stationery; here is the resulting invitation suite…
White paper with gray ink and red accents were an obvious choice for the wedding we were planning, and they fit with my goal of an invitation suite that was both playful and sophisticated. I started to play around in Photoshop with fonts and motifs, and came up with a design for the invitation, reception card coaster, and reply card. With the help of Laurie Arons (our planner) and Jill Sassa (PS Paper), we finalized the details (exact colors, paper weight, text spacing, etc.), and Jill executed the design perfectly.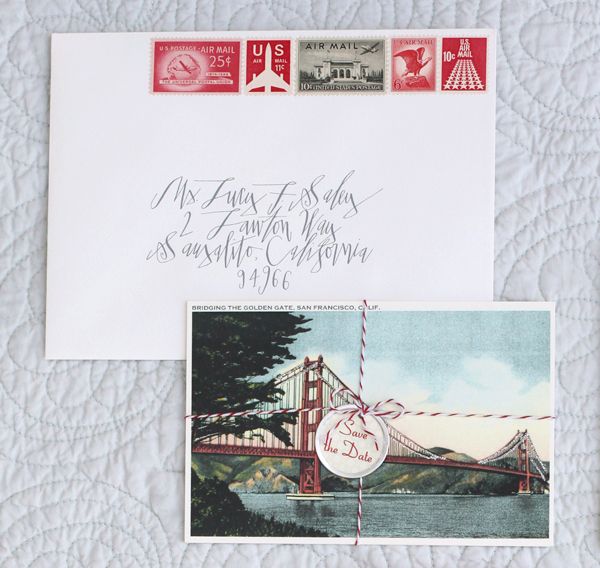 The couple times I've received mail from calligrapher Betsy Dunlap, it's always felt like a little gift – I wanted our guests to have that same experience when they received our invitations. Betsy's whimsical calligraphy (we chose her Sofia style) combined with vintage stamps from The Paper Nickel added just the right amount of fun and color to our envelopes.
For our save-the-dates, Jill found the perfect vintage postcards of a cable car and the Golden Gate Bridge, and added the tiniest bit of glitter to make them extra special. One card was printed with a hand-written note asking guests to save the date, and the other was printed with hotel and travel information. The two cards were tied together with bakers twine, finished off with a custom tag, then mailed in glassine envelopes with a wrap-around address label. (You can see a pic with all of those save-the-date details on the PS Paper blog.)
We used traditional wording on our invitations, printing just our first names in red for a little playfulness. A simple wreath motif was printed without ink (also called a blind press) at the top of the invite.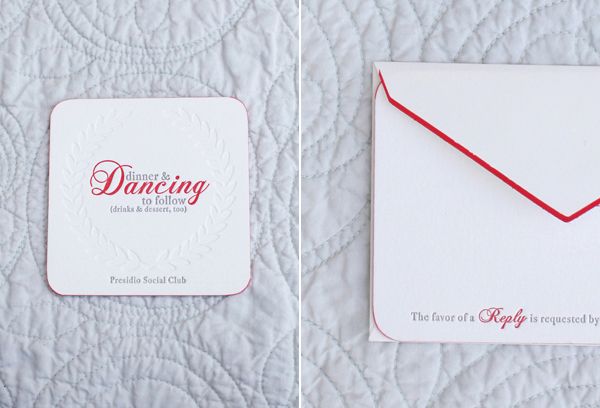 Laurie suggested a coaster for our reception card, and I immediately agreed that would be a perfect touch for our supper club reception. The coaster and RSVP card also included the blind press wreath. Once all of the designs were finalized, Jill gave the paper rounded corners, had all of the pieces hand-edged in red, and all of the envelopes hand-bordered to match, then brought them to Alan Hillesheim Letterpress for printing. All I can say is that I wish you could touch our invitations – I just love the texture of letterpress, especially when it's printed on extra thick paper.
For anyone who might be curious, the fonts used in our invitations are ITC Bodoni Seventy-Two and Chopin Script. The paper was extra thick Crane Lettra 100% cotton in Pearl White.
Photos by Elizabeth Messina.
Kiss the Groom (Elizabeth Messina), Laurie Arons Special Events, The Paper Nickel and PS Paper are sponsors of Snippet & Ink. Thank you to Betsy Dunlap for the wedding gift of envelope calligraphy.