There were a few reasons that Ryan and I decided to see each other before the ceremony: not only did we want to spend more time with our guests at the reception, we also wanted to take portrait photos before it got dark (and since we were getting married at 5:00 in December, it would certainly be dark by the time the ceremony ended). So after getting ready, Ryan and the rest of the guys met up with the ladies at Cavallo Point. It made for such a stunning backdrop, and the cloudy sky created soft lighting even in the middle of the day. (We were lucky that the rain held off until the next day, when it poured buckets!)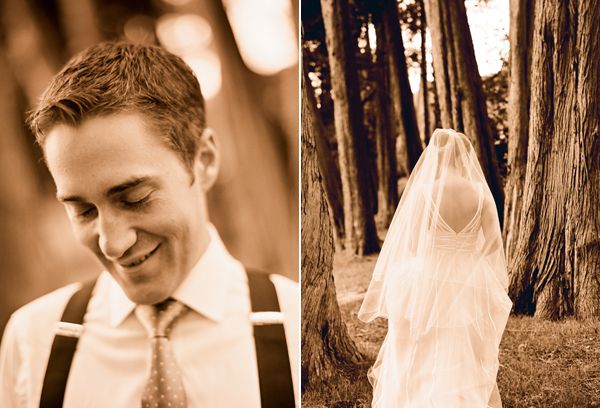 My flats came in handy when we took a few photos off the beaten path! Ryan and I agreed ahead of time that we would check in with each other throughout the day to make sure we both stayed present, so when I started to stress out about getting the bottom of my dress dirty before the ceremony, my sweet groom made sure to bring me back to earth.
I have only one regret from our wedding day, and it's that Ryan and I didn't make a shot list for group photos. Even though it was on the to do list that Laurie and Jenna gave to us, and even though Elizabeth asked us to put one together, we just never sat down to do it. With Ryan and me trying to remember what photos we wanted on the spot, the whole thing felt more stressful than it needed to be, and unfortunately it meant that we missed some photos that we would like to have had (one of Ryan and his siblings, one of just the girls and just the guys, one of the entire group together). It's not the end of the world, and we have countless wonderful photos, but it was a simple thing that would have taken us fifteen minutes if we had done it the week before the wedding (or some time in those 18 months we were engaged). Don't be like us! Make a shot list ahead of time!
Photos by the always talented Elizabeth Messina.
Kiss the Groom (Elizabeth Messina) and Laurie Arons Special Events are sponsors of Snippet & Ink. Thank you to Cavallo Point for extending the media room rate for our stay.