Our Wedding: Reception, Part I
Some of the best wedding advice I received was from Vané of Brooklyn Bride, who said:
Hire vendors that you trust, and then leave the day to them. My vendors knew the look I was going for, and I wasn't about to spend time looking over their shoulders. You're hiring professionals, and they've done a lot more of these weddings than you have, so just let yourself enjoy the day and know that they will do the best job they can for you.
Because I trusted each of my vendors, I was able to let go of the planning, and to approach my wedding day as stress-free as possible. Also, because I didn't know exactly how every last detail would turn out, I got to be totally surprised when we walked into our reception – what a gift!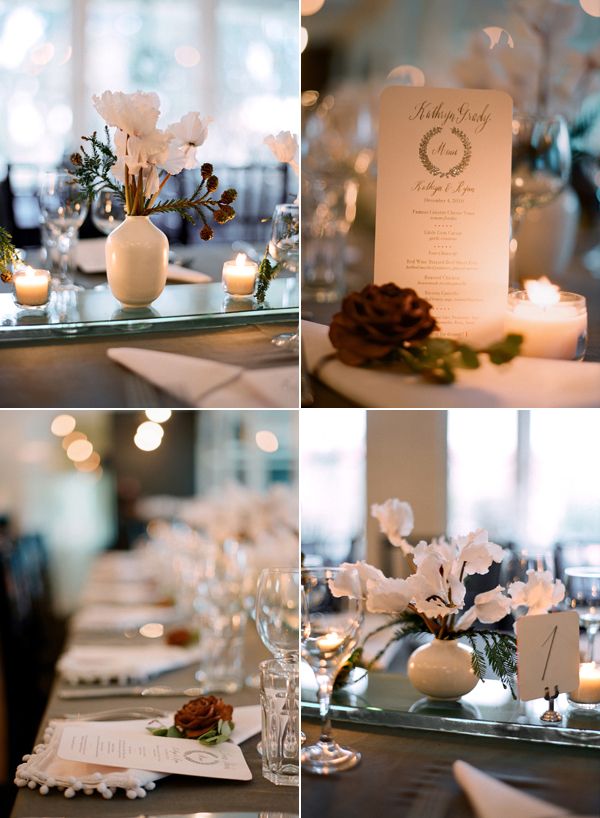 In meeting with our planners, Laurie Arons and Jenna Lam, and with designer Kathleen Deery, the only thing that I specifically asked for were cyclamen centerpieces (they feel so much like Christmas to me, without screaming Christmas like poinsettias might). Aside from that, I left Kathleen and Laurie to their own devices – I felt confident that Kathleen and Laurie understood my aesthetic and the general feeling we wanted for our wedding, and when I saw a table mock-up with some of the ideas they were considering, I knew that the end result would be beautiful. And it was!
Kathleen arranged ruffly-edged cyclamen and miniature pine cones in a variety of white vases made by a local ceramicist. Each place was set with a pom-pom trimmed dinner napkin and a pine cone rosette, and small votive candles cast a warm glow on the tables. Menus doubled as place cards: Jill from PS Paper designed and printed the menus to fit the rest of our stationery, and she hand-glittered each wreath! Maybelle Imasa-Stukuls did all of the reception calligraphy, including each guest's name at the top of his menu.
I was so happy to see that most of our guests wore their escort card buttons – it was one of those little details that I think really set the tone for a fun reception. Each button was hand calligraphed by Maybelle in white ink on red paper, then Jill punched each button by hand, attached them to the correct table number card, and displayed them on vintage postcard stands.
When guests arrived, they were greeted with Poinsettias (our signature cocktails) and passed hors d'oeuvres: Seared Beef Crostini with Horseradish Cream, Pork Tenderloin Sliders with Spicy Slaw, Tuna Poke with Cucumber, Fall Vegetable Antipasti with Truffle Cheese, and French Fry Cones. Jenna made sure that there was a little sampler plate made for Ryan and me so that we could taste everything.
Total side note: By letting the colors at Presidio Social Club determine our wedding colors (white, charcoal gray, red), everything coordinated without too much extra effort. Even the wait staff wore red ties and charcoal gray aprons, which was just part of their regular uniforms.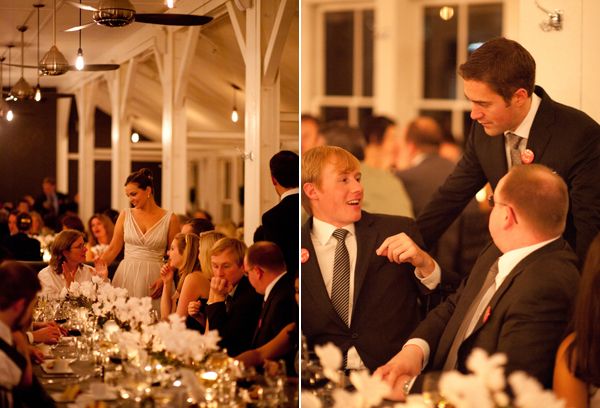 We didn't have a receiving line (do people still do receiving lines? I'd love to hear from someone who did), so Ryan and I walked around to each table during dinner to say hi to all of our guests. But somehow we still had a chance to sit down and eat our meals, which were delicious: Gruyere Cheese Toast with Tomato Fondue, Little Gem Caesar Salad, and a choice of Red Wine Braised Beef Short Ribs or Roasted Chicken or Ricotta Gnocchi (with fall squash, grilled lemon, sage and toasted hazelnuts). I have to say, the Presidio Social Club did a wonderful job not only of serving really good food, but their service was also spot on.
The week of our wedding, I felt like I was starting to come down with a cold (are you kidding me?!). So two nights before the rehearsal dinner, Ryan (my hero) put me to bed early while he and my mom stayed up late to do the seating chart. I don't know if it's because we have such awesome friends and family, or if Ryan and my mom are incredible seaters (most likely a combination of both), but everyone had a good time at their tables.
My mom gave a lovely welcome toast at the beginning of the meal, and Ryan's siblings gave a very sweet and funny toast at the end. Then it was on to dessert…
Menus specifically told guests to "Save Room for Dessert!" To begin with, there were hot, chocolate-filled beignets passed around after dinner (if you ever have dinner at PSC, definitely ask them to make some of these for you). Then there was the Noci Gelato bike with Salted Caramel, Macadamia Nut and Stracciatella gelati, as well as Tangerine sorbet. (I love this pic of my dad with the ice cream and paper crown.)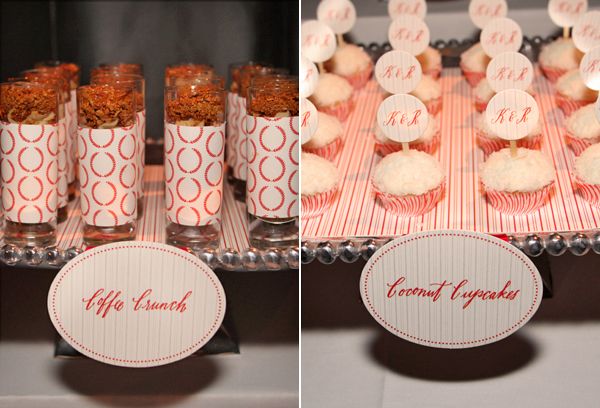 Then there was the dessert table from Perfect Endings, which was another wonderful surprise. Instead of specifying exactly what desserts we wanted on the table, we shared our ideas and favorite flavors with Laurie and Jenna, and Perfect Endings used those to come up with this delicious dessert menu: Coffee Crunch Trifle, miniature Coconut Cupcakes, Sam's Passionate Kisses (passionfruit curd on a tiny macaroon), White Chocolate Choux Puffs, Eggnog and Donuts with Rum, Gingerbread Cookies, Peppermint Bark, and Lemon Leaves (shortbread with white chocolate and lemon curd).
Jill created the darling dessert display, from the cake stands to the polka dotted paper. With Maybelle's calligraphy, Jill made signs for each treat, as well as the chalkboard menu (with the frame from my bedroom mirror!). She even trimmed the tablecloth with pom-poms to match the dinner napkins!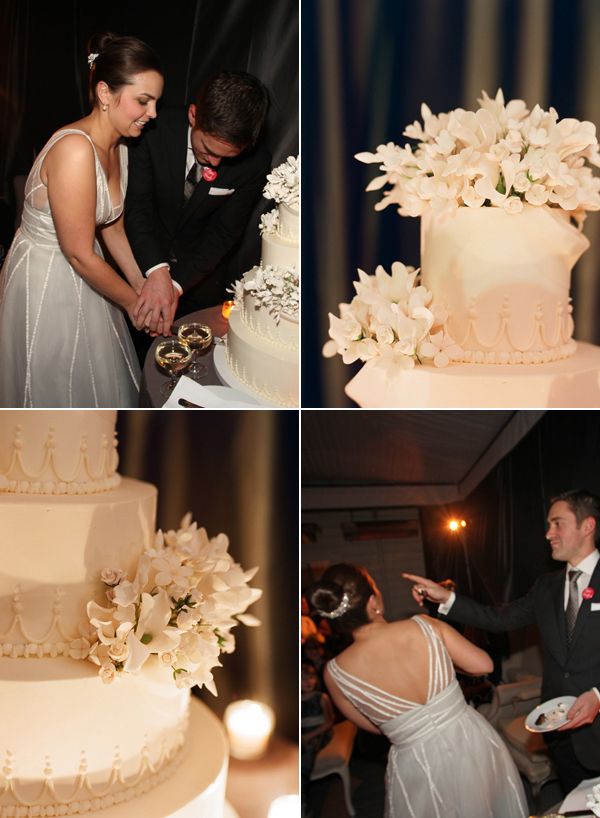 Our wedding cake was another wonderful surprise. Perfect Endings made the most beautiful cake, decorated with simple white buttercream and cyclamen flowers – I didn't realize until later that they were made of sugar! (This cake from Perfect Endings has always been one of my favorites, so it was incredibly special to have them make our wedding cake, complete with sugar flowers.) There were two tiers of lemon sponge cake with lemon curd and two tiers of Mahogany cake (chocolate layer cake with chocolate hazelnut truffle cream). If I ever need another special occasion cake at anytime in my life, it will be Perfect Endings' Mahogany cake… I dream about that cake…
Photos by Elizabeth Messina.
Kathleen Deery Design, Kiss the Groom (Elizabeth Messina), Laurie Arons Special Events, Maybelle Imasa-Stukuls, Noci Gelato, Perfect Endings and PS Paper are sponsors of Snippet & Ink.