Charming Fonts from Tart Workshop
Crystal Kluge does some of the sweetest, most playful calligraphy you'll ever see, so I was thrilled when she teamed up with typographer Stuart Sandler to form Tart Workshop, putting out some of the most delightful fonts I've seen. And when she emailed me about her newest fonts, Bookeyed Suzanne and Bookeyed Jack, I instantly imagined them on a wedding invitation or program or menu. They both have such personality! From their descriptions on MyFonts…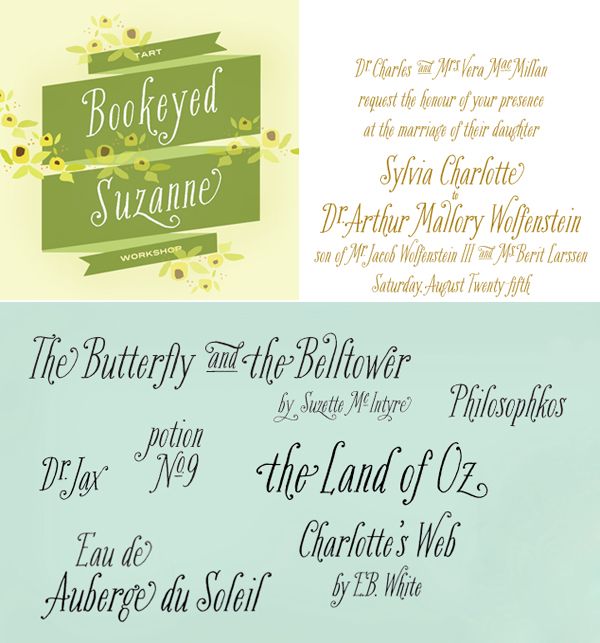 "Our darling Suzanne, she's personable and flexible with a large number of alternative glyphs & ligatures to customize her appearance. A modern girl with vintage charms, she's equally comfortable placed as center of attention or in a supporting role. Her stylish serifs were created with antique French nibs dipped in walnut ink. Suzanne (like her cousin Jack) loves books for adults & children, posters, stationery, weddings, gifts and sugary sour candy."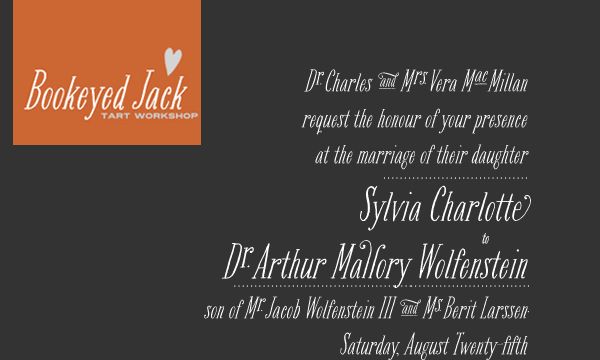 "Everyone loves Jack! He's easy to be around and plays delightfully with other Tart Workshop fonts. Bookeyed Jack is strong enough to command the page, yet he doesn't complain when others get more attention. His handsome good looks were handdrawn with pointed pen in walnut ink. He adores books & music, posters & stationery and spending time with his stylish cousin Suzannne."
Will someone please design an invitation suite with these fonts and then send me the photos? At $29.95 each (or $49.95 for the pair), using either of the Bookeyed fonts seems like a totally budget-friendly way to create something that looks hand-drawn (because it is!).
And then there's Tart Workshop's Barocca Monograms, another lovely way to get a custom, hand-lettered look for less. I can't even tell you how much time I spent at MyFonts playing around with my initials, my husband's initials, our married monogram… "Barocca is a beautifully romantic monogram font with passionate inclinations. She's a performer who shines in the spotlight. Originating from experiments with highly flourished calligraphic letters using antique French nibs & sepia ink upon rag paper, she developed in a charmingly unique font with impulsively spirited center caps held in check by more disciplined side caps. On or off stage, Barocca sings!"
Tart Workshop has even created Nelly Frames, a "variety of interlocking corners, sides and centers" that you could use to create custom frames for any number of wedding projects, from address labels to favors to table numbers.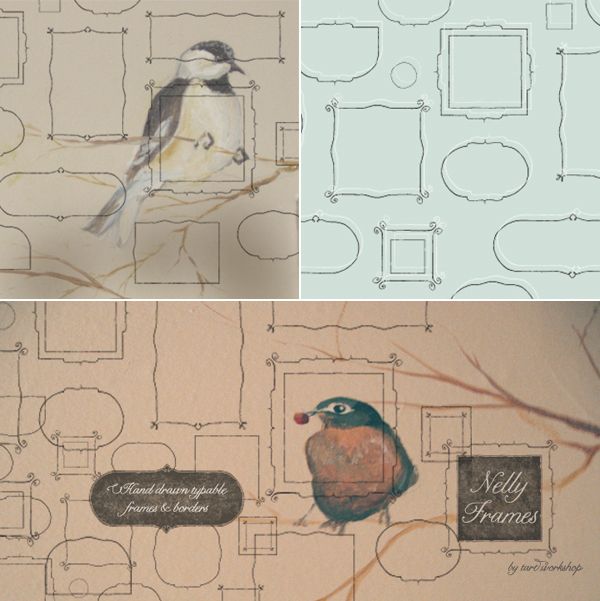 Tart Workshop has a slew of fonts and styles to choose from, these just happen to be my favorites. Nelly Script and Nelly Script Flourish are another great way to get a hand drawn look that's a bit more classic, but just as lovely, and I believe that Tart Workshop has a few new fonts coming out soon. So please, will someone create something wonderful with them and let me see how it turns out?