Real Wedding: Becca & Tim
Becca grew up near the lakes of Michigan, and Tim hails from the coast of North Carolina, so they both have a love of the water, which is part of why they decided to have their wedding in Tiburon, just across the bay from San Francisco. Says Rebecca:
Prior to our engagement, one of our favorite weekend activities was to take the ferry across the bay to enjoy Tiburon's restaurants and spectacular views of our beloved city. We both realized fairly quickly that Tiburon would be the perfect location to celebrate our wedding – its downtown area is storybook-adorable and being right near the water invokes both of our upbringings. We were certain it would be the perfect vacation destination for our out-of-town family and friends as well.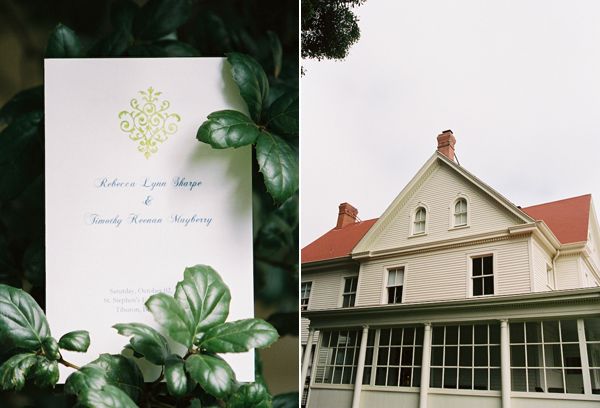 While our ceremony and reception were held in Tiburon, our honeymoon suite was located at the Cavallo Point Resort located just under the Golden Gate Bridge. This is also where we took a majority of our bridal party photos and where Tim and I saw each other for the first time that day. Our photographer captured every moment beautifully. I have such a love for those towering pine and eucalyptus trees that surrounded us.
One of my favorite memories leading up to our day was the assembly line of our girlfriends in our apartment (many close friendships made through my husband) helping us with all the DIY details. Each of them shared in our excitement and anticipation while helping create the ceremony programs, table tents, and gift bags for our guests. On the day of, they also assembled our chocolate chip cookie favors.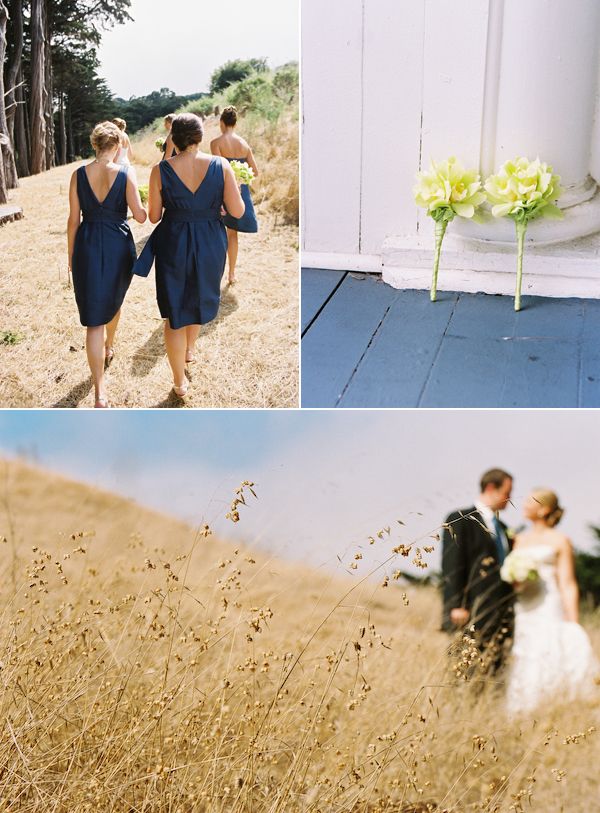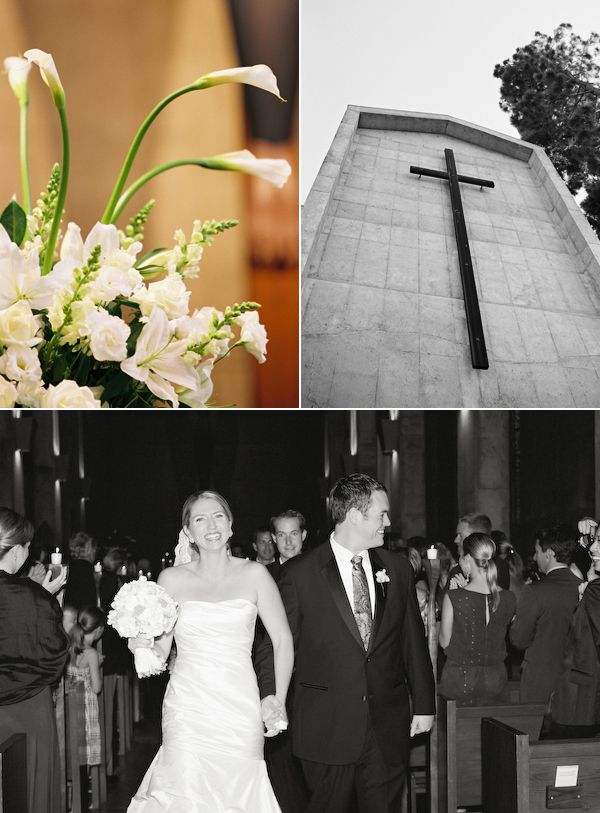 For the ceremony, Becca wore her mother's blusher.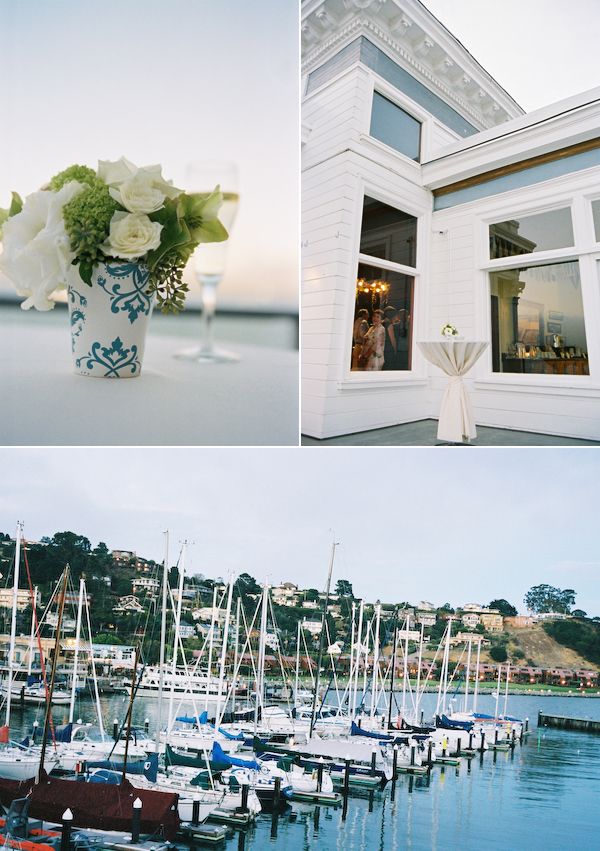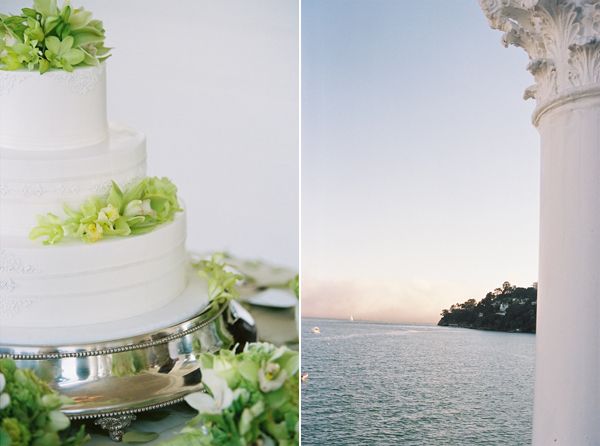 The event director at the Corinthian Yacht Club, Leila Heyman, made the rest of our planning effortless. She was extremely helpful in coordinating every detail for our reception. The large, yet cozy room opened up to a sun room that overlooked the bay with views of San Francisco. During cocktail hour, our guests poured onto the patio outside while the chef prepared fresh crab cakes as one of our appetizers.
The main room at the Corinthian has two large ship wheels that serve as chandeliers, which Susan from Fantasy Florals surrounded with flowers that completely tied the room together. I remember glancing up at them throughout the night and just grinning.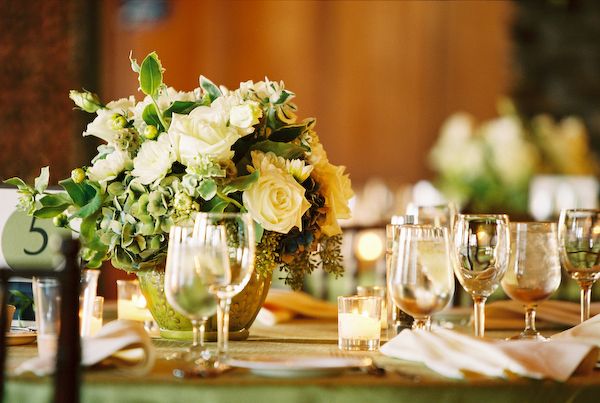 Tim and I are still playing back our favorite moments that lead up to and took place during that day; one of his favorite moments was the universal rush to the dance floor from our guests, thanks to our DJ who took the time to get to know us personally and help decide on our play list. Our guests danced tirelessly throughout the evening.
Photography: Myrtle & Marjoram
Bridal party portrait venue: Cavallo Point in Sausalito, California
Ceremony venue: St. Stephen's Episcopal Church in Tiburon, California
Reception venue: Corinthian Yacht Club in Tiburon, California
Bride's dress / blue sash: Haute Bride / Britex Fabrics
Hair: Mark Schulte for Salon Mark Carlos (Says Becca, "I've been going to Salon Mark Carlos for years. I have a ton of hair, so when Mark literately sewed my hair up for the day, I was so grateful."
Makeup: Veronica Sjoen for Artist Untied
Bridesmaid dresses: Jenny Yoo
Flowers: Fantasy Florals
Cake: Branching Out Cakes
Chiavari chair rentals: Miranda St. John Wedding & Event Rentals
DJ: Christopher Monroe for Cutting Edge Mobile Music
Congratulations Becca and Tim! Thank you for sharing all of these thoughtful details with us, and thank you to Ingrid from Myrtle & Marjoram for sending along these lovely photos.