Intimate Wedding at The Inn At Perry Cabin :: Brenda & Scott
Kate Headley is one of my favorite photographers out there right now, so I'm just delighted to share Brenda and Scott's beautiful wedding photos with you. Just a handful of guests joined the couple for a weekend at the Inn at Perry Cabin, and the whole event makes me wonder what could be as charming and sweet as a simply intimate wedding. From the bride:
After considering a large wedding, Scott and I decided we wouldn't be comfortable with all the attention. Instead, we decided to simplify and have an intimate wedding where we could spend dedicated time with each of our guests, and we are so glad that we did. The result was a beautiful garden ceremony and elegant luncheon reception for our fifteen closest family and friends near Scott's hometown in St. Michaels, Maryland. The wedding was a perfect reflection of our personal minimalist style and the eastern shore's relaxed sensibility.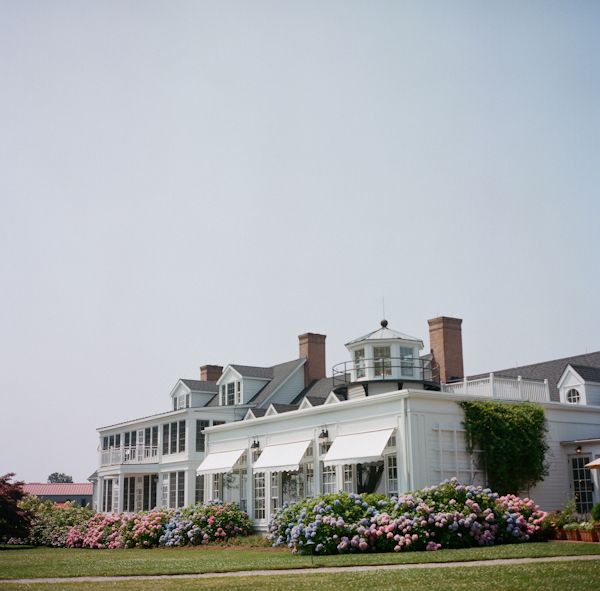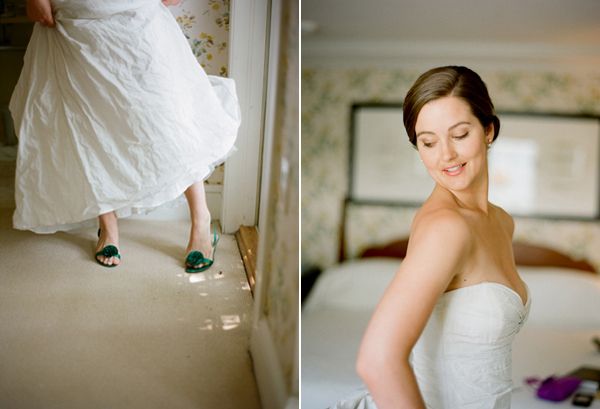 Scott and I met in art school — he is a designer and I'm a photographer — so we knew from the beginning that paper and photography would be the two details we would emphasize in our wedding. Scott designed a 10 x 16 poster for the invitation, and we screen printed it by hand, along with the reply cards and envelopes. It was a lot of work, but it was work we loved doing.
We didn't have a traditional wedding party, so there was no procession of bridesmaids and groomsmen to start our ceremony. Instead, our officiant entered the ceremony site where our guests stood waiting, then Scott and I followed together, and each of our siblings read favorite passages for us from The Little Prince, Ecclesiastes, and Still Life with Woodpecker. Entering our ceremony together was my favorite planned part of our wedding, but it also made for for my favorite unplanned moment of our day: I was alone in our room when Scott came to get me to walk to the ceremony, and saw me dressed and ready for the first time. We shared a few private, emotional minutes together in the first quiet, calm moment we had alone all weekend. It was beautiful and poignant, and I'm so glad we had that unscheduled time alone together immediately before our wedding.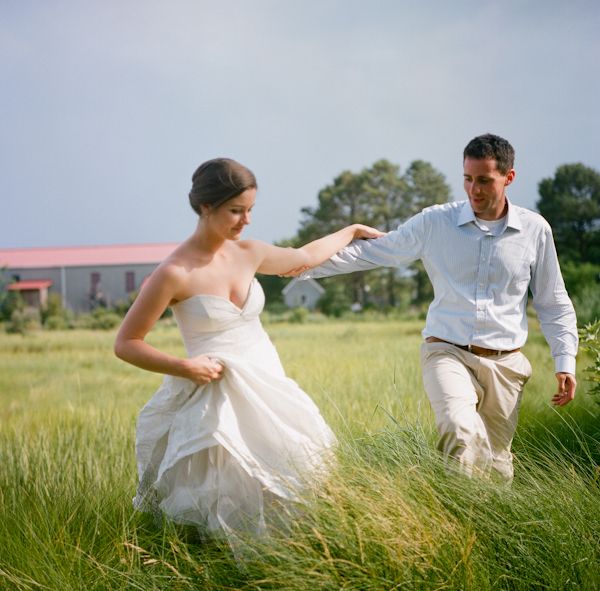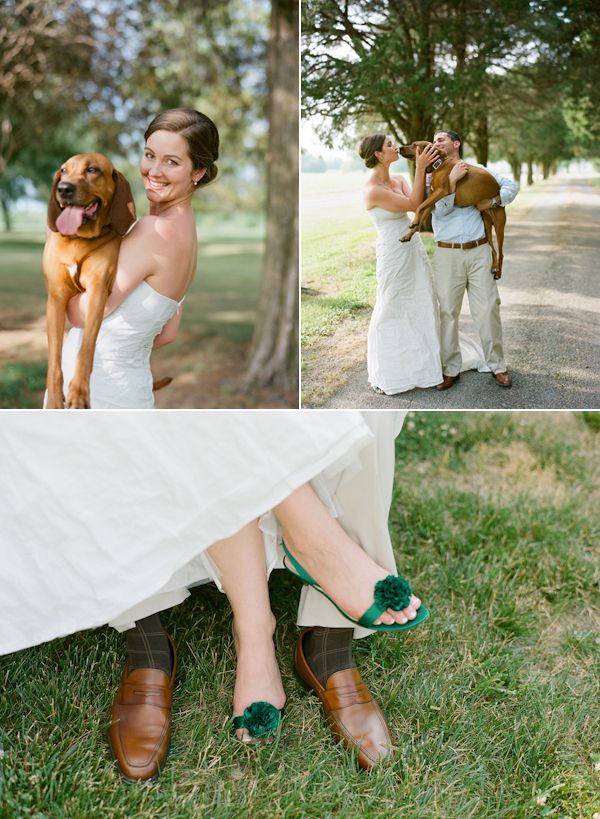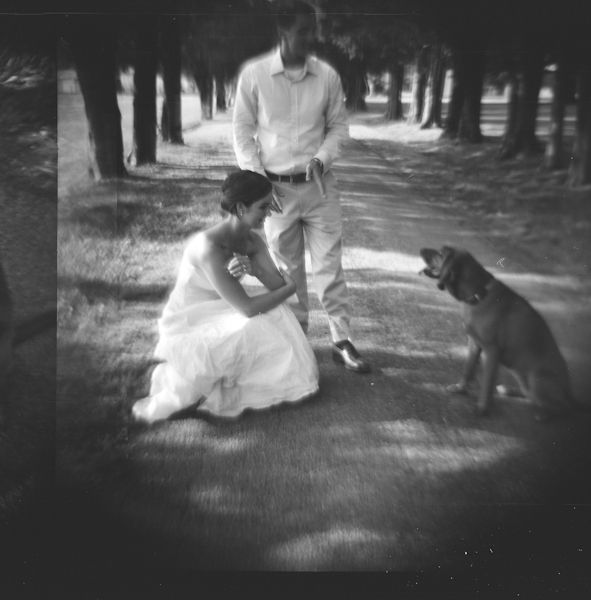 Our photographer, Kate Headley, immediately understood us and our aesthetic, and proved to be an intuitive, adaptable, and altogether perfect fit for our wedding day. She delighted me by photographing our day exclusively on film, and editing a beautiful 8mm video besides. Plus, she encouraged us to be photographed with our (adored!) Redbone Coonhound, and we couldn't be more thrilled with the results.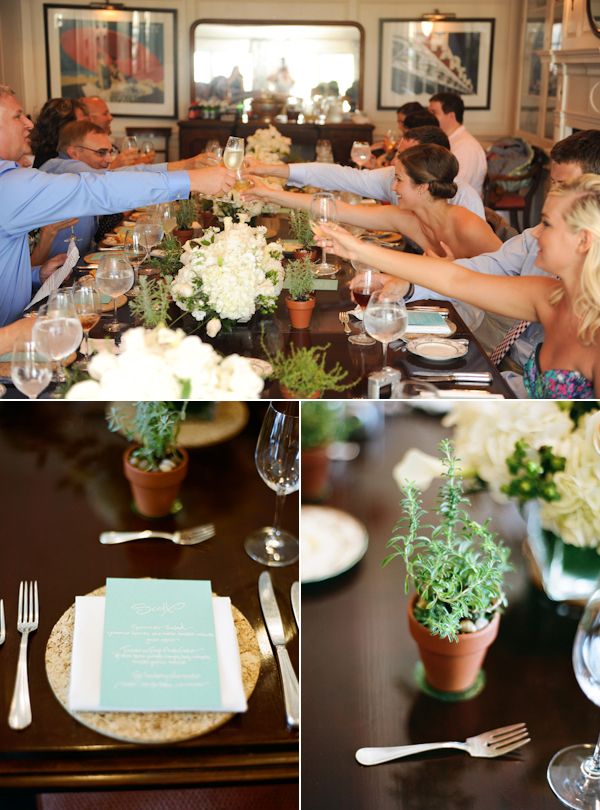 We loved that our guests were few enough that they could all stand around us at our ceremony, and that we could all sit around the same table at lunch. We enjoyed traditional, seasonal eastern shore fare at the reception — crab cakes and rockfish, with strawberry shortcake for dessert.

You can see lots more of this beautiful Maryland wedding over on Kate Headley's blog, as well as the 8mm film right here. Best wishes, Brenda and Scott!