A Midsummer Night's Dream Inspired Wedding :: Clelia & Blake
Today, a gorgeous wedding sent to me by photographer Raquel Reis. One of the things I love to hear from a bride is what inspired them while thinking about their wedding. Clelia and Blake pulled from a number of sources for inspiration, from A Midsummer Night's Dream, to early 20th-century Orientalist paintings, to Blake's love of nature and botany. But above all of that, says Clelia:
"We wanted our wedding to be a celebration with the many people who we love and who have loved and cared for us. It was really important to us that every one of our guests felt comfortable and appreciated and that they had an amazing time. We tried in all of our decisions to be honest – to make decisions that reflected who we are, what our values are and how we live. We wanted to avoid a wedding that felt canned in favor of something that was personal and real."
In addition to several incredibly talented vendors, friends and family helped to pull this event together by helping to set everything up the day before the wedding. And what an amazing job they did!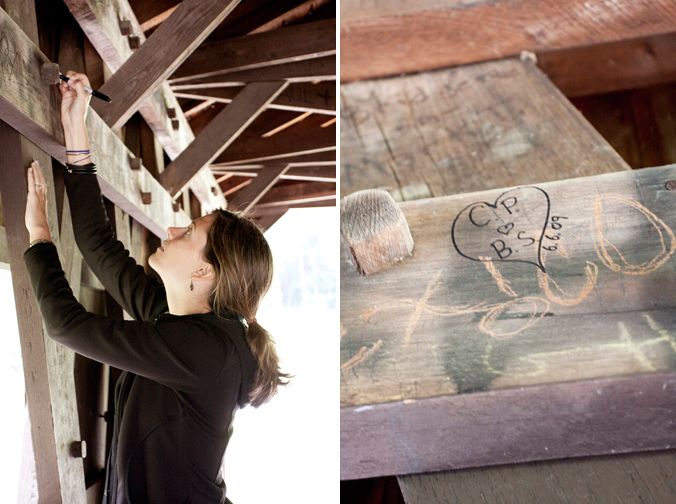 Clelia's bridesmaids wore the same Butter by Nadia dresses, just wrapped in a different way, and each chose her own whimsical headpiece to wear, like this one by Which Goose.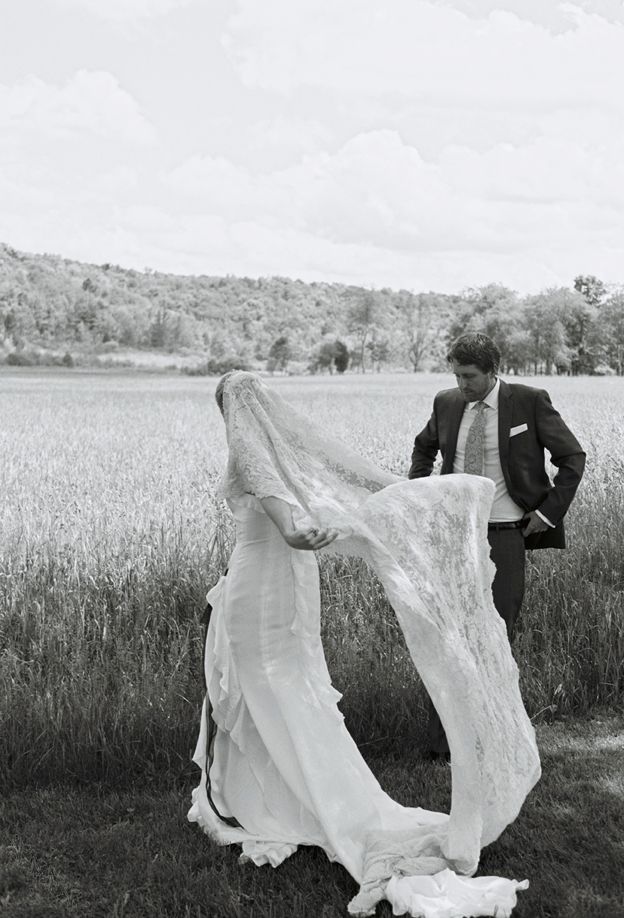 Clelia wore this amazing heirloom veil, made in Belgium for her great-great grandmother's wedding. Her great-grandmother, grandmother, and many cousins have also worn it.

I love this idea – Wilma curtains from IKEA hung on the sides of the tent.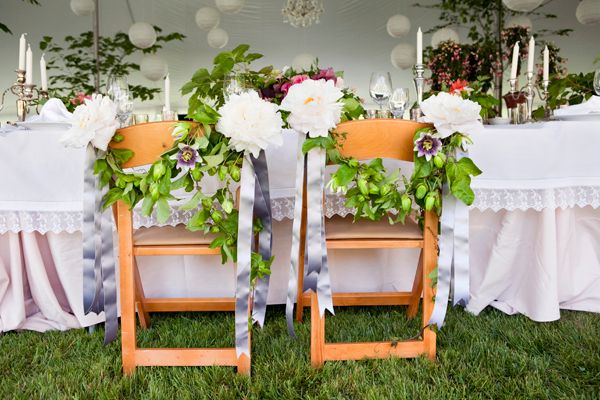 Each table was set with vintage lace tablecloths, as well as a number of old candelabras, coffee sets, and other decorative silver plate items purchased on eBay, for $10 (or less) apiece.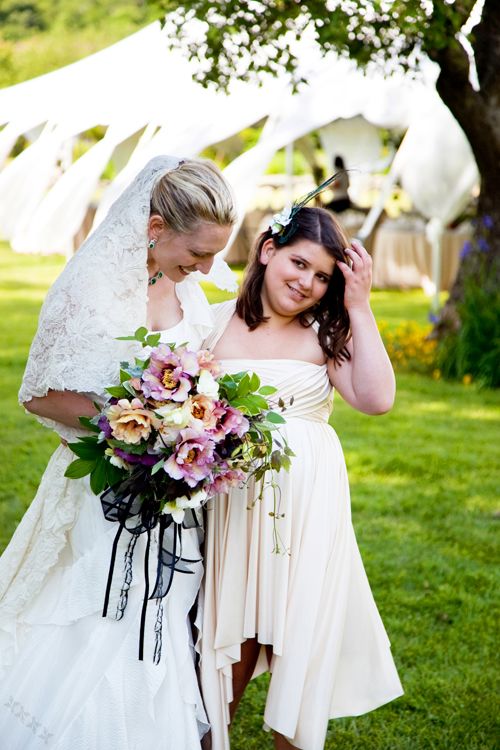 Oh that bouquet! Ariella Chezar gets me every time!

With over 30 guests under the age of 10, it was important to Clelia and Blake that they provide lots of fun for the kids. A petting zoo and bubbles station kept the littlest guests entertained, and several baby-sitters supervised dinner, sleeping and movie-watching so that parents could enjoy the wedding, too.

Some guests, aware of the "enchanted" inspiration behind the wedding, wore wonderfully whimsical ensembles. A few of Clelia's parents' friends even dressed as frogs and princesses (with suits and dresses to change into later) – if the couple and their parents have a sense of humor, what a hilarious surprise this would be!

With 300 guests, Clelia and Blake were worried that the wedding would feel impersonal. In order to counter this, the couple wrote a personal note to each guest, which doubled as seating cards. Blake and Clelia "switched" families, so she wrote to each member of his family, and he wrote to hers. Says Clelia, "Even though this was a massive undertaking and took a lot of time in the days leading up to the wedding, I feel it was well worth it. I think it really did achieve its goal of making every guest feel welcomed and cherished."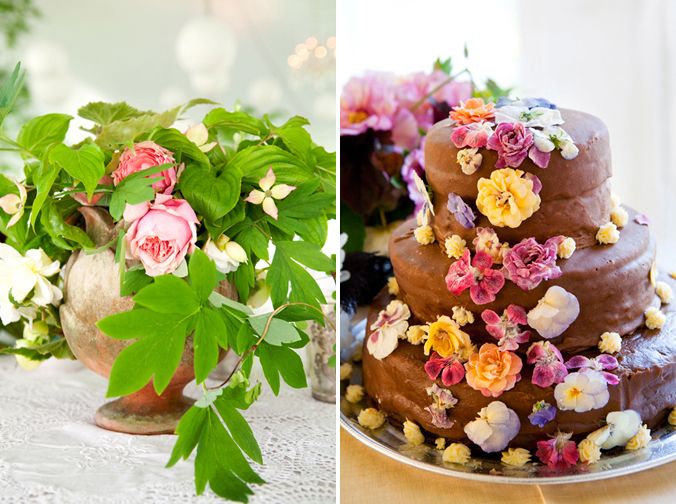 Clelia's father is, as she puts it, "baking-obsessed." So it was only fitting that he make the wedding cake: chocolate with caramel frosting and raspberry filling, a favorite of the bride. He also decorated it himself with sugared flowers.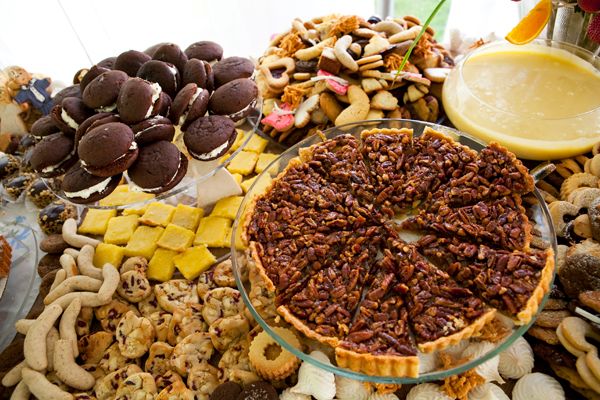 How amazing is this cookie spread?! I think the word I'm looking for is smörgåsbord.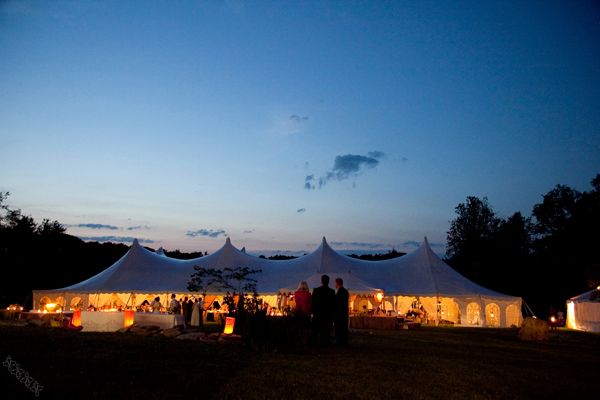 Best wishes and happiest regards to Clelia and Blake! Thank you so much for letting me share your beautiful wedding here on Snippet & Ink. And thank you to Raquel Reis for sending over these lovely photos – such a treat for our last real wedding feature of 2009!