Florence, Italy Wedding :: Elena & Gregory, Part 2
And now for part two of Elena and Gregory's wedding, the perfectly Italian reception that followed their civil ceremony. Again, the story from the beautiful bride:
The day following the ceremony started with breakfast being served on the terrace of our suite overlooking the Arno, the river in Florence. Gregory and I then separated, as we both had many duties awaiting us. I had decided to change hairstyles completely and surprise Gregory with often requested bangs! After the hairdresser, I picked up our fantastic photographers and headed up to the castle. Our party was held at this amazing 12th-century castle in the beautiful Tuscan hills just a short drive from Florence. We chose it not only because it is enchanting but also because it has been kept up with so much respect for its history that it looks like a castle should look. It is bare and not ornate, and that is just the way we wanted it to be for the party. We only had a few lanterns and candles scattered here and there to enhance the natural beauty. We also chose it because it had 8 apartments where we and 18 of our closest relatives and friends stayed for two nights.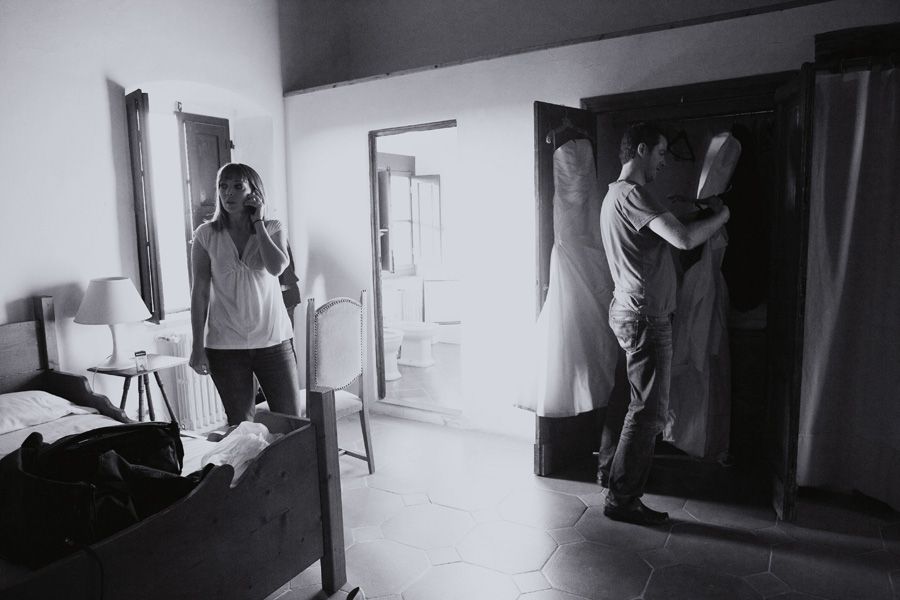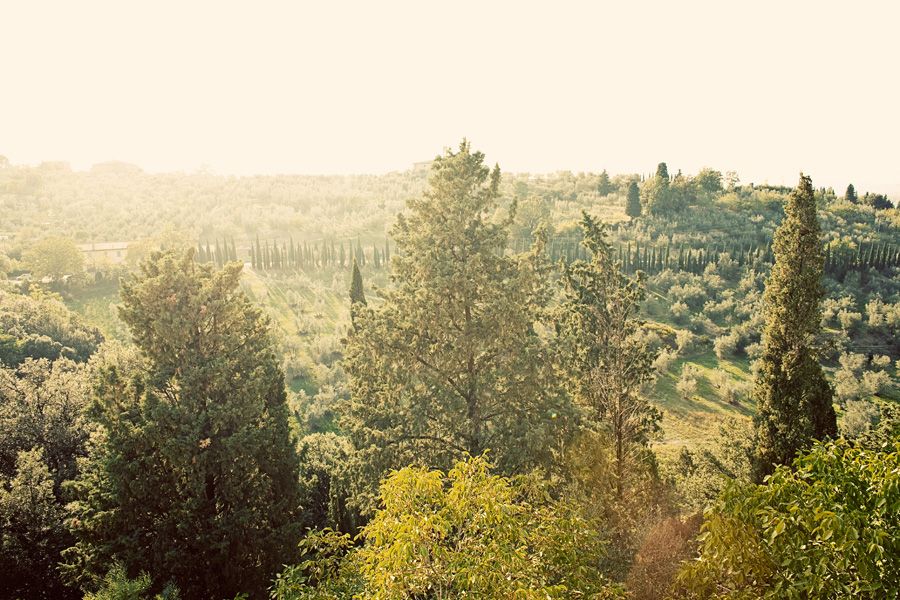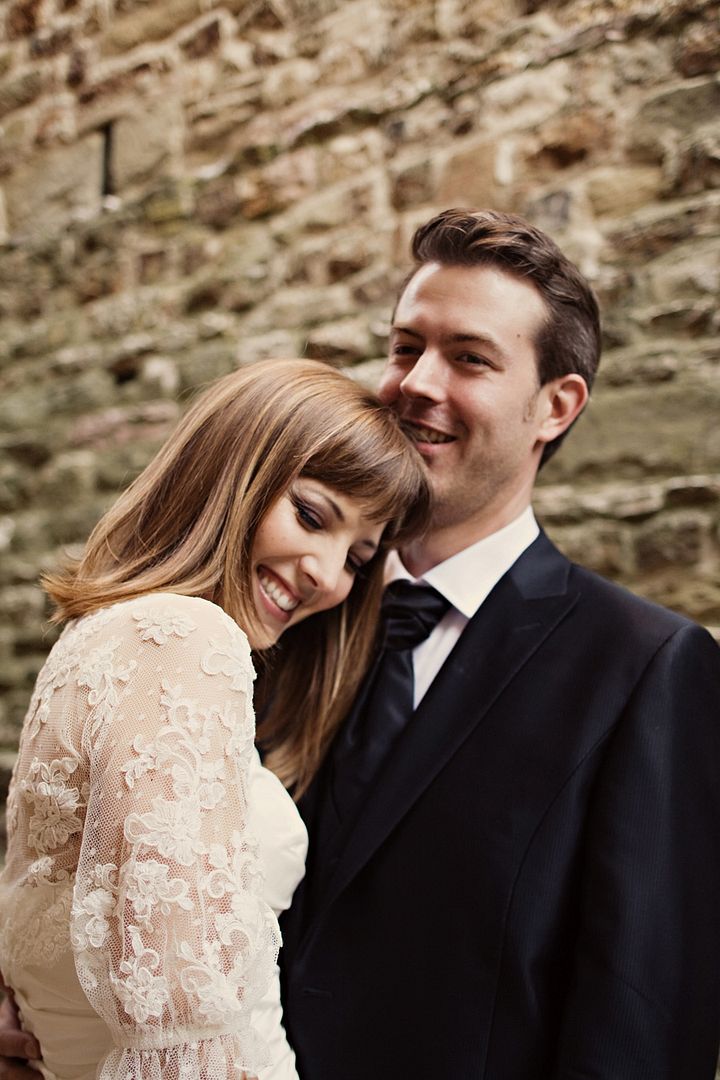 The dress required a lot of thinking because of the two days. I decided that I would get the most out of the beautiful gown I had chosen and only changed the jacket piece [both by La Sposa]. My dress was sleeveless and the jacket was crucial. The little jewelry I wore was also very simple. There was no necklace to distract from the dress, my earrings had belonged to my grandmother, and the most important piece was a watch that my grandfather had given my grandmother when my mother was born. Since neither of them were present it made me feel like they were close. And absolutely no other ring.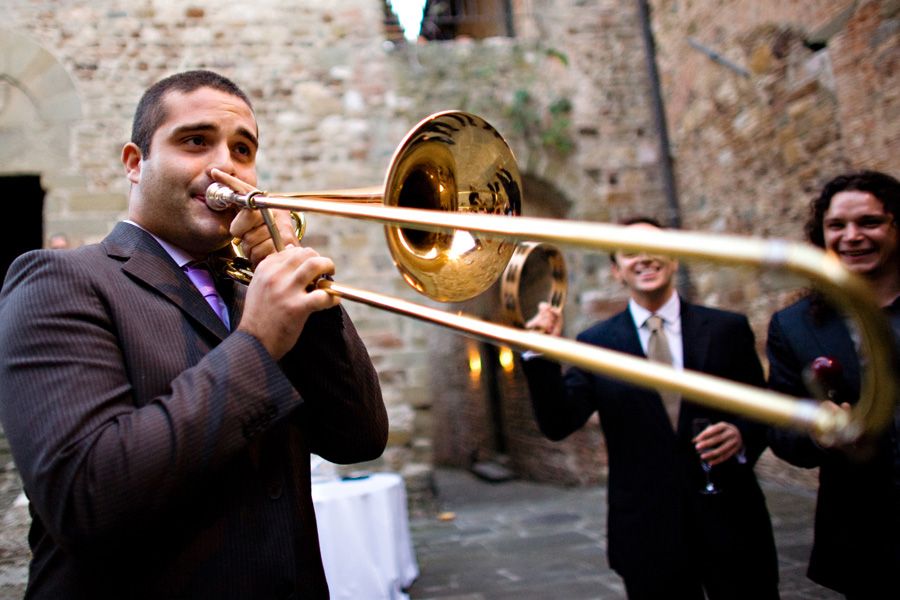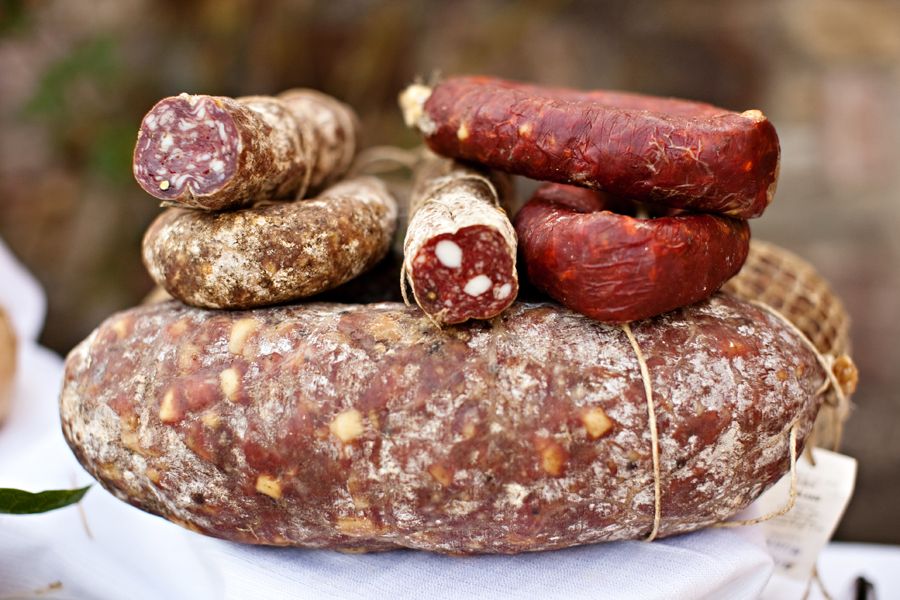 Before dinner, in true Italian style, guests enjoyed a 3-hour aperitivo! Catering by Convivium.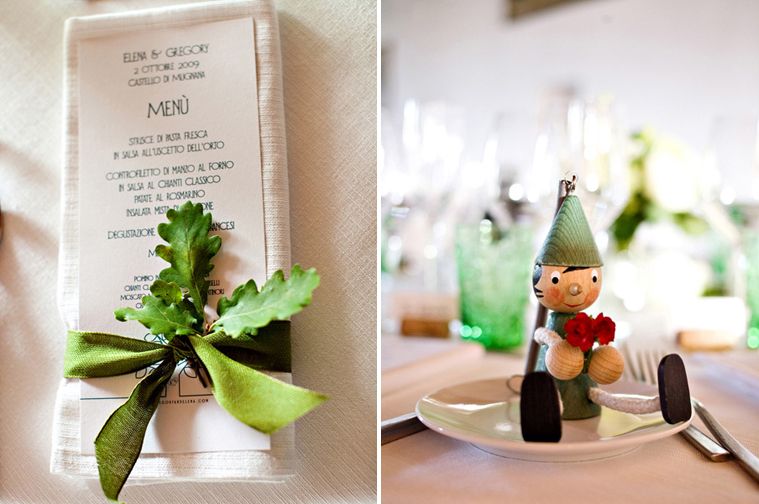 After much thought we decided to have assigned seats, and, mind you, with three languages it was the most challenging thing we did. But I truly believe that, at a party of this kind, the seats have to be assigned if you want your guests to have a good time. Only the bride and groom know everyone at the party, and so it is up to them to make the best tables possible, putting together people that share something. Needless to say our dinner was very loud! We decided to make each table a city we had visited together, and every place card was a detail of a picture of the city that we had taken. We used MOO cards and stuck them into a cork from a bottle of wine we had drunk together. We have been collecting them for years!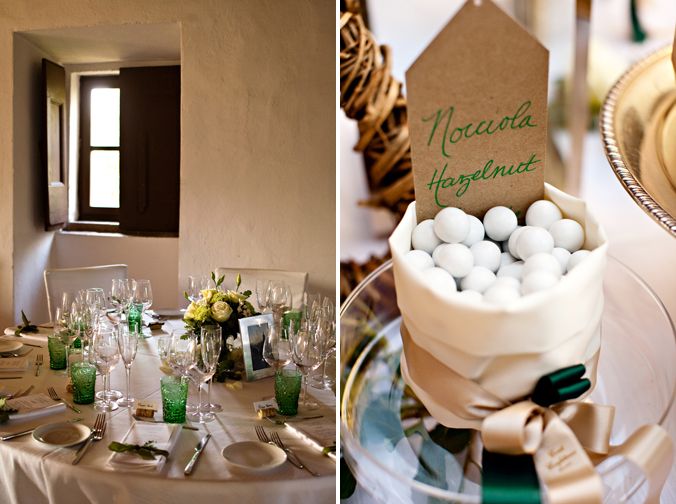 Since confetti [also called Jordan almonds or dragee] are a big tradition in Italy, we had to have some. We decided to do a confetti table with seven different flavors (pistachio, peach, hazelnut, chocolate, almond, coffee and crunchy), little brown favor bags and little clothespins, and everybody helped themselves. People loved the confetti, and I am glad I made the effort to go to Bologna to get them: Conti Confetteria just has no rivals as far as confetti go. They have a total of 33 flavors to choose from!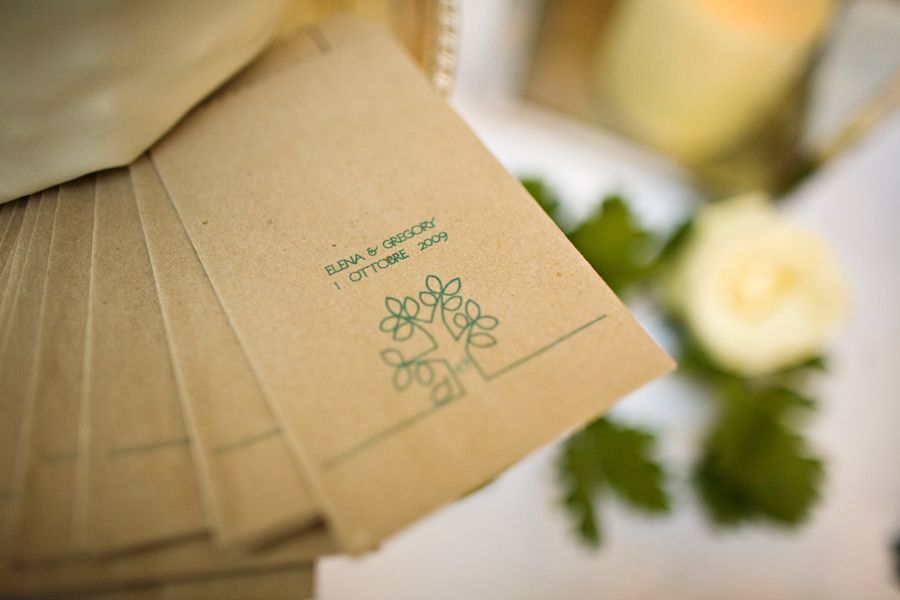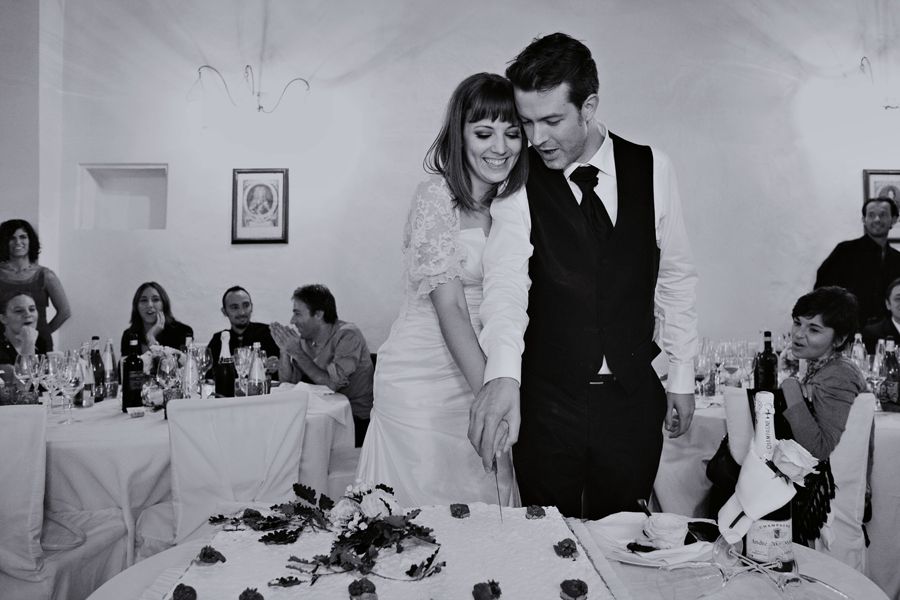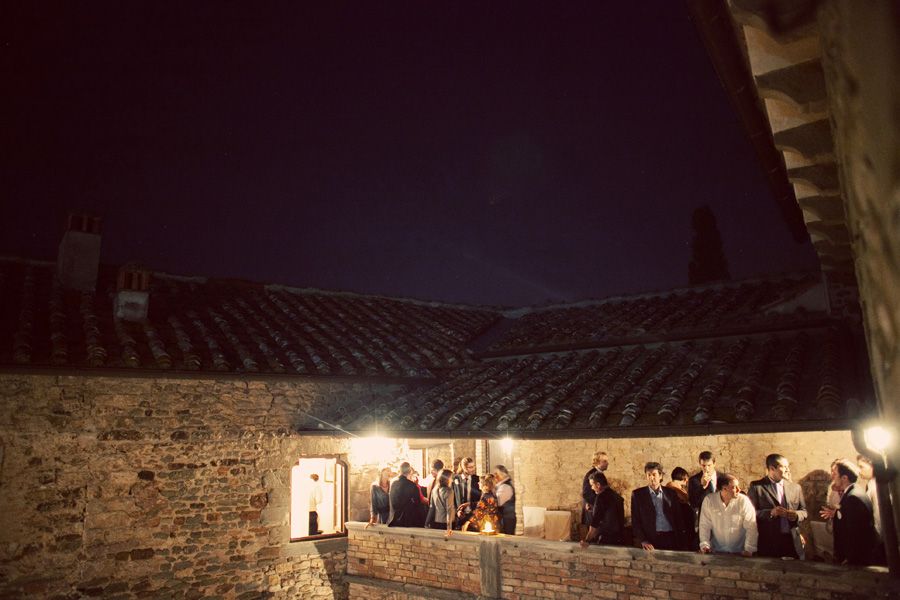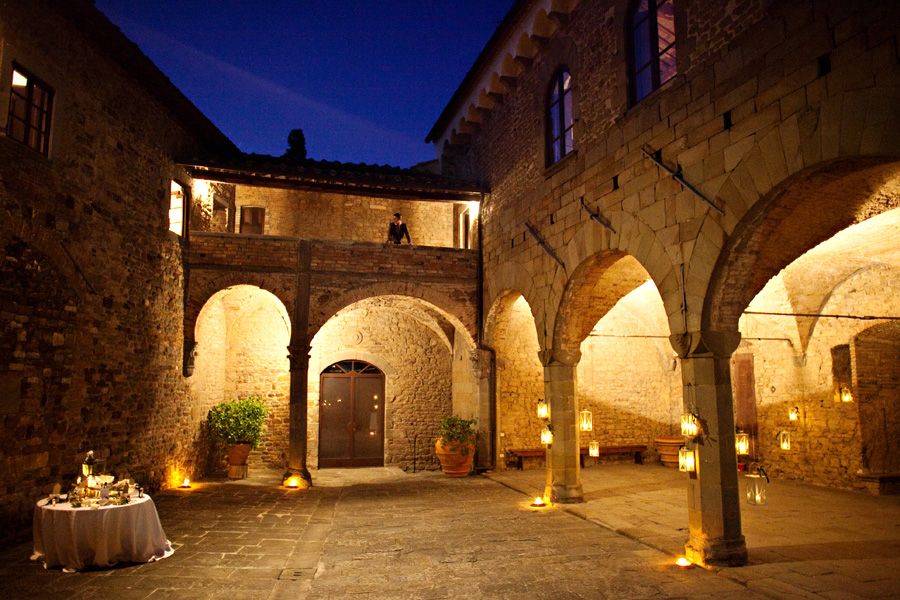 Most of all your wedding should be fun! The only way to have fun is not to worry! If you are a worrier, make sure somebody else is on top of things for you!
Sigh… don't you wish you could have been at this wedding? It looks like such a dream! And, if it's your dream, Elena wants to help you plan your Tuscan wedding! She says, "I had so much fun, that as soon as it was all over I was ready to do it again. Since my job is all about organization and everything was such a great success (many of the the hard-to-please people told me that they had never been to such a wonderful wedding) I would love to do more. Contact me if your dream is a Tuscan wedding!" (You can reach Elena here: elenaguerrini[at]gmail[dot]com.) Thank you so much to Elena and Gregory, and to Leigh Miller for sending over all of these beautiful photos – you can see tons more from the wedding weekend over on Leigh's blog (day one here, and day two here).