Farm Wedding in the English Countryside :: Faye & Curt
Today's beautifully whimsical wedding was held at Faye's childhood home – a gorgeous farm in the English countryside (can you imagine growing up here?!). Says the bride:
Curt and I both wanted something fairly informal in an outdoor setting. It was really lovely to have the opportunity to hold our celebration in my childhood home. The grounds and gardens of my parents farm and home in Cheshire, a county in northwestern England, were the ideal location for the relaxed, romantic country wedding we both envisaged.
We held the ceremony outdoors (as risky as this was bearing in mind the unpredictable UK weather!), in a beautiful grotto in my parents' garden that dates back to about 1883. What is now my parents farm used to to be the site of a big country house, the remains of which were sadly demolished in the 1960s. My parents have lovingly restored the parts of the grounds and gardens that still remain, including the grotto and a sunken lily pond. The champagne and canape reception was held in the courtyard of my parents' house (which was the former stables of carriage house of the big country manor). My aunt sewed the bunting we had hanging from the railings in the courtyard and at the entrance to the farm.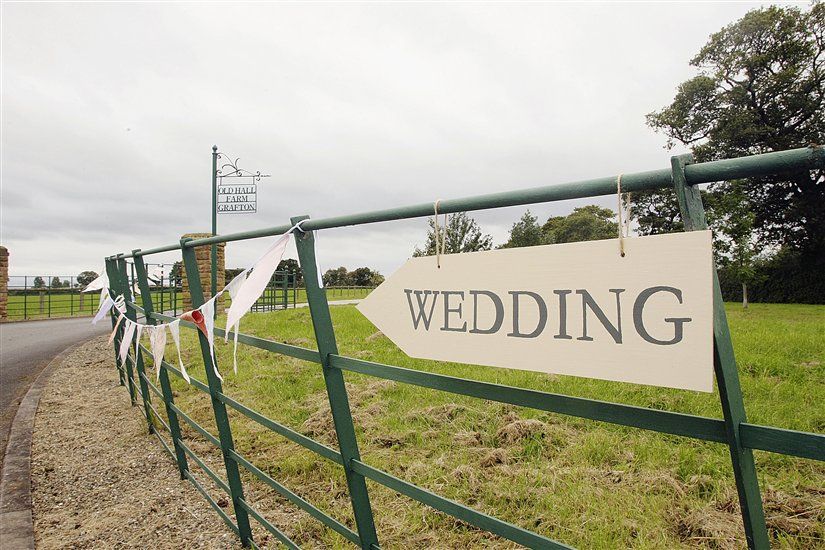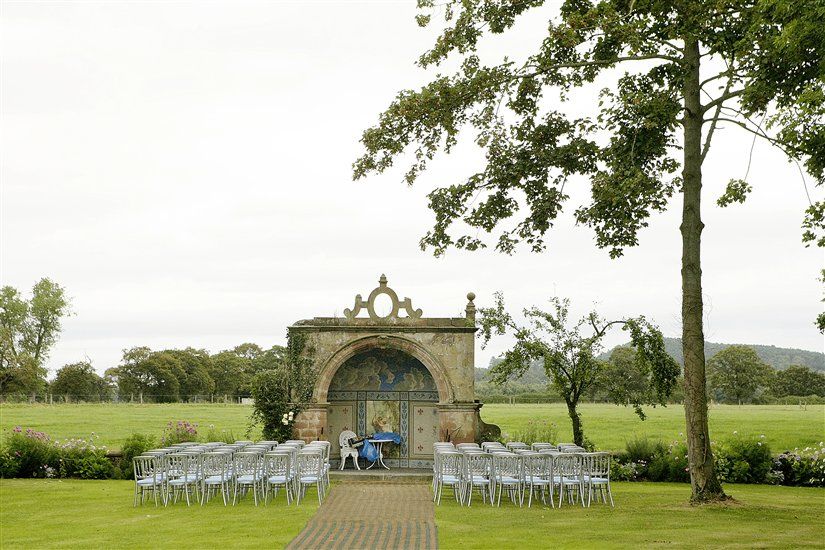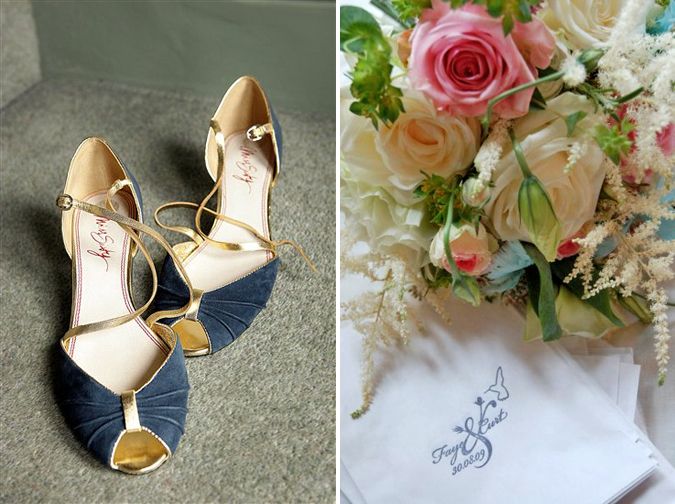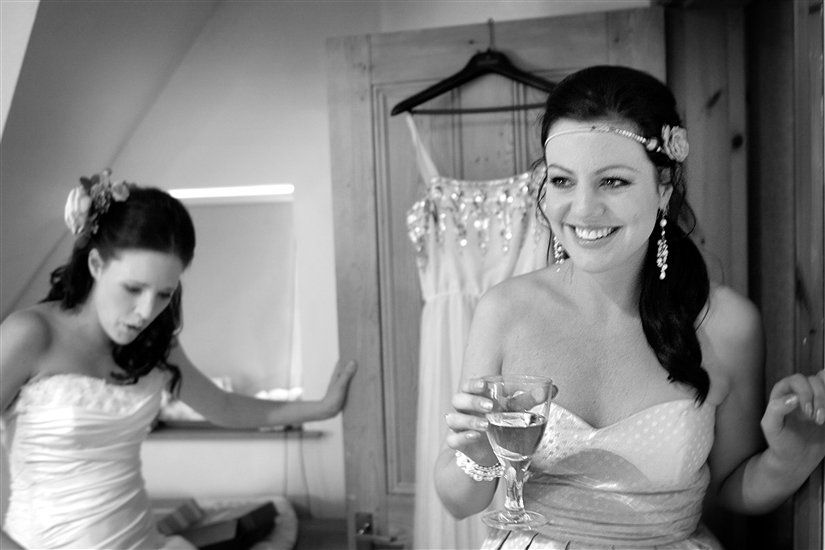 It was a great stroke of luck that they were selling off the sample dress that I tried on in the shop – it was my size so I got my dress for about half price. As much as I loved my dress, during the meal I definitely wished I had chosen a style with a little more give when I could only eat half my dessert and not even a sliver of cheese due to being so tightly laced up!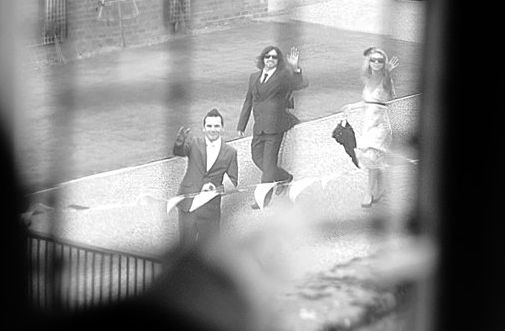 Our daughter Lila was our flower girl.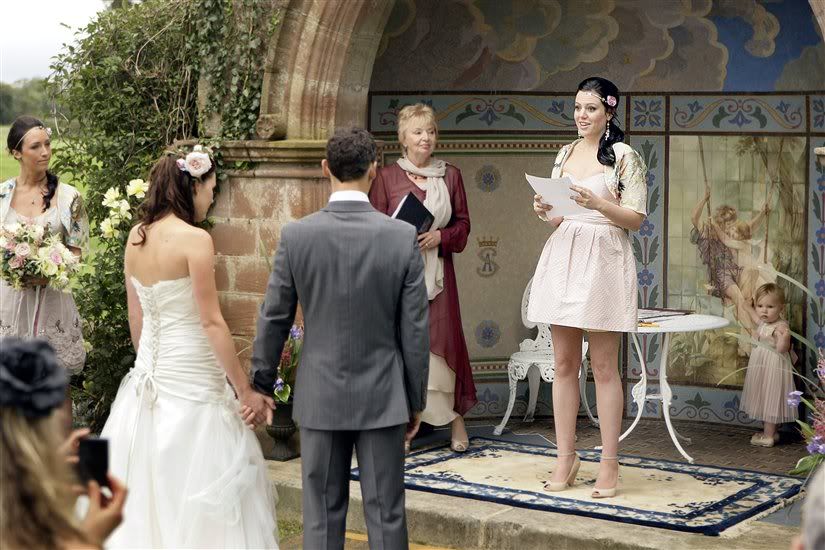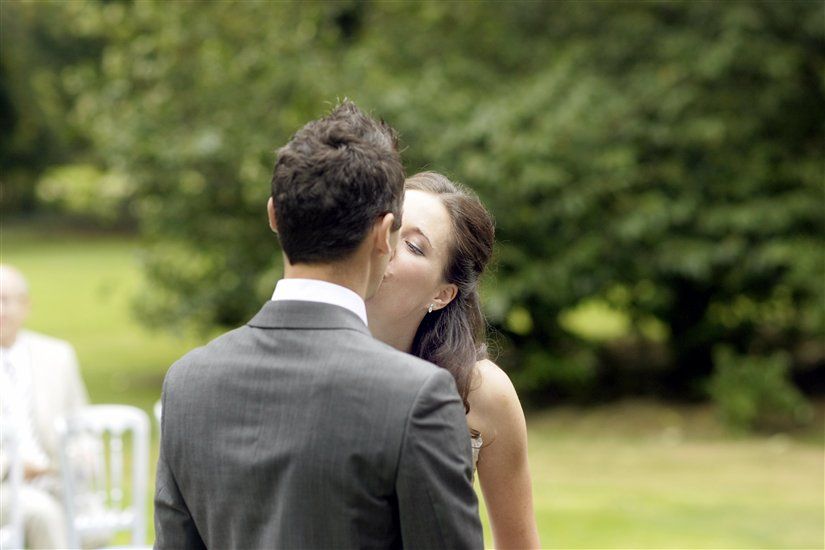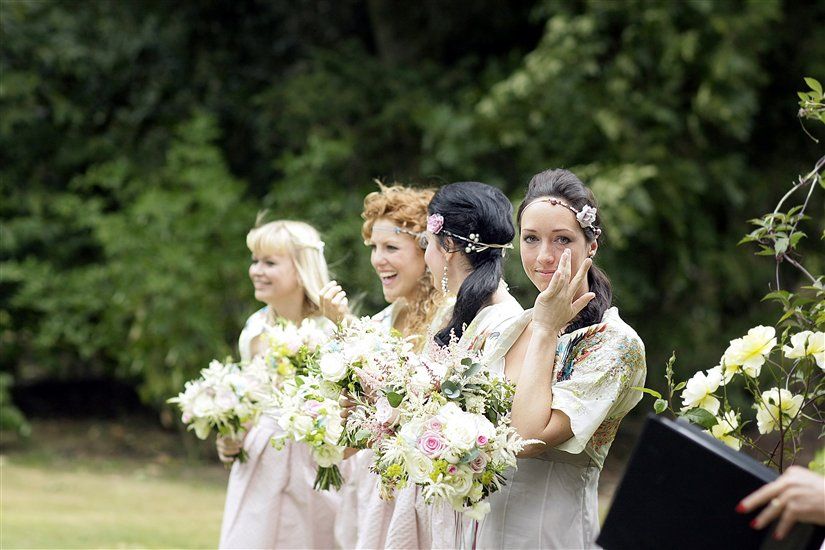 My bridesmaids dresses were from Oasis, my mother made their beautiful chiffon capelets and I created their hair accessories – I have an Etsy shop where I sell handmade flower-inspired headbands with a dreamy and romantic style. The floral designer was a family friend and she created wonderful displays for inside the marquee, table arrangements, my bridal bouquet, the bridesmaids bouquets. The key flowers we chose to use were dusky pink roses which were ideal seasonally and also suited the romantic country theme.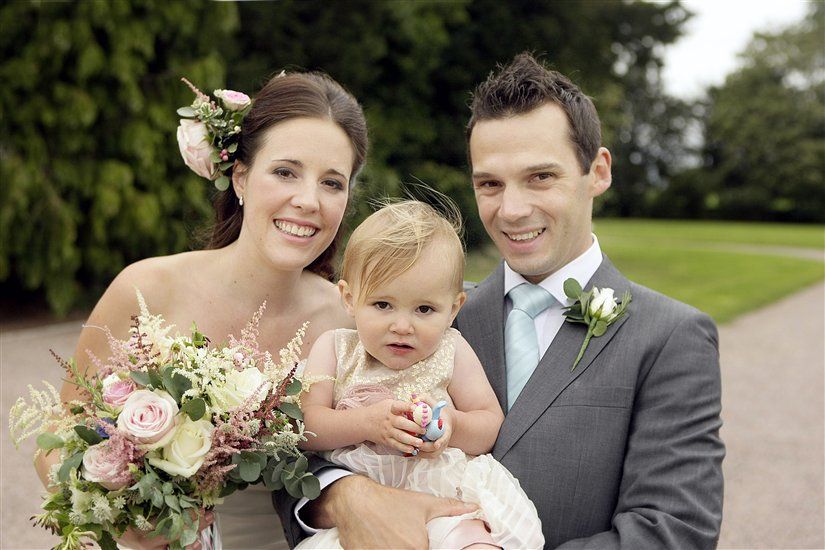 Some advice from the bride: Delegate! Don't be afraid to accept help with the planning and getting things done. It's easy to become overly perfectionist and believe that you have to do everything yourself for it to turn out exactly the way you want it but if you take it all on single-handedly, it's a sure fire route to a nervous breakdown! Also, do your research into any other events which may be happening in the area on the day and may effect your wedding- there was a country fair happening in the village near my parents farm and we didn't realize they would be doing clay pigeon shooting displays during the afternoon which meant our ceremony was punctuated by distant gun shots every now and then!
Happy wishes, Faye and Curt, for your marriage and for your recent move to New Zealand! See more from their lovely wedding over at Faye's blog, Talking to Unicorn.