Real Wedding: Katie & Jay
Jonathan Canlas always sends me the loveliest weddings, made even better by his fab photo skills. I love the classic preppiness of Katie and Jay's Montauk wedding, especially with it's modernly sophisticated touches (those invites! that dress!). I also think that this wedding is evidence (yet again) that with a beautiful venue, there's no need for overwrought decorations and details.
Guests joined Katie and Jay for a weekend of wedding activities, starting with a welcome bonfire on Friday night, and wrapping up with a donut breakfast on Sunday morning. On Saturday morning, before the wedding, everyone got together on the lawn to play Bocce ball.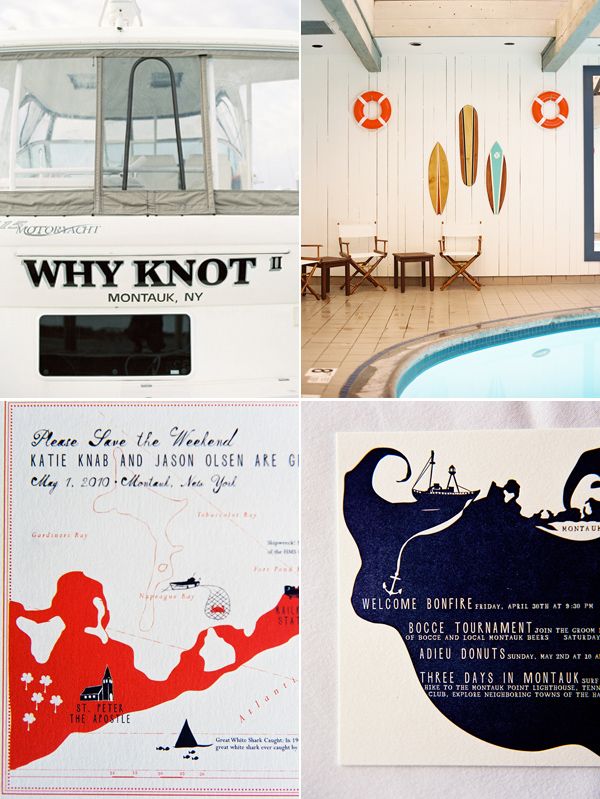 Mr. Boddington's Studio never disappoints, and these red, white, and blue invitations, in equal parts classic and quirky, really set the tone for the wedding.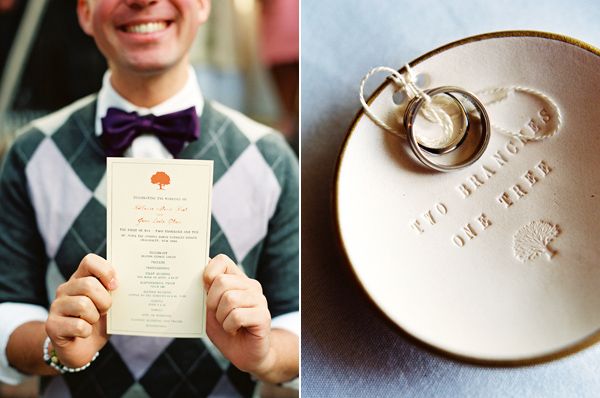 The porcelain ring bearer's dish echoed the tree motif from the invitations and ceremony programs.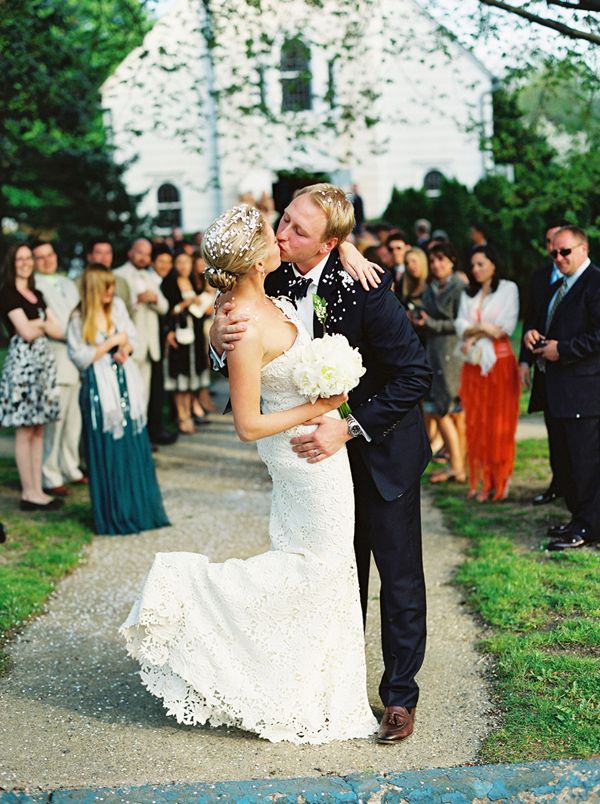 Says Katie, "As an homage to my grandfather, I surprised Jay with a bagpiper playing Scotland the Brave as we left the church…bagpipes have that ability to resonate to your absolute core."
Don't you love Katie's gorgeous dress? The lace applique is so romantic, while the fit and flare cut, one shoulder neckline, and black ribbon all make it modern. She paired it with jewelry from her grandmother.
The couple's signature cocktail, a Montauk Monster, was made wit vodka, soda and lemonade, and garnished with a gummy bear!
Tables were decorated with brown linen runners made by Katie's sister, and clusters of various glass containers with ferns, tulips, and hyacinth.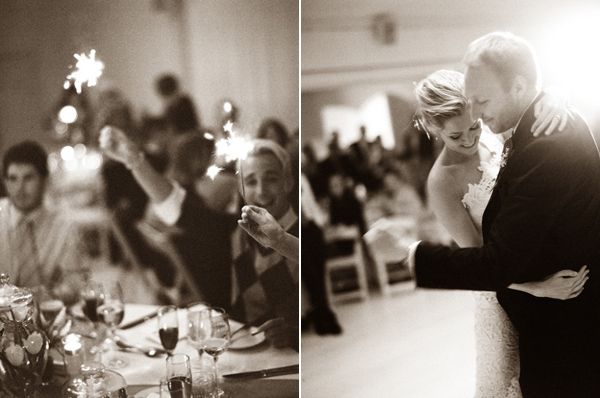 Katie shares one of her favorite parts of the evening: Late night McDonald's. My husband and I joke that this is the only thing he contributed to the planning process but it ended up being a key element that kept the party going. We had 150 cheeseburgers and small frys delivered once the dance floor closed and I swear, we ate at least six cheeseburgers between the two of us. But it did keep me going!
Photography: Jonathan Canlas
Venue: Montauk Yacht Club in Montauk, New York
Stationery / calligraphy: Mr. Boddington's Studio / Queen Quills
Porcelain ring dish: Paloma's Nest
Bride's dress: Christina @ Blue Soho
Bridesmaid dresses: J.Crew
Groom's suit: Paul Smith
Flowers: Amagansett Flowers by Beth
Congratulations Katie and Jay – thank you so much for sharing your wedding day with us. And thank you to my friend Jonathan Canlas for sending over these gorgeous photos. You can see tons more from this beautiful wedding over on Jonathan's blog.
Paloma's Nest is a sponsor of Snippet & Ink.