Rustic Wedding at Figueroa Mountain Ranch from Beth Helmstetter :: Liz & Chris
You might remember this dreamy California wedding (and really, how often do I call something dreamy?) from when I linked to it awhile ago – I just couldn't resist sharing it again here on Snippet & Ink. Romantic, rustic elegance at its loveliest…
A clean gray and white palette lets Laura Hooper's beautiful calligraphy stand out in Liz and Chris' stationery suite (also, check out the hand-drawn map). A floral envelope liner and postage stamps bring in subtle pops of color.
Kate Holt from Flowerwild created a bouquet of lush garden roses in peach and white, tied with a beautiful pleated ribbon. Just one of the many details that gave the rustic Figueroa Mountain Farmhouse a touch of formality.
This tulle blusher veil from Erin Cole is a softer alternative to a birdcage veil.
From the bride: Our car ride to the reception was my favorite moment of the day! After getting married at the church, Chris and I were chauffeured  through the beautiful hills back to the farmhouse. Beside our sweet driver, it was just the two of us alone. We toasted with a bottle of champagne and reveled in our brand new newlywed status. It was all love.
In another blend of rustic and formal, guests enjoyed strawberry lemonade served in mason jars as well as chocolate raspberry martinis. The drink menu also included jasmine iced tea, mango mojitos, and spring flower sangria.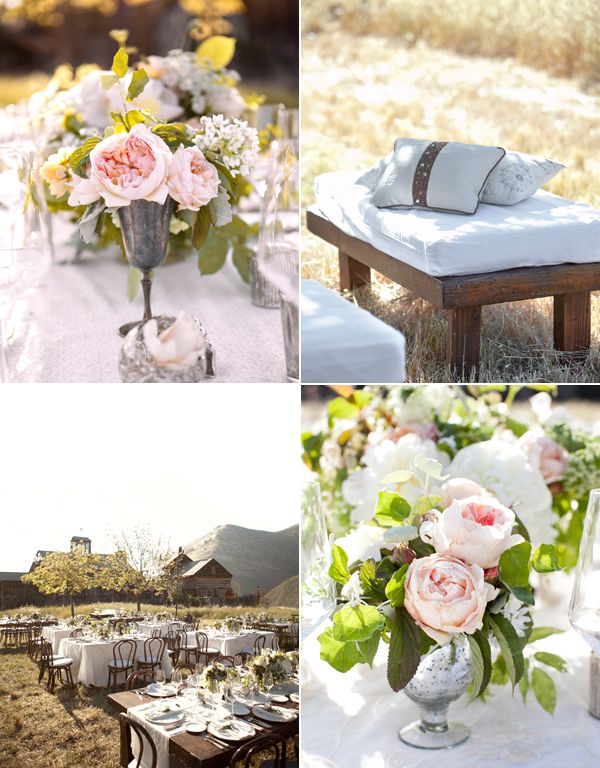 Just to give you a little taste of the gourmet dinner, the menu included items such as grilled apricots with pink peppercorns, goat cheese and pistachios. Doesn't that just sound like something that should be eaten al fresco?
Flowers were arranged in a variety of silver vessels, as well as in colorful tea tins.
Liz suggests making time for just the two of you during your wedding day. "It helps slow the day down and allows you to take it all in," she says. "We loved every minute of our wedding weekend, but when we reflect back, it was the moments that we stepped away together that we now cherish the most."
The couple's first dance was to music played by Spanish guitars.
Thank you to Aaron Delesie and Beth Helmstetter for sharing this magical wedding with us, and of course thank you to Liz and Chris for sharing their details. Best wishes to you!