Charming Destination Wedding in St. John :: Rebecca & Mike
Rebecca and Mike's beach wedding is full of preppy charm – I love the periwinkle blue and cream palette. And they planned the whole thing in just a few months! Says Rebecca, "We live in NYC but a city wedding just wasn't us. We both love to travel, so a destination wedding was an obvious choice. I grew up on the coast, and I always envisioned an outdoor ceremony near the beach. We love nature and being outdoors and were inspired by the natural, untouched beauty of St. John and low-key style of the resort which is located within a national park. We knew we were asking a lot of our guests to travel so far to celebrate with us, and we really wanted to make it as easy as possible for everyone and ensure they'd get the most out of their trip. It worked out so well. Most of our guests stayed for at least a few days after the wedding, and some joined us for a full week of island fun!"

As a wedding gift, Rebecca gave Mike a pair of custom cufflinks with their wedding date stamped on them.

During the wedding, each of us carried something from the other person's family. Mike wore a monogrammed handkerchief that my mother had given him in the chest pocket of his suit. I pinned Mike's grandfather's wedding ring to the inside of my dress. Since neither of us have living grandparents, it was wonderful to have something to make us feel like those who couldn't be with us physically were still somehow with us spiritually.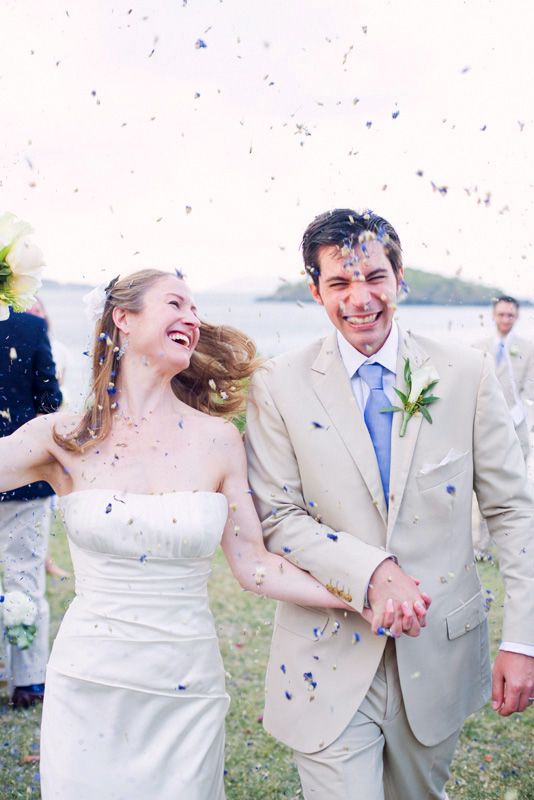 For the ceremony, I filled small white paper bags with dried whole blue cornflowers and used periwinkle organza ribbon to attach hang tags that read "As the bride and groom come your way, toss the flowers and shout hooray!"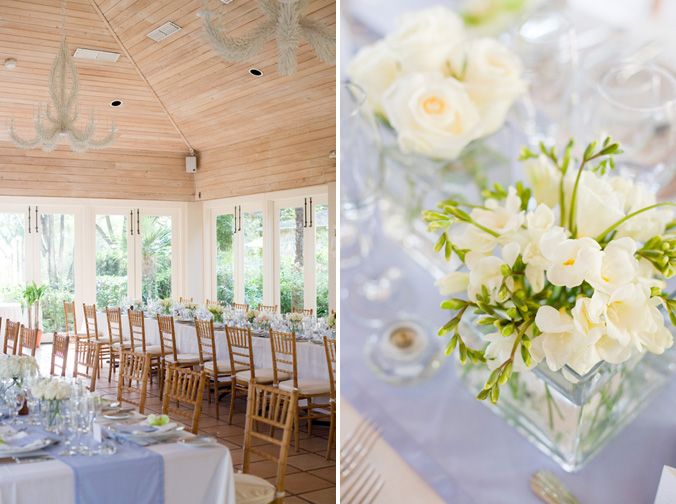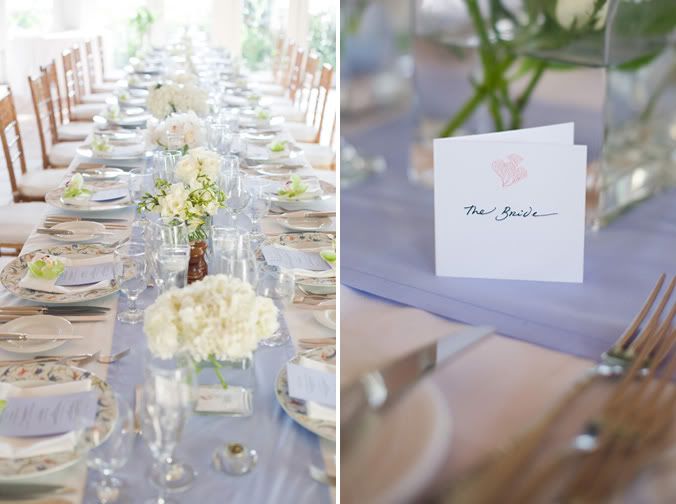 I wanted guests to feel like they had walked into a friend's lovely beach cottage, not a reception hall. My mother sewed the periwinkle table runners. Place cards were designed and printed by Luscious Verde. The coral graphic tied in with the sea theme of the wedding as well as the cause to which we made a donation on behalf of our guests: Coral Reef Alliance.

.


Mike created playlists for the entire event that we played off an iPod during the reception. It saved us a ton of money and worked out well. We had music we knew we liked that was appropriate for each segment of the evening – the cocktail hour, dinner and dancing. We went back outside to the veranda after dinner to dance under the stars and the full moon.

I'll pass along some good advice that was given to me: Take time during the evening to step back and just watch – watch all your family and friends, in one place, enjoying themselves and celebrating your love and happiness. The day goes by so quickly and you need to make sure you take a moment to soak it all in.
Congrats Rebecca and Mike! And thank you to Corbin Gurkin for the beautiful photos!