Real Wedding: Regan & Brian
One of my favorite parts of blogging is hearing about the weddings of Snippet & Ink readers, and getting to share them with you – especially when they're as thoughtful and beautiful as this one. With just under 50 guests in attendance, the wedding was intimate, and full of simply lovely details. From the bride, Regan:
We wanted to have a wedding that not only celebrated our love for one another, but our love for all of the people in our life that made us who we are. We felt a small wedding allowed us to do this and to more easily interact with all of our guests on a personal level. By focusing on creating handmade details and expressing sincere sentiments we wished to demonstrate our intimate and heartfelt appreciation to all those in attendance. The wedding was meant to not only celebrate love, but be an act of love itself.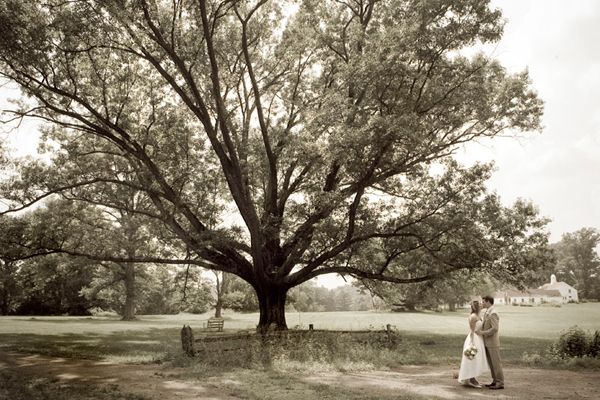 Regan designed the invitations herself, drawing inspiration from a pencil sketch of grape leaves by Ellsworth Kelly.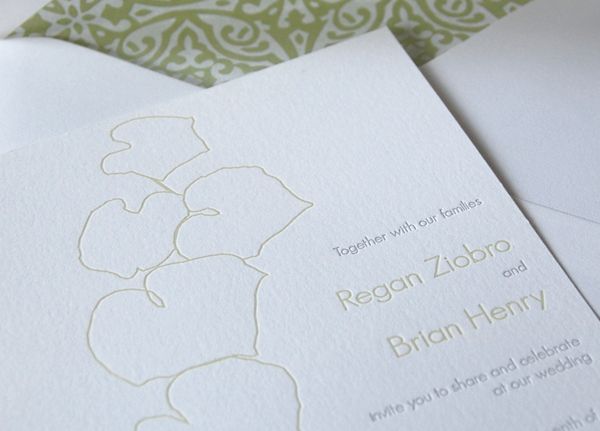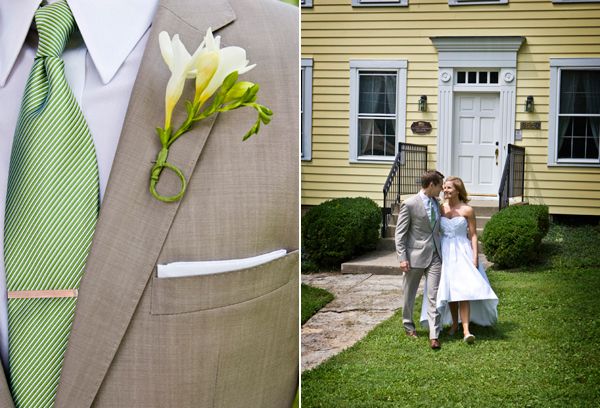 In keeping up with the idea of making this day a very personal experience, we asked that Brian's lifelong friend, Steve, perform the ceremony. Steve was incredible and took his job very seriously; after camping out on our couch for a week and having several long phone conversations, Steve expertly tailored a ceremony to our relationship and belief of what marriage is about. In addition, a few friends and family were asked to read something that they felt reflected our love. What they read was a complete surprise to us, which made the ceremony that much more emotional! Brian and I wrote our own vows and got out as much of them as we could – allowing for several breaks of smiles and tears.
When I first told my parents we were going to have a bluegrass band perform the music they were both very skeptical. On numerous occasions they tried to talk me out of it, but we knew it would be perfect, cheery and just plain 'us'. I'm so happy we stuck to our guns and after the wedding was over, both of my parents commented on how fun the band was!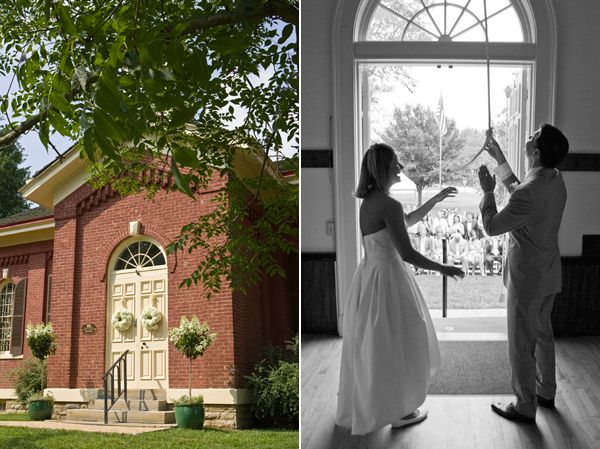 With the generous help of our friends, we later planted the two big, flowering trees that stood beside the altar…a metaphor for our new life together that we can watch grow year after year.
Every bride having a wedding outside dreads the idea of it 'raining on her parade.' Thankfully, we had wonderful weather for 98% of the day, with a quick, but windy thunderstorm blowing in for just 15 minutes during the outdoor cocktail hour. What could have been a nightmare, actually turned into great opportunity for everyone to get a bit closer – literally and figuratively – standing under the tent. It was a fun moment for us – and our poor band!
My husband and I moved to Germany two weeks after our wedding, and were in no need of more things, so instead of a registry, we asked our guests to make cookies for a cookie table, so everyone could take home bags of yummy homemade treats – I read an article in the New York Times a year or two ago about this being an old Italian tradition, and thought it would be fun. Throughout the day our friends would come up and talk about the cookie recipe they chose: where it was from, why they chose it, memories of making the cookies with a grandmother, etc. It made it that much more meaningful that our guests were contributing bits of themselves and their personal memories. Plus, the bags of cookies were a nice car / plane ride home treat for the guests traveling from afar. We had so many cookies left over afterward that we ended up donating more than six dozen to the local food shelter.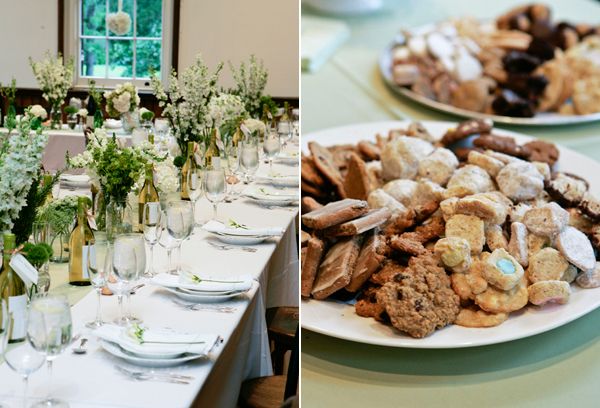 Some of the couple's DIY projects included printing little paper bread and cookie bags with the word LOVE and framing old photos of family and friends to hang on ribbons from the chalkboard that went around the room, as well as collecting old medicine jars, bottles and vases from a local flea market to fill with flowers for a dense and eclectic table setting.
Regan's advice for keeping costs down? "A concerted effort was made to utilize local vendors, food, flowers etc. Although this was done for a variety of reasons, it also helped to keep the budget down. For example, although I love of lily -of-the-valley, I wasn't about to import them across two countries. Instead, we decided on the equally beautiful and delicate freesia which was local, less expensive and fit beautifully. Decisions to incorporate hydrangeas and veggies from local gardeners, cheese and fruit from the local market, free range chicken from a local poultry farmer all kept the spirit of the season and the location in rural Ohio."
Photography: Rachel Waring
Venue: The Little Red Schoolhouse in Indian Hill, Ohio
Invitation printing: Elf Letterpress
Bride's dress: Oleg Cassini for David's Bridal (Says Regan, "Cassini was one of Jackie O's favorite designers and I got this beautiful, simple, fun dress – it had POCKETS! – for a steal.")
Groom's suit: Hugo Boss
Ring dish: Paloma's Nest
Flowers: Sprouts Floral Design
Caterer, cake: Creations by Melody, (513)-561-7696
Rentals: Camargo Rental Center
Custom wine labels: Absinthe Custom Print
Congratulations Regan and Brian! Thank you so much for sharing your beautiful wedding with us, and wishing you all the best in your new life together!
Paloma's Nest is a sponsor of Snippet & Ink.