Charming Vintage Inspired Wedding from Gia Canali :: Serra & Brandon I
Brandon is one half of Twin Lens Life (the other half is his brother and best man, Brian), and he and Serra had the most charming vintage-inspired wedding, so it's only fitting that photographer Gia Canali used a bunch of vintage cameras to capture the day. Says Gia,
"Since Brandon is a photographer, we were happy to pull out all the funky vintage film cameras and dead stock films we could get our hands on (the Rollei, the Contax, the Leica, one of their Voigtlanders, plus a whole slew of Polaroid and toy cameras, and all the films that go with all those cameras). There were moments when the lawn was literally littered with Polaroids. I mean, Fuji instant prints."
Okay, so on with the photos!
Serra wore a vintage dress from the 1960s, Miss Bisou shoes found at a thrift shop, and jewelry that had been worn by Brandon's grandmother in her wedding and passed down through the family.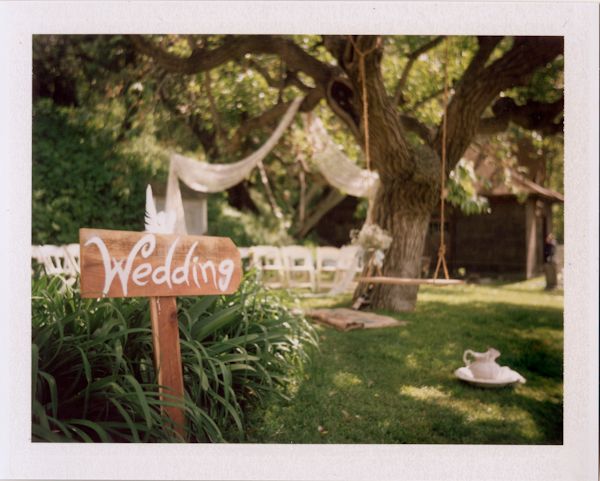 The wedding took place at Heritage Square Park in Los Angeles.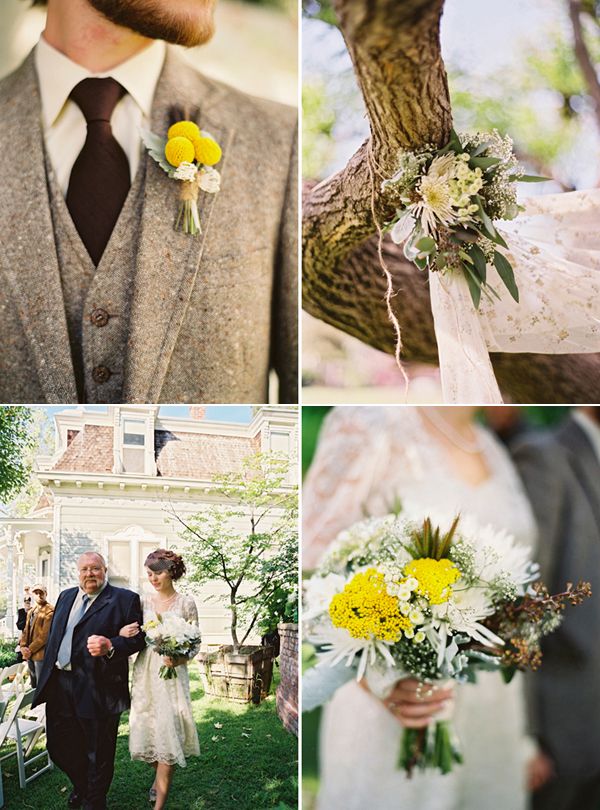 Flowers by Amanda Claverie at Rosebud Floral Design.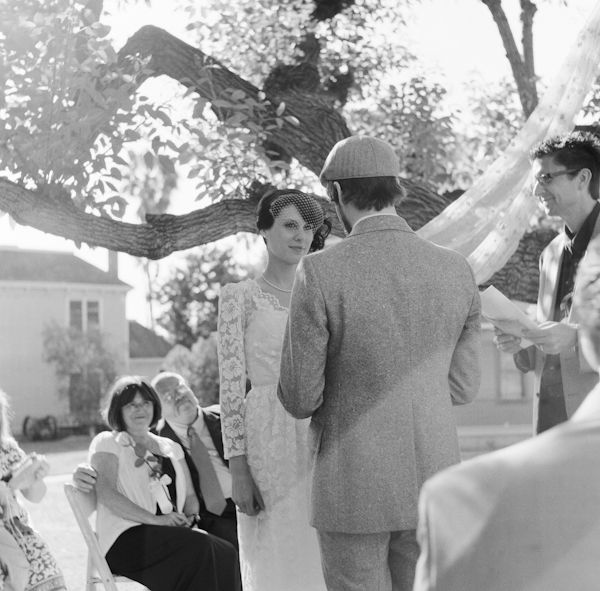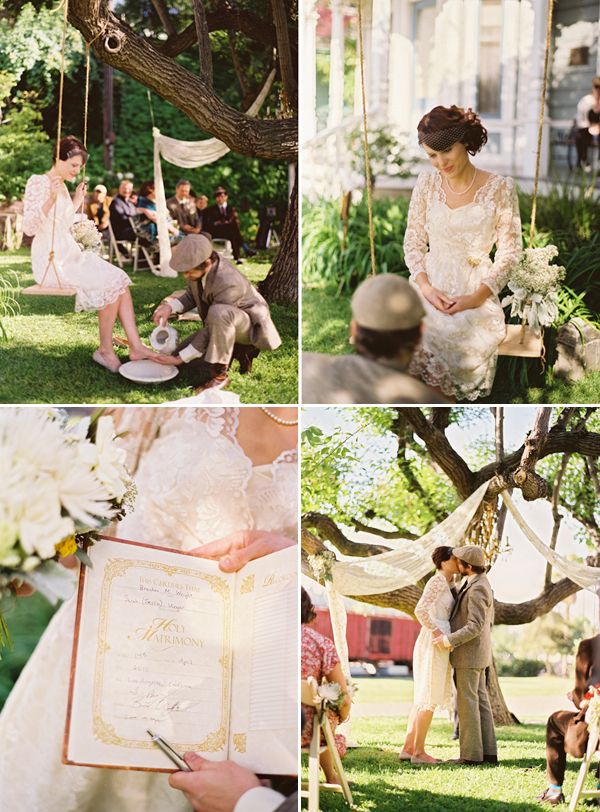 From Serra: I honestly loved every moment of the day! Brandon is my best friend and my love, and to see everything come together on that day was truly beautiful. I do have to say that our ceremony was my most favorite part. I loved when the rooster randomly came walking down the aisle during our vows and the foot washing with me sitting on the swing was perfect! I always told Brandon how romantic homemade tree swings are and he made one for our ceremony! I truly enjoyed those moments being surrounded by our family and close friends. It was fantastic, unexplainable, really.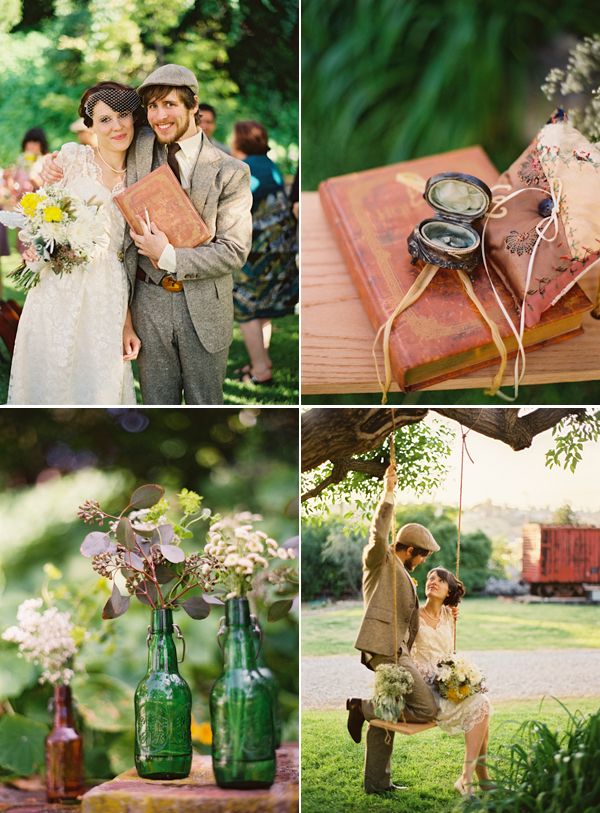 Serra's bridesmaid wore a dress purchased at American Vintage in Hollywood (323-661-8081). Brandon wore a vintage suit found at a thrift shop, and his brother wore a brown corduroy suit from Make Your Own Jeans. All of their accessories were also purchased at thrift shops – so perfect for the vintage feel of this entire wedding!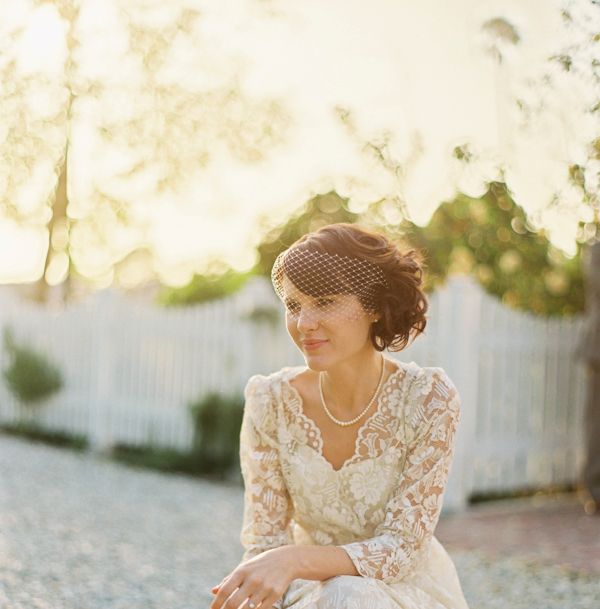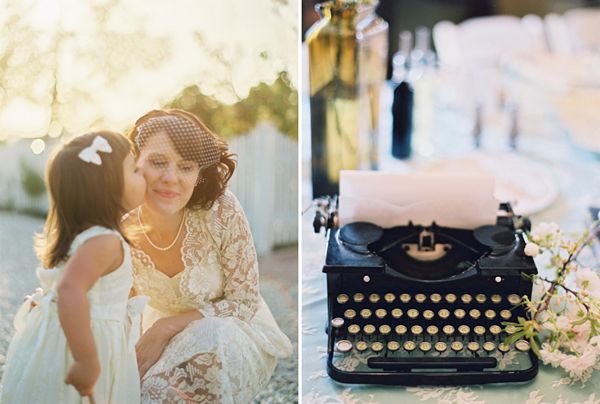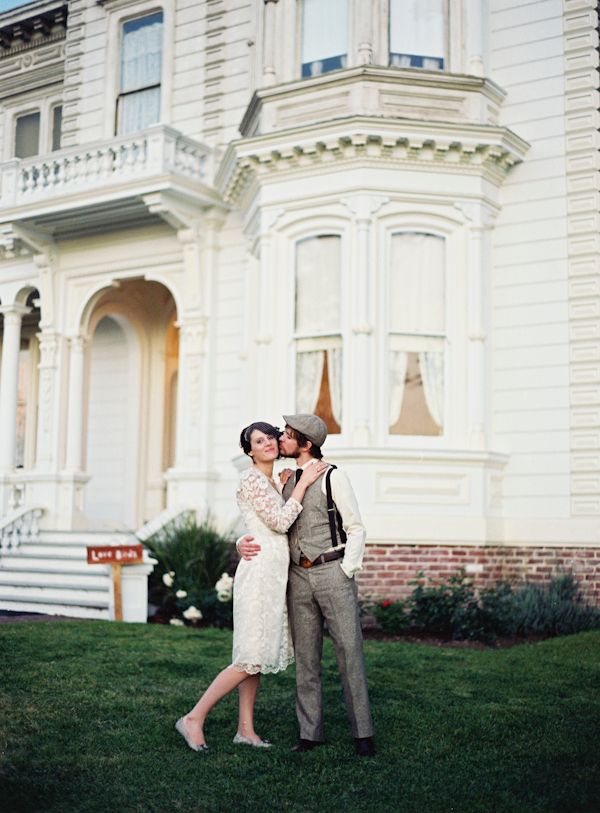 Brandon and Serra's pet lovebirds, Frankie and Allie, were the center of attention in an antique, hand carved birdcage placed in the middle of the table.
Serra spent months collecting vintage plates from various antique and thrift stores, as well as tarnished silver salt and pepper shakers and flatware. She made napkin holders with buttons and fabric taken from a corduroy jacket.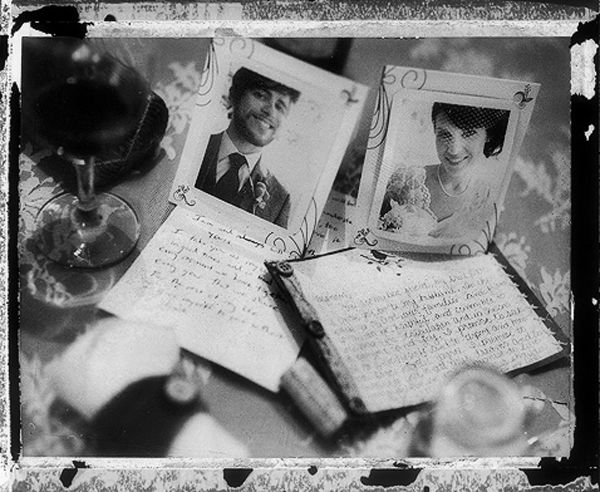 How cool is this? Brandon's brother and best man (and fellow photographer), Brian, took Polaroid photos of all the guests, which were used as place cards, and which had a place on the back where guests could to write a message to the bride and groom, to be compiled later as a guest book. You can see more of his Polaroids over on the Twin Lens Life blog.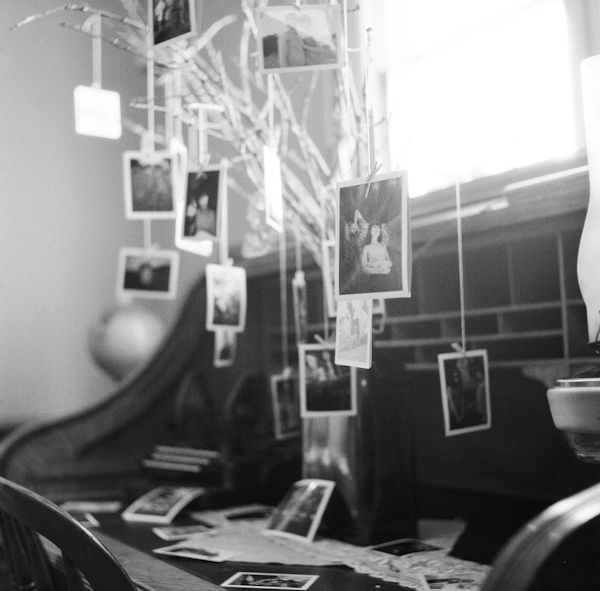 From Serra: We both shoot Polaroid Land Cameras from the 60s and have documented our relationship from the beginning. We created a photo tree with long cherry branches and our Polaroid photos hanging from each branch.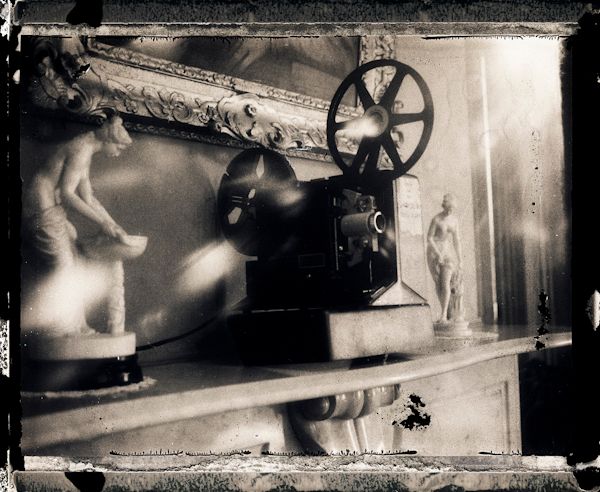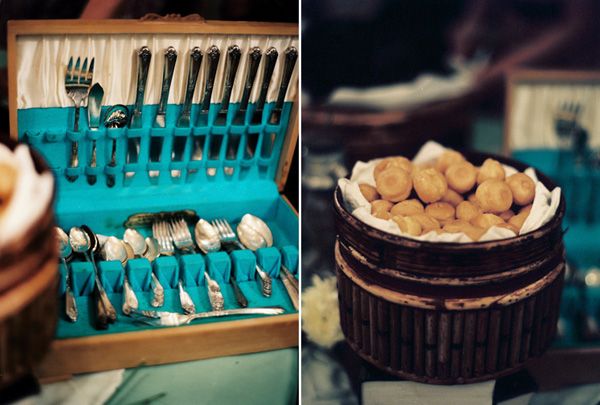 For the dessert table, each cake and pie was placed inside a round bamboo box (similar to a hat box) until it was time to eat them, when they were stacked on top of the boxes and antique books.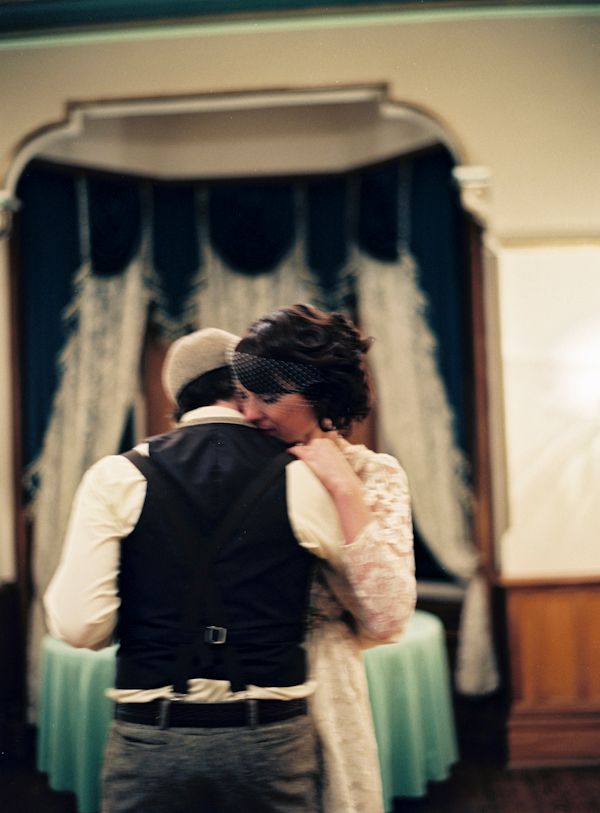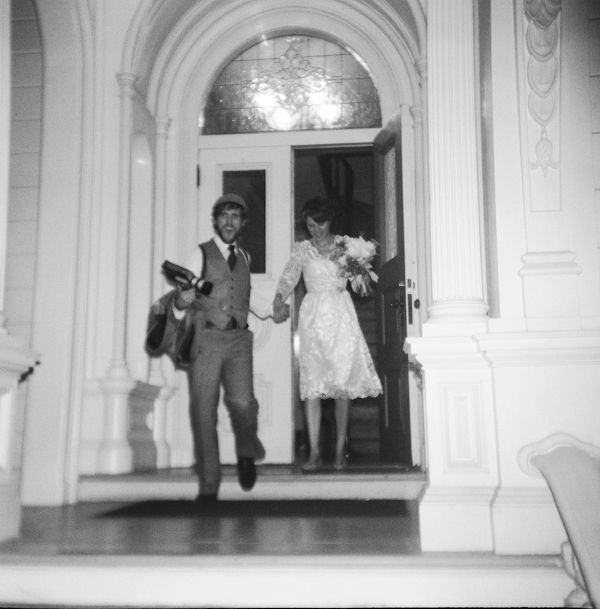 Congratulations Brandon and Serra! Thank you so much for sharing your delightful wedding day with us, and thank you to the talented Gia Canali for sharing all of these incredible photos. Want more? See more pics over on Gia's blog, and check back here later to see Brandon and Serra's awesome wedding film! (Speaking of which, do you see the 8mm camera in Brandon's hand – love it!) Also, you have to check out Twin Lens Film if you haven't already – they rock!
Gia Canali is a Snippet & Ink Select vendor.