Rehearsal Dinner: Laurel & Veli
Featuring a summery barbecue rehearsal dinner might seem totally out of place this Thanksgiving week, but I imagine there are still some summer brides here looking for inspiration, right? Besides, it's so much fun for me to share celebrations inspired by Snippet & Ink, especially when that celebration is as fun (and budget friendly!) as Laurel and Veli's rehearsal dinner. I love what Laurel shared about their planning:
I'm an avid Snippet & Ink reader, and when we first began planning our vineyard wedding, I knew I wanted something elegant in shades of deep purple, but I kept being drawn to your summery "picnic chic" inspiration boards in cheery shades of red and yellow. When both my fiance and I found ourselves casualties of the bad economy and had even less of a budget for our wedding – let alone our rehearsal dinner – I got my chance to put your backyard inspiration boards and our creativity to work for us! We were able to throw an intimate and beautiful backyard BBQ rehearsal dinner that became a lovely and very memorable night – all on a bail out budget!
With the help of friends and family, as well as day-of-coordinator Stacy McCain, Laurel and Veli's low-key rehearsal dinner was a huge success. And now, on to the darling photos, taken by Veli and his best man!

Laurel and Veli designed the invitations (and tables signs) together, inspired by an illustration of a ketchup and mustard bottle in love.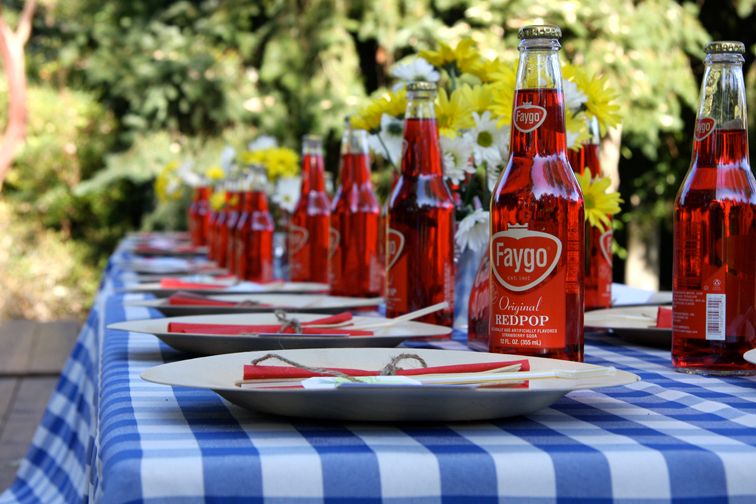 Dinner was served on Bambu wear. Each guest was greeted with a floral name tag hand-drawn by Laurel's father, who was to ill to attend the wedding.

Drinks were spiked Arnold Palmers, sangria and sun tea (made by Laurel's bridesmaids).

Friend Scott Turnipseed, a sous-chef at Cafe Bernardo in Sacramento, created and executed the menu of sliders with homemade pickles and spicy aioli, home-fried rosemary potatoes, and a salad of mixed greens and strawberries. Laurel's mom made peach cobbler (yes please!).
Venue: Private home, Sonoma, California
Rentals: Classic Party Rentals
Retro soda: Faygo
Day-of-coordinator: Stacy McCain
Thank you so much to Laurel and Veli for sharing your sweet rehearsal dinner with us – it's always so inspiring to see how much you can do without a big budget. I think this could definitely work as inspiration for a wedding reception, too. And of course, congratulations on your marriage!