Real Wedding: Rebecca & Brad
My husby and I came home from a dinner date last night, and all the power in our neighborhood was out. Which was kind of romantic for snuggling, but not so good for blogging (Question: When will I be able to blog from my iPhone? Just wondering.). All that is my way of apologizing for posting so late today, but I hope you'll agree that this fun wedding was worth the wait.
Rebecca, the lovely bride, says, "I've always been drawn to contrasts. So for the wedding, I wanted a very soft and feminine palette, filled with springy pinks, whites, greens contrasted with more retro black and white. Pretty, soft, unfussy with a hint of edginess." And that's just what Bash,Please brought to life.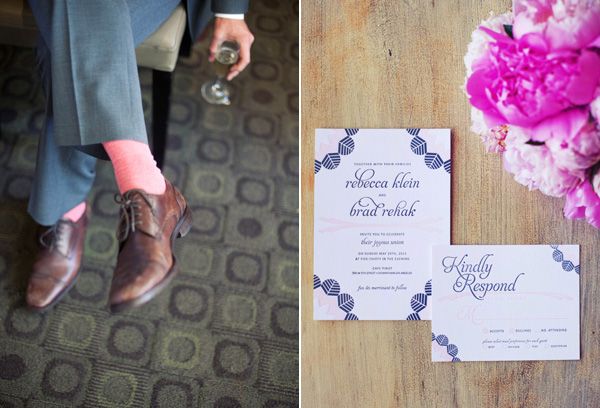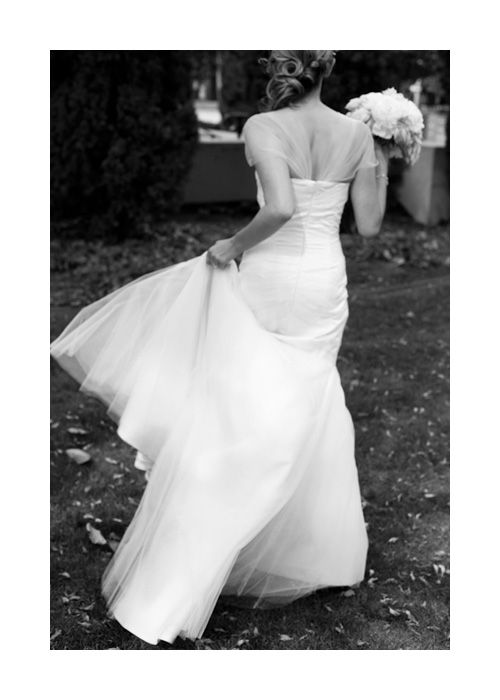 How cute is this little flower girl in her tutu!
The couple included a number of traditions at the wedding. Says Rebecca, "We had a Jewish ceremony which incorporated many traditions…the Chuppah, the breaking of the glass. And we also mixed in some traditions during the reception, with the Hora and the Polka."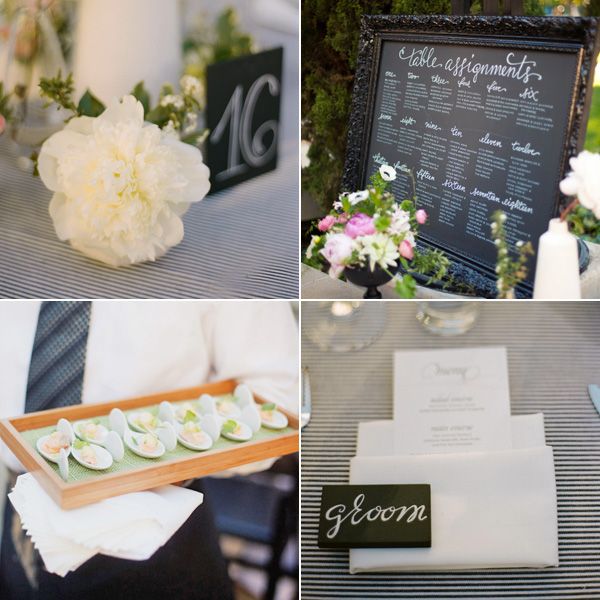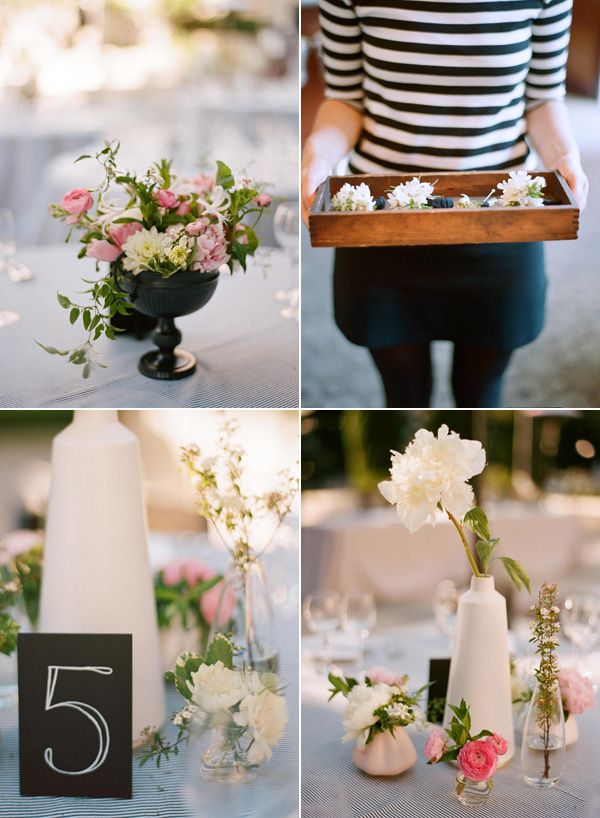 Don't you love all the black and white stripes? And the chalkboard details?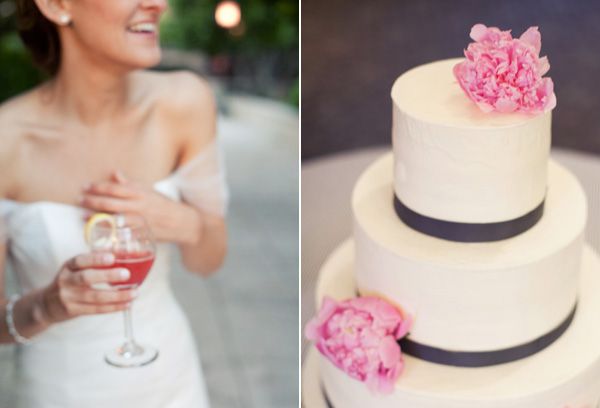 Guests enjoyed two signature cocktails: "Effortlessly Chic" (champagne with raspberry puree) and "The Prestige" (rye whiskey with vermouth and lemon juice). The cake was a simple buttercream with seasonal berries.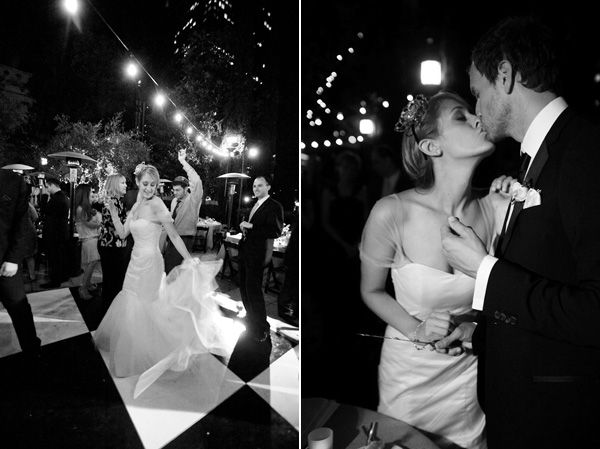 Rebecca was sweet enough to answer some questions about the day…
Why did you choose this place for your wedding? I've always wanted an outdoor wedding but also adore the beautiful Art Deco feel of downtown Los Angeles. Cafe Pinot was the perfect mixture of our aesthetic tastes. Beautiful outdoor garden surrounded by the urban cityscape. It made for such a cool juxtaposition and unique wedding venue that we fell in love with immediately.
What was your favorite part of the day? Our "private" moment immediately following the ceremony. Being able to have some alone time to truly digest what just happened with the one you now call your spouse was so special and so necessary.
What was the best advice you received as a bride? What advice do you have for other brides? The best advice I received and would recommend to other brides is for you and your groom to stay together the entire night. I realize that sounds like a given, but there are many couples who separate during the reception and therefore have different experiences and recollections of the evening. I wanted to experience every moment with my husband so when we look back at that magical day, we shared everything together and have the same memories.
Is there anything else that helps tell the story of the day? Everyone says that your own wedding goes by in a flash, and they could not have been more right. But what was so magical and all encompassing was the overwhelming sentiment of love and support that filled the event. It's a bit surreal having your closest family and friends together in the same space celebrating you, but looking around at all of our guests filled us sheer delight and glee, because if it weren't for them, we wouldn't be the people, the couple, that we are today.
Vendors
Photography: Raya Carlisle / Venue: Cafe Pinot in Los Angeles / Design, planning: Bash,Please / Bride's dress: L'ezu Atelier / Headband: Stephanie Browne Australia / Groom's suit, shoes: Hugo Boss / Stationery, paper: Bash,Please / Calligraphy: Plurabelle Calligraphy / Flowers: Bash,Please / Music: The Flashdance / Rentals: Town and Country, La Tavola Linen / Lighting: Dyal Productions