Real Wedding: Amy & David
It's been awhile since we've had Scott Andrew Studio's beautiful photography here on Snippet & Ink, but I think it was worth the wait – Amy and David's wine country wedding is one of the most charming I've had the pleasure to share with you. With 34 guests, it was a truly personal and intimate celebration. The lovely bride shares a bit about the day:
David and I knew we wanted an intimate and unique wedding. I'm a huge Francophile – we were engaged in Paris – but knowing that it wasn't realistic to get married in France, we thought the next best thing would be a destination wedding in California's wine country. Filled with French antiques and set on 75 acres of vineyards, Anderson Ranch seemed perfect, so when I called the owner I was thrilled to learn she was willing to let us host our wedding there.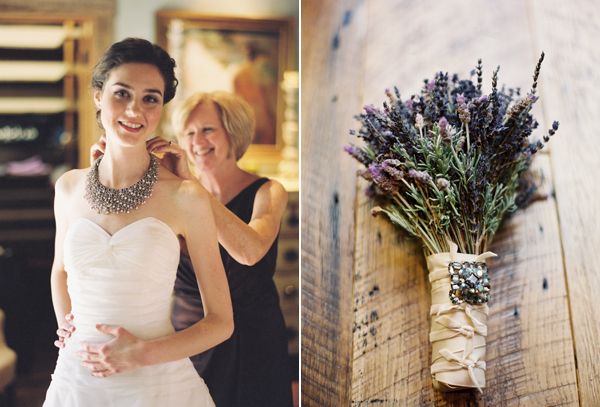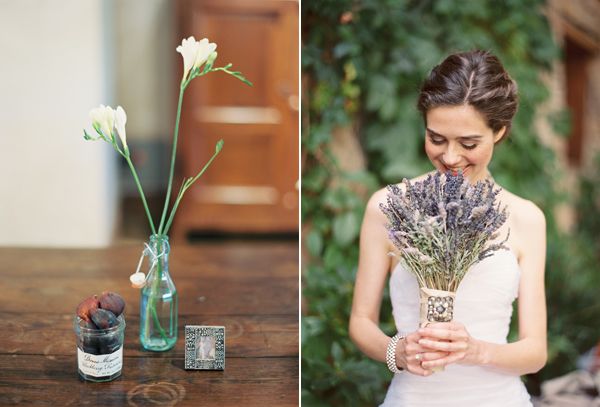 The bride carried a fragrant bouquet of fresh lavender, tied with ribbon and fastened with her grandmother's brooch. Says Amy: "Your palette, while it should be appropriate, doesn't have to follow the typical expectations for a season. Everyone thinks orange for a fall wedding. I initially worried about using purples and blues in September, but grounding it with browns and beige made the colors work for a fall wedding."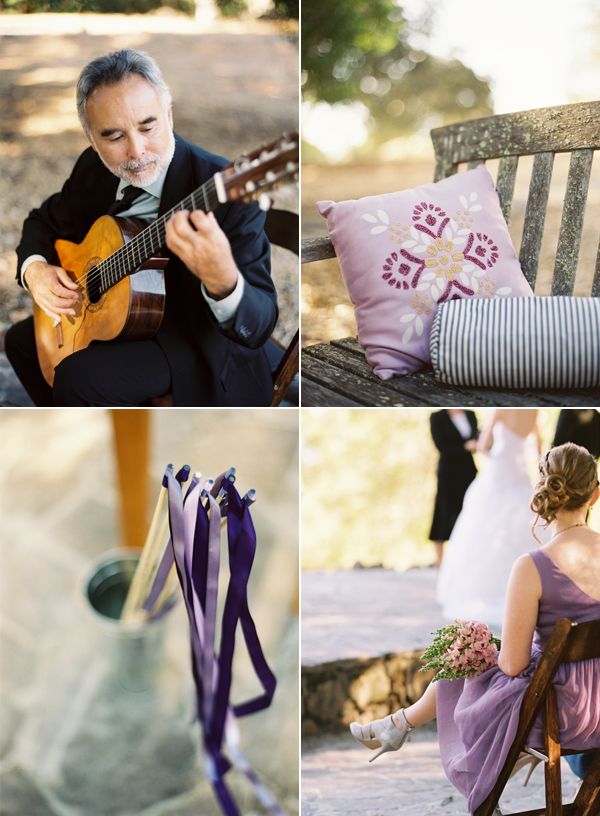 Some of Amy's DIY projects included stationery, napkins, table runners, pillowcases, hand-stamped favor bags, and ribbon wands.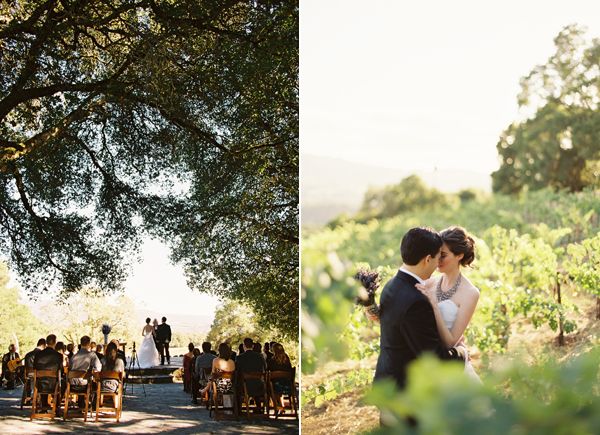 The best part was being able to share this day with our friends and family. We felt so fortunate to have people in our lives willing to travel and take time from work and home to be with us on our wedding day. After the ceremony we served iced tea, lemonade and a small snack so that guests could take a moment to enjoy the scenery of the vineyard.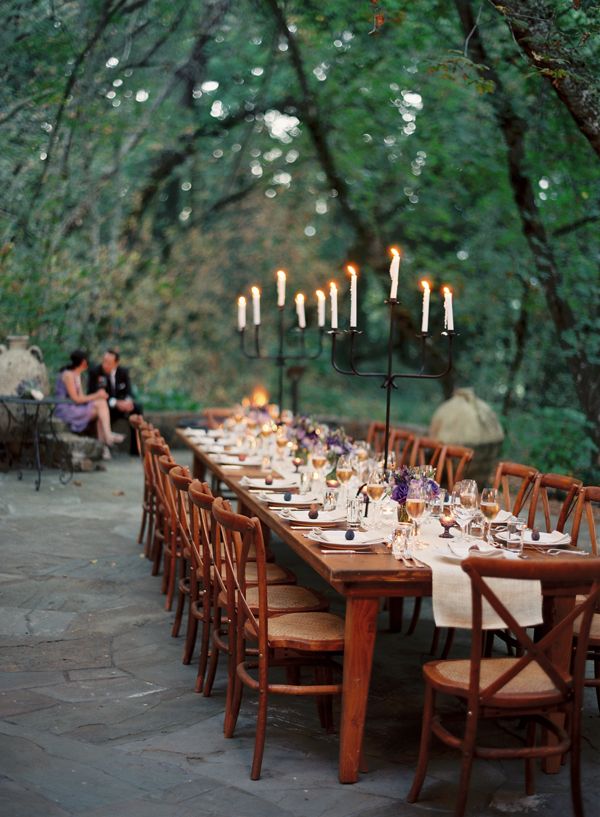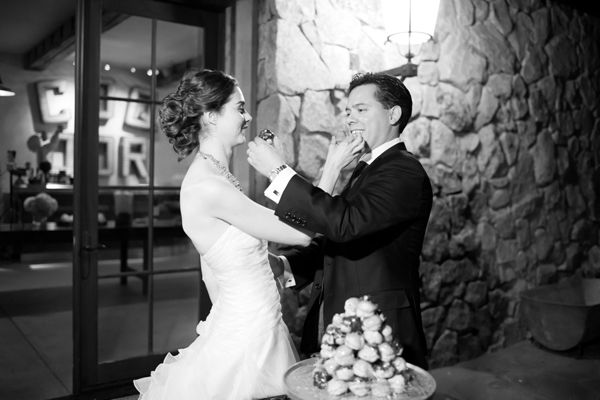 Keeping with the French-inspired style, a croquembouche took the place of a traditional wedding cake. Congratulations Amy and David, and thank you to Scott Andrew Shoemake for these beautiful photos. See lots more from this wedding over on Scott's blog. For some sage advice from the lovely bride, see below…
Photography: Scott Andrew Studio
Venue: Anderson Ranch in Sonoma, California
Bride's dress: Angelina Bridal
Bride's shoes / necklace: Kate Spade / Lord & Taylor
Bridesmaid dresses: J.Crew
Groom's custom suit: Nicholas Joseph
Flowers: FleurEssence
Guitarist: Mori Achen
Month-of coordinator: A Savvy Event
Catering: Ramekins
Amy shared some great tips that I wanted to pass along to you:
On budget: First, I'll admit we spent more than I had originally planned. That being said, we cut back on elements that weren't as important to us, and focused our budget on those that mattered the most such as food and wine. We didn't spend a lot on flowers – rather than a lot of small arrangements, we used one statement piece, and used it at the ceremony site and on our welcome table. The arrangements for the dinner tables were also rather small, but we placed big candelabras on the tables and tea candles, which created great lighting and the tables didn't look like they were missing anything. The venue itself saved money in décor – since the ceremony site and house were so beautiful, they didn't need a lot of embellishment. Also, don't be afraid to ask vendors to work with you on price. Our florist cut back and made adjustments to meet our budget, and our photographer worked with us to make a custom package. Instead of a band, we had a solo guitarist for ceremony and cocktail music, and used an iPod for dancing.
On having a destination wedding: If you're having a destination wedding, a planner is essential. I thought I could do everything myself but began seriously worrying in the last months leading up to the wedding. We hired A Savvy Event for month-of coordination, and they saved us! Also, if you're bringing décor for the wedding, ship it beforehand. We brought everything with us, and it was not easy getting through the airport with six suitcases plus a wedding dress. Also, we arrived in California 3 days before the wedding, and since I was doing so much myself, it felt really hectic. If you're going to be hands-on, I would recommend arriving a week before to give yourself plenty of time to prepare.
In general: Don't worry so much. I say this as a perpetual worrier and perfectionist. It's true that it will be the most wonderful day and everything will fall into place.