Real Wedding: Zach & Clay
It's been awhile since we had Katie Stoops' photography here on Snippet & Ink, so I'm happy she's back today with this charming wedding. A rustic venue on a beautiful day, delicious local food, and lots of friends and family… it doesn't get much better than that. Zach and Clay were kind enough to share some of the details about their wedding with us:
Finding the right venue was tough. D.C. is full of beautiful ballrooms and grand spaces, but those didn't feel right to us. This barn was perfect – it's only about 20 miles from Washington, but it feels a world away, like you're really in the country. Although the barn was cleaned out and "finished," with hardwood floors and so on, it's still a functioning barn. There are goats in the lower level! On the day of our wedding, there were some other surprise guests – a small herd of alpacas had been moved there, too! The guests loved it. The alpacas were probably the single most photographed thing from our wedding. Hot new wedding trend: alpacas! You heard it here first.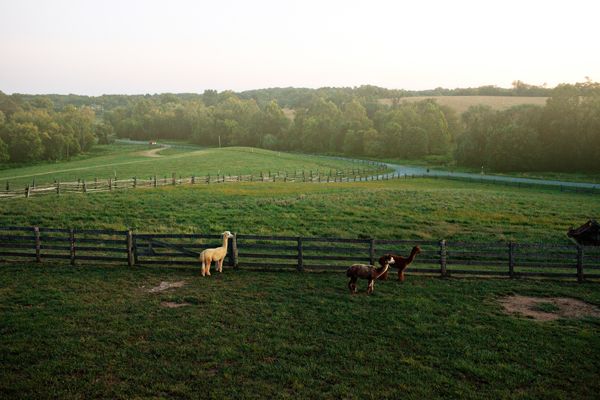 Our ceremony was the best part of the entire day – it was very personal and meaningful and "us." And we loved how informal it was, with the guests standing beneath a large tree there on the farm. We had friends do a handful of readings. It was a very special moment for us that we were so proud to share with family and friends.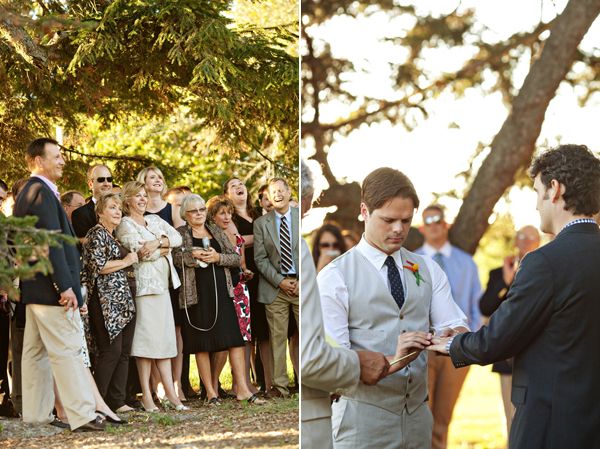 The single most important aspect of the reception, though, was the food. We write about food on our blog, The Bitten Word, so we really wanted the food to be a special highlight of the day. We were thrilled to find our caterer, Oliver Friendly, who focuses on simple, seasonal foods using ingredients from within a 150-mile radius. One bite of Oliver's baby BLT sandwiches (he cures his own bacon!), and we were hooked. (See the entire menu below.)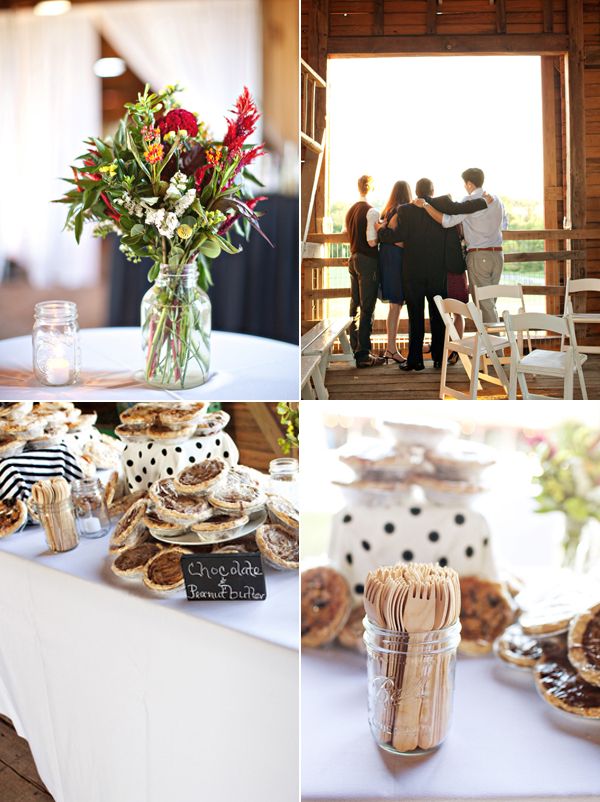 Flowers were from a floral wholesaler and were arranged by friends and family. Somewhat to our surprise, the DIY parts of our wedding ended up creating really fun memories. A small group of family and friends headed out to the barn the day before the wedding to string lights, clean up, arrange flowers and so on. It was actually really fun, and the "handmade" aspect of it really made the whole event feel special and personal.
Zach and Clay's advice for anyone planning a wedding?
In general, just approach the entire event as a blank slate, and don't do things because you think it's what you're supposed to do. For example, we mingled with the guests as they arrived at the barn and were served welcome glasses of Prosecco. Then, for the ceremony, we all headed over to a big evergreen tree and stood in the shade. It just seemed silly to us to "hide" until the ceremony. If that's what you want to do, great! Just make sure it's because you want to, and not because you think tradition compels you. Make the day what you want it to be – there are no rules.
One more piece of advice: Read Miss Manners' Guide to a Surprisingly Dignified Wedding. It will help you keep your sanity about what's really important about the wedding day, and about how you can have an amazing event on a small scale.
Photography: Katie Stoops
Venue: Agricultural History Farm Park in Montgomery County, Maryland
Clay's navy blue suit, blue checkered shirt: J.Crew
Zach's light gray pants, vest / necktie:  J.Crew / Banana Republic
Stationery: By Hand Invitations
Rentals / lighting: Capital Party Rentals / Atmosphere Lighting
Gypsy Jazz band: Hot Club of DC
Catering / drinks: Oliver Friendly from Eat & Smile Foods / Ace Beverage
Dessert: Dangerously Delicious Pies
Congratulations Zach and Clay! Yet another example of how simple can be just perfect. And thank you to Katie Stoops for sharing these lovely photos with us. You can see lots more from Zach and Clay's wedding over on Katie's blog.
Zach & Clay's Wedding Menu
Prosecco
Watermelon Mint Julep
–
36-Hour Smoked Pulled Pork BBQ Sandwiches
with Homemade Pickle and Slaw
Roast Vegetable Crostini
Pork-and-Scallion Wontons and Vegetable Wontons
Trio of Soup Shots
Roasted Corn; Sweet Pea with Thai Basil; Mushroom with Homemade Bacon
Ratatouille Spoons
with Lime-Poached Shrimp
Baby BLTs with Homemade Bacon
Gruyere Grilled Cheese Sandwiches
with Caramelized Onions
Mini Crab Cakes
with Roasted Corn Slaw
–
Choice of Pie
Peach, Blueberry, Chocolate-Peanut Butter, "The Baltimore Bomb"