Intimate weddings (and elopements!) at San Francisco's City Hall always steal my heart, and this one from photographer Kate Harrison is no exception. Shu, the lovely bride, kindly took the time to share her and Lin's sweet story with us:
We found each other on our alumni club's social website when I was studying in London and Lin worked in Hong Kong. Although we were oceans apart, we found an instant connection. When we finally met, it felt like we'd known each other forever. After many long haul flights back and forth across the continents, Lin proposed on a visit to the UK, totally spontaneously: no ring, no flower, and I said yes! Thinking back, it took such courage that neither of us imagined, yet it was a rare moment of facing and following one's own heart.
Instead of the traditional big fat Chinese banquet, we opted for a simple wedding, as fuss-free as possible. San Francisco City Hall came to my mind – I remembered seeing a photos from a wedding there and falling in love with the breathtaking architecture, and the 'calmness' within such a busy place really struck me.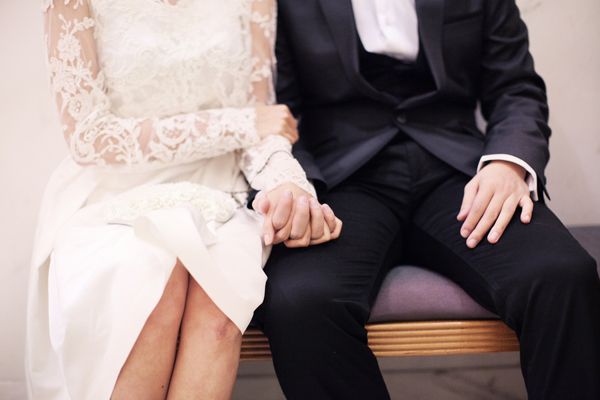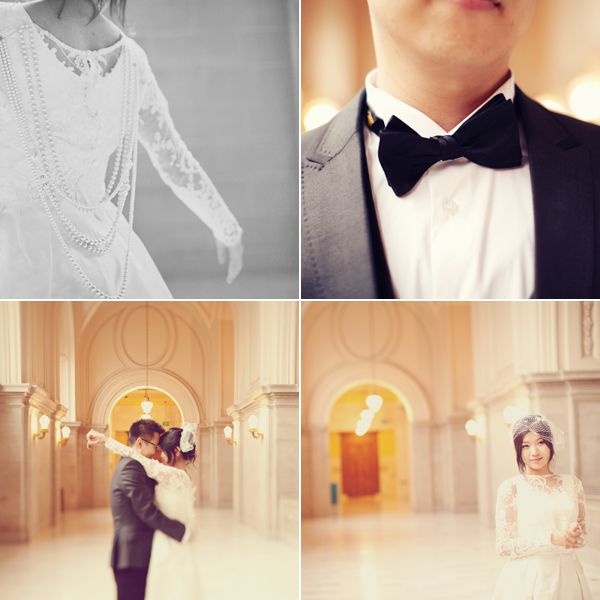 I've always loved vintage styles, especially the 1940's, and I dreamed of having a dress like Audrey Hepburn's. After weeks searching in vintage shops and fairs in London and online, I finally decided to make my own wedding dress, using some original vintage patterns. I had so much fun, going through decades of wedding fashions, imagining how I would look in them and then finding the exact dress I wanted. On our wedding day, I ended up doing my own make-up and hair, I wrapped a piece of dotted veil around what I call a 'messy up-do', (it wasn't perfect but it suits the casual and spontaneous mood of our wedding), and I stepped out the hotel with my groom, feeling so happy in my DIY-ed outfit.
The wedding went in a flash – all we could remember was the warm feeling of being together through it all, just the two of us. I have to thank our lovely photographer, Kate Harrison, who acted as our witness. She captured the essence of those intimate, joyful moments of our day, that was particularly what we wanted to remember.
Our wedding trip to San Francisco left us with the sweetest memory. It was a total adventure and our life-long journey starts there. The planning process can be easy – after all, it's the firm belief in love and the faith to walk the journey, holding hands, that matters.
Well if that's not romantic, I don't know what is. Congratulations Shu and Lin, and thank you to photographer Kate Harrison for these dreamy photos. See lots more over on Kate's blog, right here.
This wedding was submitted via Two Bright Lights.