Real Wedding: Camilla & Hank
It's been awhile since Our Labor of Love visited us here on Snippet & Ink, and I am so excited to have them back. They captured this totally fun nightclub wedding perfectly! Says Camilla, "The pics by Jesse and Whitney from Our Labor of Love are, in my opinion, beyond words." She also shares where she and Hank found their wedding inspiration:
Hank and I wanted a wedding reminiscent of the days of the Copacabana that incorporated our quirky, eclectic style and sense of humor. We wanted the feeling of going to a nightclub in the early 1960's, looking fabulous, eating a delicious meal, having cocktails, and being entertained by comedians, singers, and dancers.
Another key element was to express my Russian cultural heritage, so we had small matryoshkas [Russian nesting dolls] as favors that our officiant shipped to us from the Ukraine, and took matryoshkas and samovars from my family's home to use throughout our venue as decor. We had a full Russian menu with vodka on every table and incorporated words in cyrillic on our invitations, programs and menus.
Now how fun does that sound? Okay, so on with the photos, and don't miss Shark Pig's video at the end!
Some of Camilla's budget-saving tips: I have no shame in going to places like Claire's, Express, Forever 21, etc. when it comes to accessorizing. My bridesmaids looked killer and it was so cheap putting together their looks. I had a local tailor make my dress, which ended up being considerably cheaper than any bridal salon I went to. And Old Navy shoes. Nobody sees 'em. 'Nuff said.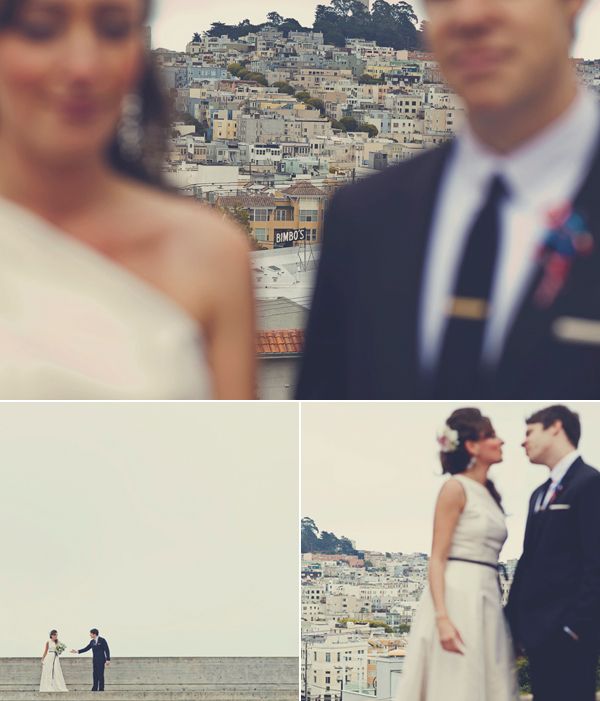 (Look very closely to that top photo with San Francisco in the background… see the Bimbo's sign in between Camilla and Hank?) San Francisco's famous Bimbo's 365 Club was the perfect venue for the over-the-top retro nightclub feeling Camilla and Hank wanted to create.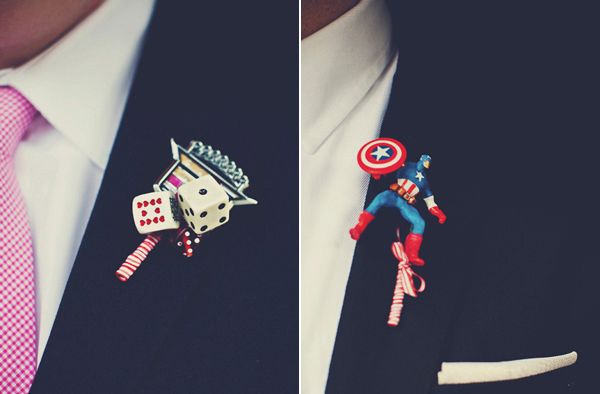 The guys wore playful boutonnieres by Fritts Rosenow.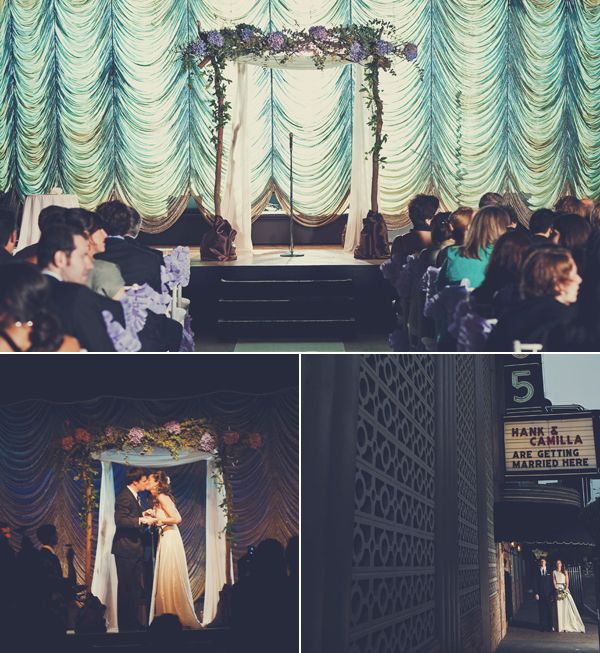 Our ceremony was made awesome mainly by the fact that we were married by our good friend who became ordained just for our wedding. He wrote the funniest ceremony, which he began by saying to Hank and me, "Thank you for coming." I have some of the most talented friends on the planet, from actors and comedians to singers and songwriters, and it was beyond amazing having them contribute their skills to our day. (And I love the noisemakers for the kiss!)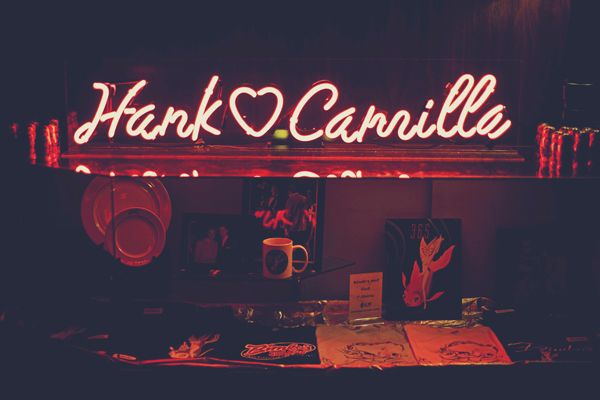 (How awesome is this neon sign! Wouldn't this make a great wedding gift?)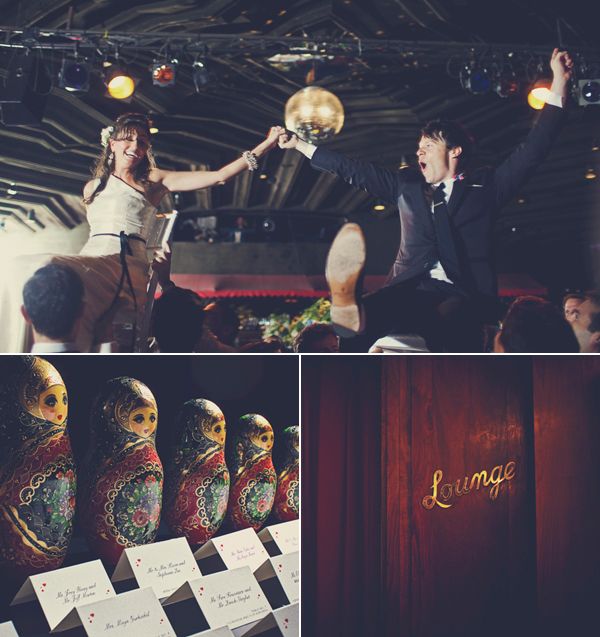 Camilla shares some of her favorite moments: The Hora was absolutely insane. I think pretty much all of our 170 guests got out on the dance floor. It felt completely wild and out of control, a total explosion of joy. Our first dance stands out to me as well – it was one of the few moments Hank and I just got to be calm and quiet with one another. One of the best moments of the night for me was when after our last song, Tony Bennett's "I left my heart in San Francisco," our guests broke out chanting "Hank and Camilla! Hank and Camilla!"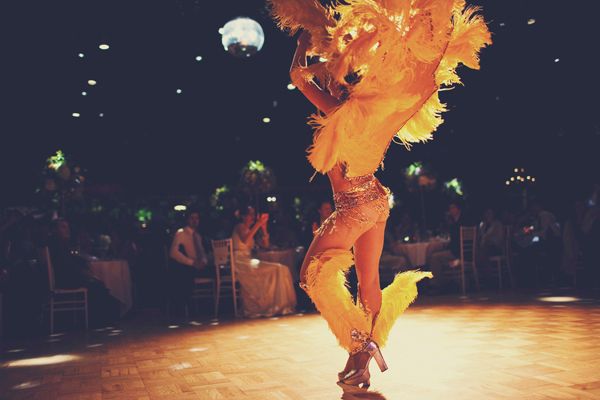 We really wanted to create an atmosphere in which guests felt they were able to let loose and celebrate. We had a klezmer band, which brought the house down, and scantily clad Brazilian dancers who totally surprised our guests and got everyone up and into a giant conga line.
Finally, I just had to share this little note from Camilla with you, because less than a month from our wedding, I know this feeling well: It always drove me a little nuts when people told me to "enjoy" the wedding planning process. To be honest, it wasn't always very enjoyable to me, but I have to say that all the hard work was absolutely worth it. Your wedding is a big deal and it takes effort to make it just how you want it! But it was worth it – I don't know how many times I have heard from guests, "Best. Wedding. Ever." It's really a good feeling.
Photography: Our Labor of Love
Cinematography: Brian Morrow aka Shark Pig
Venue: Bimbo's 365 Club
Bride's dress / Groom's suit: both custom from Al's Attire
Bridesmaid dresses / shoes: J.Crew / Forever 21
Funny boutonnieres: Fritts Rosenow
Neon sign: Ark Sign
Programs / menus: Hello!Lucky
Klezmer band / Brazilian dancers: Kugelplex / Aquarela
Congratulations Camilla and Hank! And a big thank you to Flash Dance members Our Labor of Love and Shark Pig for sharing your work with us! You can see more great photos from Camilla and Hank's wedding over on Our Blog of Love.
Hello!Lucky is a sponsor of Snippet & Ink.