Sponsored Giveaway: Williams-Sonoma
Please tell me I'm not the only person out there who loves walking into Williams-Sonoma, planning out my dream kitchen. I did this even before I was engaged and setting up my registry there! If you're anything like me, then you're going to be really excited about today's giveaway – you can enter to win a $150 gift card from Williams-Sonoma just by registering or adding a new item to your current registry.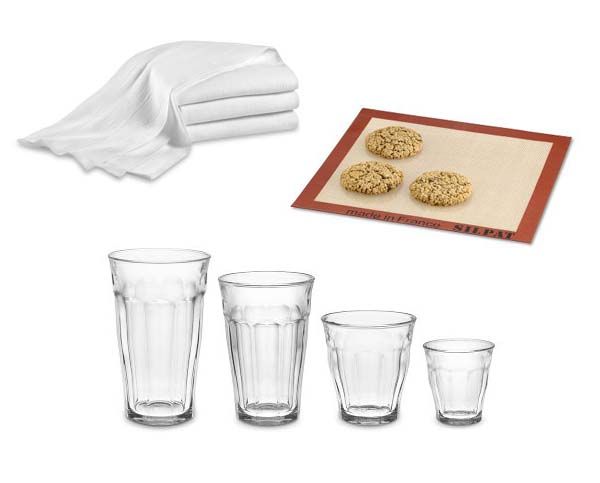 Some of the things from W-S that I love and use just about everyday are my flour sack dishtowels (I'm a firm believer that one cannot have enough of these in the house – they've totally replaced paper towels for me), my Silpat non-stick baking sheet liner (no longer leaving half the cookie on the cookie sheet), and my Picardie drinking glasses (they make me feel like I'm at a French cafe!).
And then there's my fantasy kitchen, with things like a waffle maker, a marble pastry board, copper mixing bowl and yes, a fancy garlic press (my sister has one of these and I want it).
Now, who wants that $150 gift card? To enter, you need to:
– Register with Williams-Sonoma, then leave a comment here letting us know you've registered, and what your favorite W-S item is and why.
– Or, if you're already registered, add another item to your registry, and leave a comment here letting us know what you've added, as well as your favorite W-S item.
You have until next Wednesday, September 1st, to enter. I will announce the randomly selected winner on Friday, September 3rd. Oh, I should also mention that you can receive an extra entry if you include your public registry link in the comment. I can't wait to hear all about what you've registered for!