Saint Patrick's Day Wedding Theme | Inspired Ideas
Did  you notice that shamrocks appear in both of this week's real weddings? On Kelly and Martin's invitations, and the cufflinks Amy gave to Naveen. A happy accident since I wasn't clever enough to have planned it that way. Well, today's post brings us even more shamrocks, with a faux wedding just for St. Patrick's Day, as imagined by wedding planner and designer, Shannon Leahy. Says Shannon: "I have always loved my Irish heritage and wanted to celebrate the upcoming holiday with a wedding fit for St. Patrick's Day!  When I started doing research on the internet, I couldn't find much inspiration for a sophisticated, elegant Irish wedding and I knew I had to create one."
On with the inspiration! Fabulous photos at Manka's taken by Larissa Cleveland…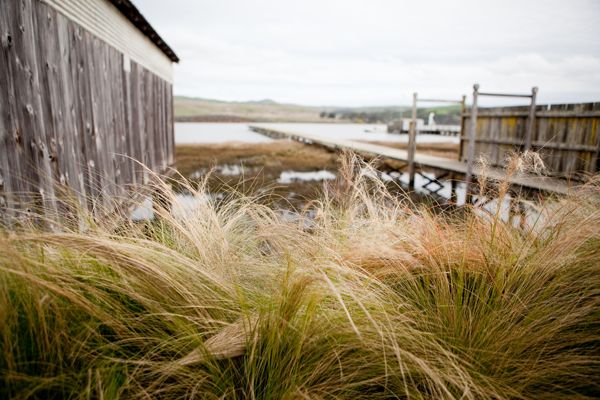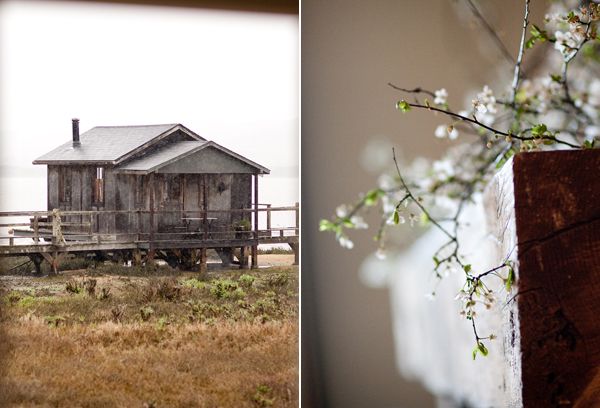 Says Shannon, "We wanted the shoot to feel like early Spring, just coming out of Winter, and the moody location at Manka's (complete with the Spring showers) was the perfect backdrop."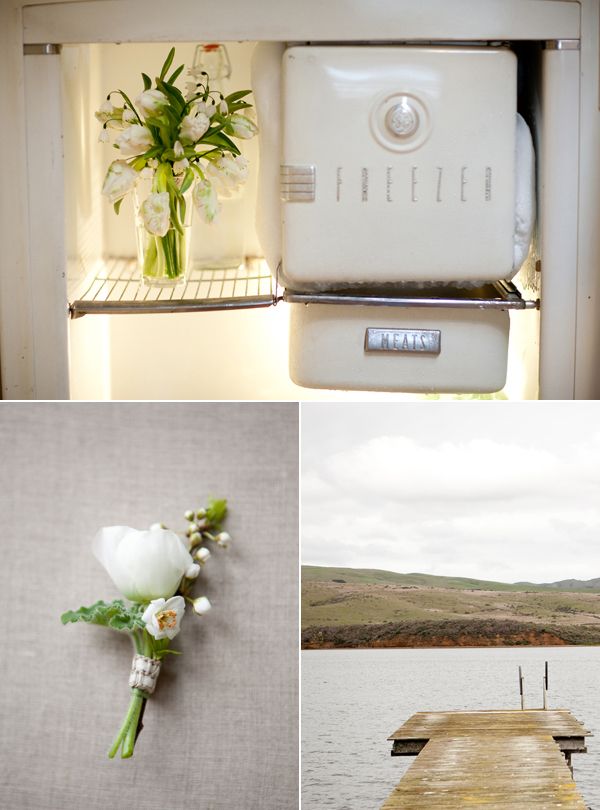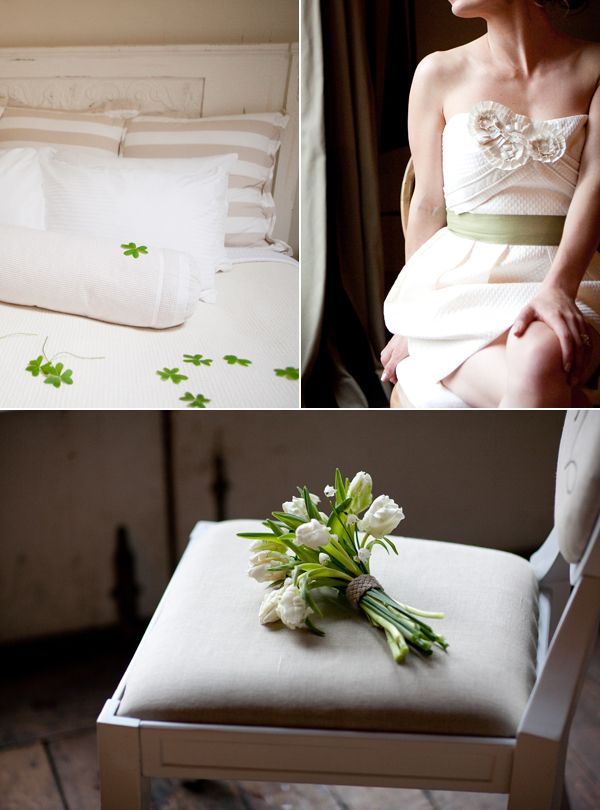 I'll confess something: I don't usually like boutonnieres. I find that they're often too big, and end up looking more like a corsage than a boutonniere (my mother may have had something to do with my feelings on this subject…). But this boutonniere? This is just right! Totally understated, and very sweet. It pairs perfectly with the simple bridal bouquet of parrot tulips and white bell flowers.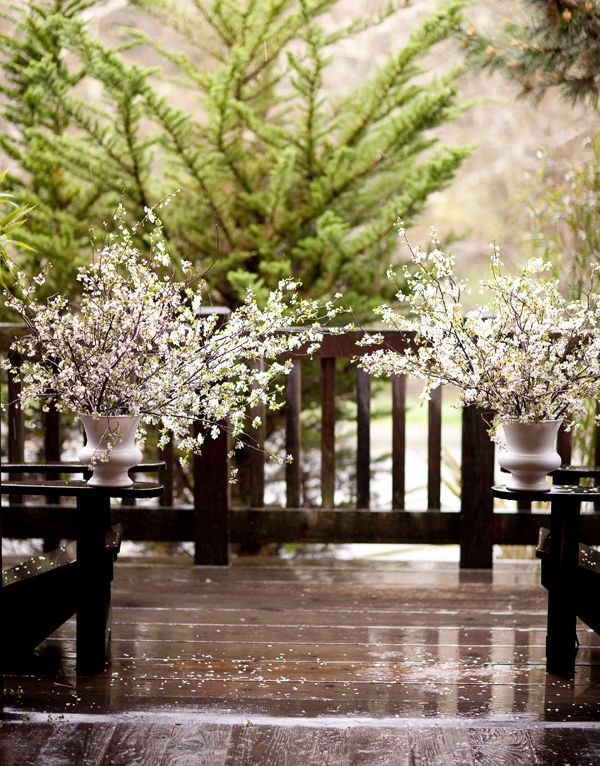 Shannon was inspired by a variety of fabrics she had collected at the San Francisco Design Center and vintage lace, embroidered ribbons and twine found at The Ribbonerie. For the imagined bride and groom, these bits of ribbon are used in a traditional Celtic hand fasting ceremony, and then again throughout the tablescape. Spring branches create a lovely, seasonal backdrop for the ceremony.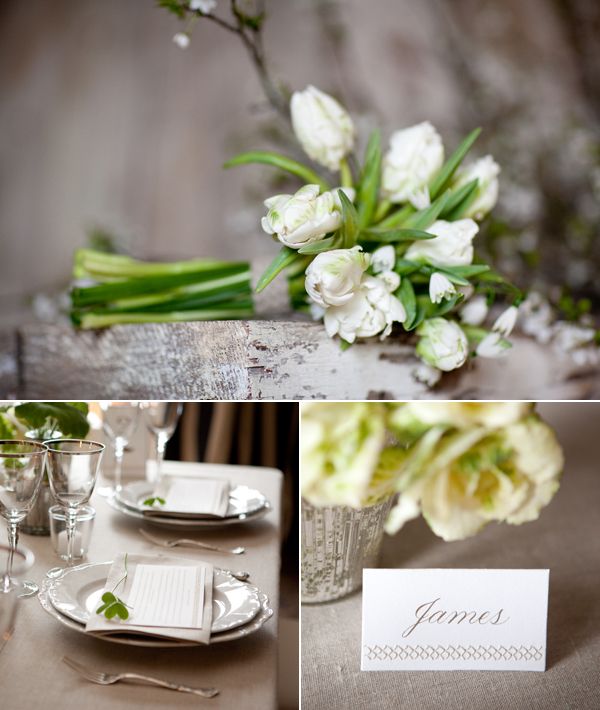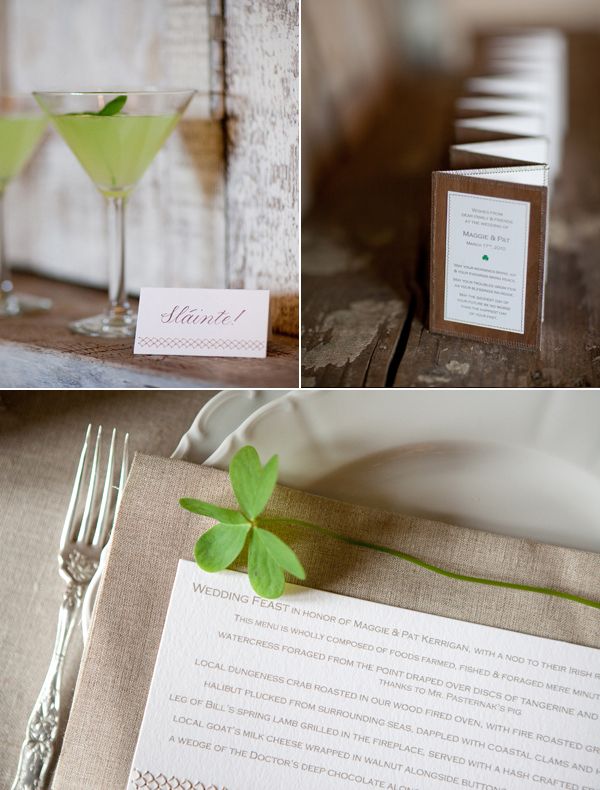 I love this idea of a miniature accordion guest book – it would be such an easy and fun thing for the bride and groom to take with them after the wedding, to read all of their guests' well wishes. Stitching in neutral thread ties all of the stationery items together. And, in true Manka's fashion, the dinner menu is wonderfully whimsical, with items like "Halibut Plucked from the Surrounding Seas, Dappled with Coastal Clams and Housemade Bacon, Thanks to Mr. Pasternak's Pig" and "Local Goat's Milk Cheese Wrapped in Walnut Alongside Buttons of Quince and Syrup of the Same."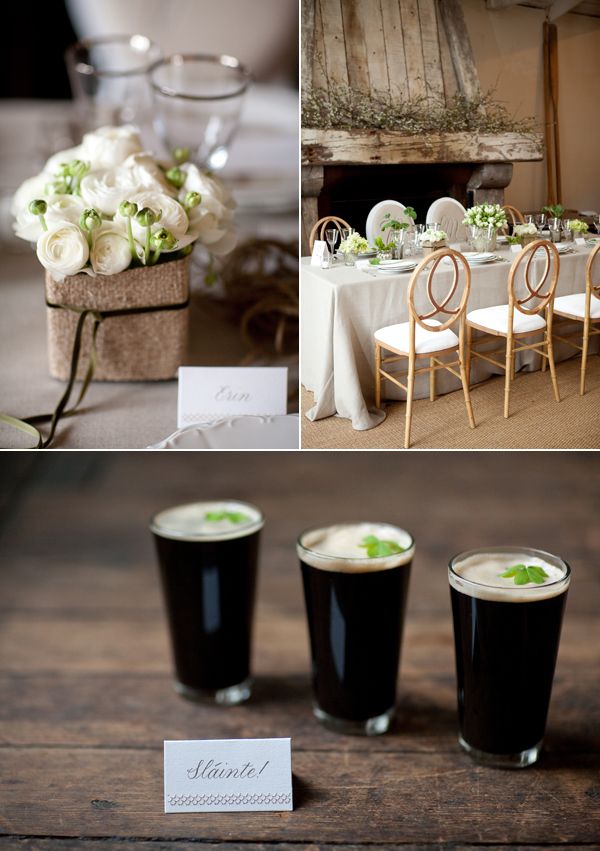 Slàinte is like "Cheers!" and literally means "health." A perfect little touch to any toasts at this Irish-inspired faux wedding. Especially when toasting with pints of Guinness topped off with shamrocks!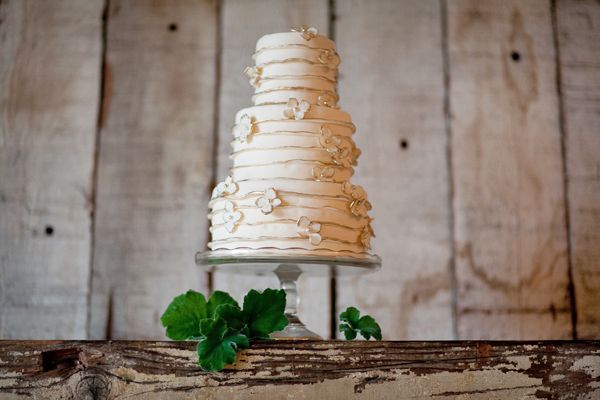 The cake incorporates fun textures, and the flowers and ruffles are finished off with edible gold dust.
Inspired by a Louis XVI-style chair reupholstered in burlap, Shannon found something similar for the "bride" and "groom" from Blueprint Studios and had them monogrammed with their respective initials. Shannon also wrapped the vases in various fabrics, bringing interesting texture to the table. Flowers include parrot tulips, ranunculus, bells of Ireland, and geranium leaves (in mercury glass vases). More blooming branches adorn the fireplace mantle.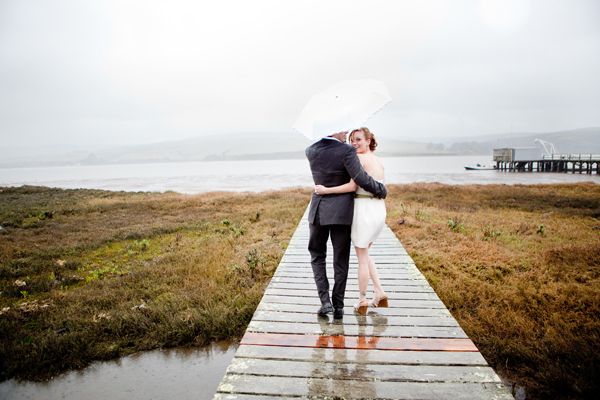 Concept, design and flowers: Shannon Leahy Events
Photography: Larissa Cleveland
Venue: Manka's in Inverness, California
Dress: BCBG
Stationery and flowers: Anna Millett of Mira Aster
Cake: Flours
Rentals: Classic Party Rentals / La Tavola Linens / Blueprint Studios
Don't you love all these fun ideas? I think the best part of this faux wedding is that it has a clear theme, without being kitschy – it's totally sophisticated from start to finish. Thanks so much to Shannon Leahy, Larissa Cleveland, and all the other vendors involved in this wonderful photo shoot. I can just imagine what a fun wedding this would be.