Real Wedding: Serena & Matthew
Tropical secret garden, flowers by Ariella Chezar, lavender gray wedding dress… the inspiration from Serena and Matthew's wedding is endless!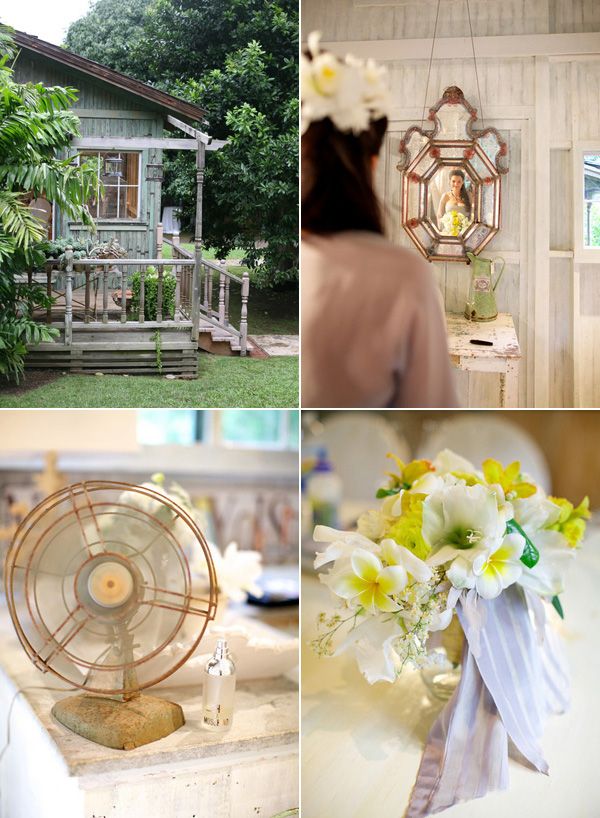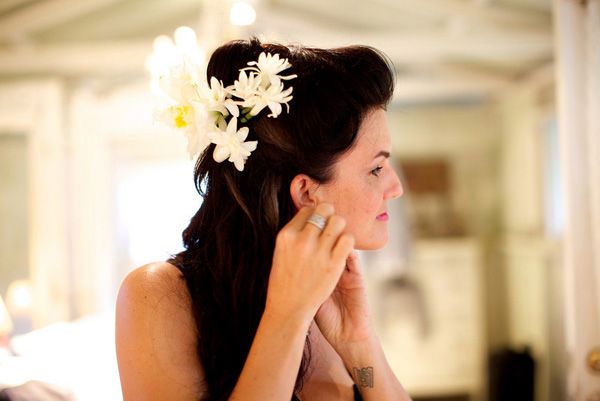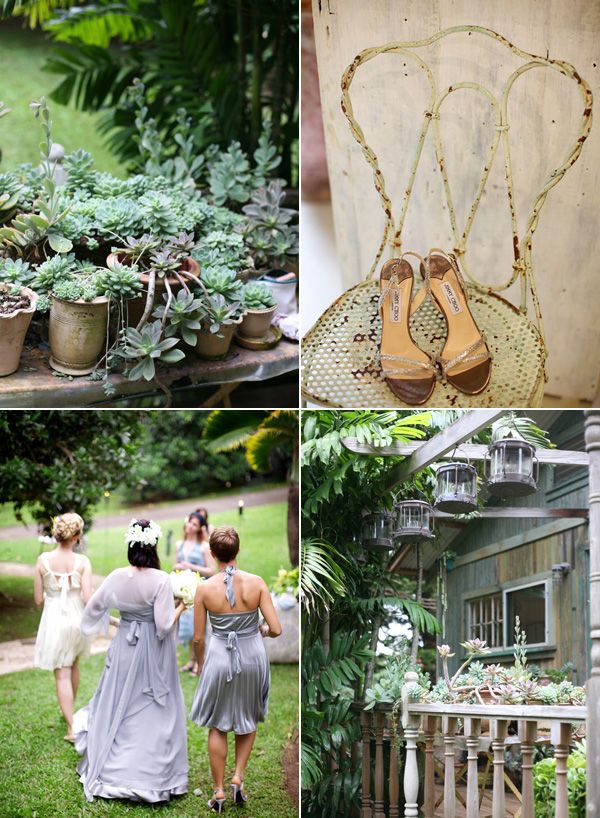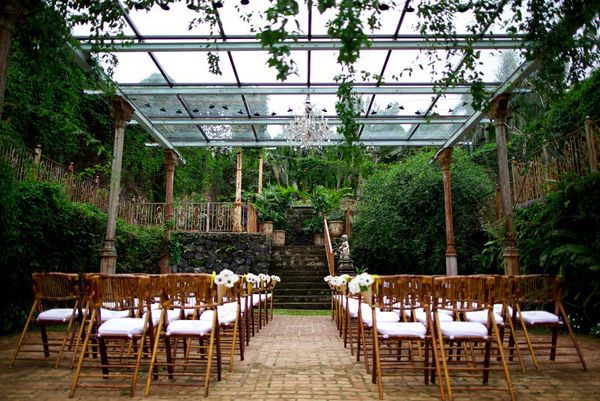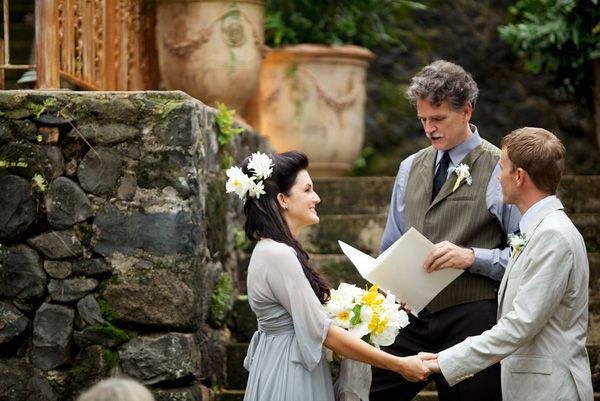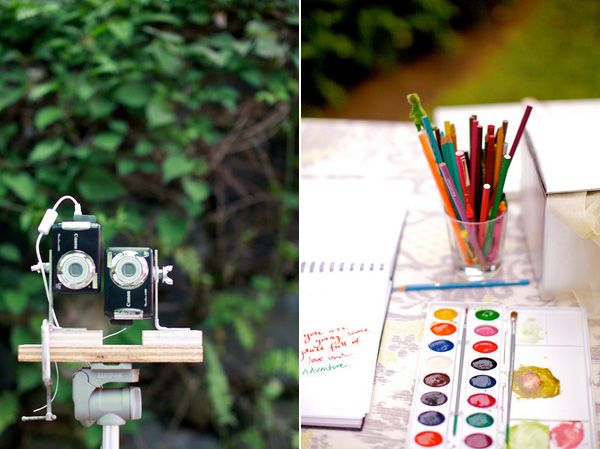 Instead of a traditional guest book, guests were invited to get creative with watercolors, markers, and colored pencils. A friend of the couple created a 3D stereoscopic camera that was used for guest photos.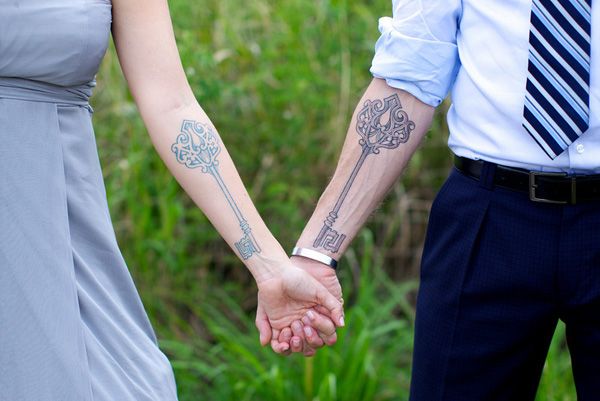 Serena shares the story behind their tattoos: "Matthew and I have been contemplating tattoos for a long time, and after ten years together and in honor of our love and forthcoming nuptials we took the leap (both with the tattoos and marriage). We chose keys – to our hearts, life, love."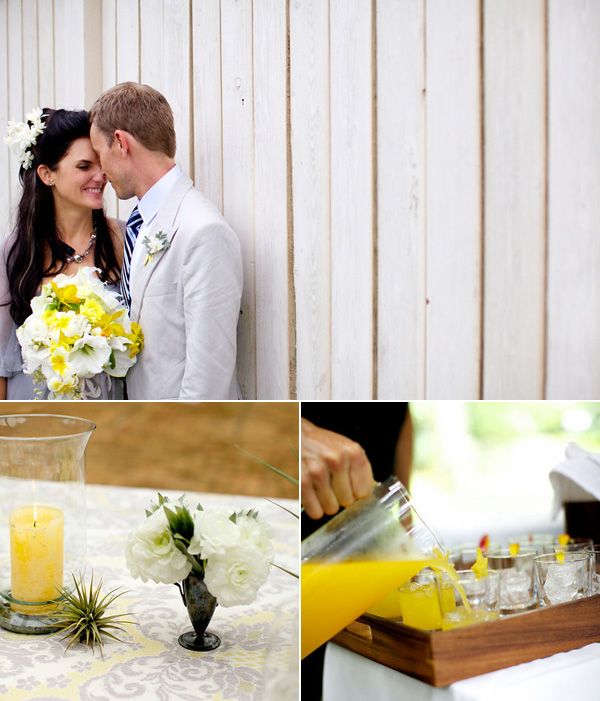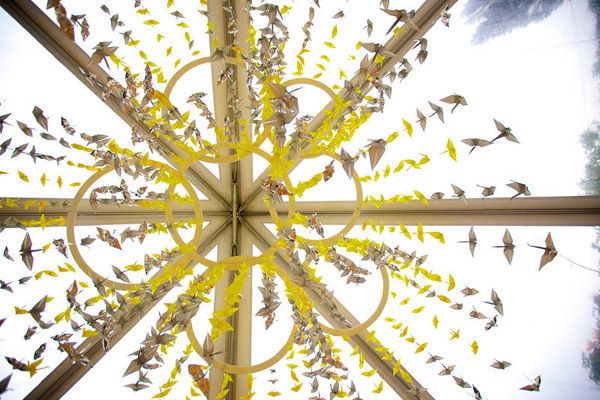 Says Serena, "We loved the meaning of folding 1000 cranes for our wedding, both the bringing of good luck and that it is an exercise in all of the things it takes to make a marriage work. Our invitations included instructions for folding origami cranes, an explanation of the meaning of the 1000 cranes, origami paper and return envelopes. It was especially meaningful to have those blessings from those who could not join us. Matthew is an artist and came up with the gorgeous installation for hanging the cranes at our reception – it really was so stunning in the space!"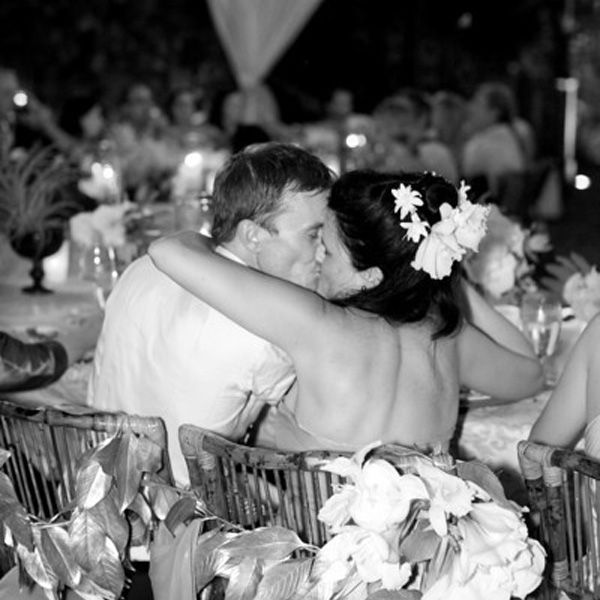 Serena kindly answered some questions for us about the wedding…
Why did you choose this place for your wedding? I grew up on Maui and we have a wonderful community of family and friends there. We wanted to share the Maui we know with all of our dearest friends and planned a week together to explore and celebrate.
What was your favorite part of the day? What I hold most dear is how connected and present Matthew and I were, and the ceremony was incredibly moving for both of us. We wrote our own vows and worked closely with our officiant, my stepfather, to create the ceremony. It was important for us to create a community of witnesses to our vows, so we made time for our closest friends and family to offer something as part of the ceremony, including my sister and stepfather who sang a song written by my father who passed away.
What advice do you have for other brides? As much as I love how much we did ourselves, the days leading up to the wedding were incredibly busy and hectic. Don't leave too much till the last minute! And don't be afraid to delegate as much as you possibly can – magic happens in trusting others to contribute and it becomes a true labor of love. Also, remember to come back to what it is all about. I was overwhelmed with love and gratitude for my husband and for our friends and family who were there to share it with us. It's all about the love.
Can you tell us more about the flowers? Ariella is one of my childhood friends, so we were lucky to have her share her talents. Some cut flowers were flown in from California, but mostly we brought orchids straight from a farm on the big island, and we were able to harvest a lot of local tropical goodies from friends' farms and estates on Maui. I was absolutely blown away with the bouquet that Ariella made for me: white catteleya orchids, vintage French ribbon, fine gray feathers, and even a piece of ribbon from Ariella's own bridal bouquet.
Menu
Drinks: Mango Lemonade, Tropical Iced Tea with Starfruit, Pineapple-Infused Ice Water, Guava Mojito, Hibiscus Champagne Cocktail // Passed Pupus: Lemon-Pepper Seared Ahi on a Fried Wonton topped with Wasabi Cream and Sprouts, Caramelized Maui Onion & Goat Cheese Tartlet topped with a Candied Pecan, Pan Fried Garlic Chicken Dumplings with Spiced Shoyu // Dinner: Mixed Greens with Bleu Cheese and Mandarin Oranges, Macadamia Nut Crusted Mahi Mahi topped with a Mango-Papaya Salsa and Ginger-Lilikoi Cream, Pumpkin and Chard Ravioli with Gran Padana Sage Butter, Roasted Pineapple and Apricot Molokai Sweet Potatoes, Big Island Vanilla Bean Steamed Jasmine Rice, Warm Asparagus with Mango Dressing // Dessert: Genoise Cake with Passion Fruit Mousse and Italian Buttercream
Vendors
Photography: Anna Kim Photography / Venue: Haiku Mill on Maui, Hawaii / Floral design: Ariella Chezar / Bride's dress: Morgane Le Fay / Bride's shoes: Jimmy Choo / Groom's suit: Hugo Boss / Catering: Catering From Soup to Nuts / Cocktail catering: Garnish Events / Cake: Ghiselani Designer Cakes / Rentals: Maui Rents, La Tavola Linen
Thank you to Serena and Matthew, and to Ariella and Anna! You can see more of this wedding on Anna's blog, and on Ariella's website.